Our Family Legacy – Part III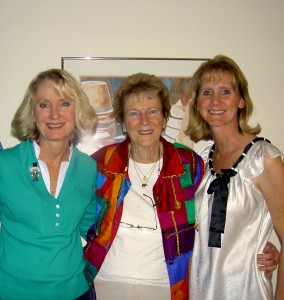 "When we began hearing that docents were interested in using digital images of the famous works of art, we decided it was time to bring this treasured Program into the 21st Century," Amy said.
Amy and Heidi worked to bring all the images and docent guides online, refining the lessons and adding examples of student artwork. They especially enjoyed adding one of their dad's sculptures, a three-foot tall owl named Henry George, to the "Birds"lessons.
"Mom's reaction to seeing all 336 works of art online was that it was like seeing old friends," said Amy. "And the digital images looked brighter and clearer than the old poster versions."
Word of the online version spread and soon 15 schools had purchased the new digital version for the 2011-12 school year.
"Some of the schools were new to the program; two in Washington State and one in Utah," said Heidi.
"Plus, thanks to word of mouth, an American International School in Kazakhstan purchased our digital program. So we are international!" Amy said.
The digital delivery system allows any classroom with a projector and Internet access to display the artwork, and for Head Docents and Docents to access their own training material online with any web browser. The access codes are supplied by Amy and Heidi, who want to protect their copyrighted material.
"With all the standardized tests and budget cuts we've seen in recent years, it's great that some schools are tapping volunteers to continue to provide art education," Heidi said. "Kids really do better in all subjects when their minds are stimulated with fun and engaging creative activities. We talk to adults who had this program as children and it's among the things they remember most about grade school."
The sisters are pleased that the Art Docent Program is in alignment with the Common Core State Standards. Schools that implement it can use the visual arts to meet Language Arts Standards in writing, speaking and listening and language. They say that their program address a majority of California's Visual Art Standards.
"Our time-tested program is still vital and relevant for today's schools," Barbara said.
"We grew up making art samples and visiting art museum and book stores with Mom and Dad," Heidi said. "We never knew we'd be carrying on our family's Art Docent Program."
For more information and sample lessons, please go to www.artdocentprogram.com