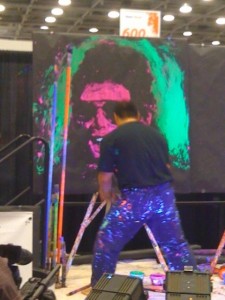 As we drove across the Bay Bridge on a sun-drenched Friday morning, admiring the meringue-like fog covering the bay, we weren't sure what to expect at our visit to MacWorld/iWorld, the all-things Apple Inc. convention and exhibition. Our digital partner, Art Authority, was exhibiting its best-selling app and would host "tech talk," a panel on technology, art museums and art education. We wanted to hear what the speakers had to say. We hoped to meet some people who would help promote the online version of our Art Docent Program. We also thought it would be fun to see so much new technology and so many apps all in one place!
While it was entertaining and informative to see the exhibits, including a man who was one of those expert finger painter hired simply to amuse  the crowd, the highlight of our day was listening to the panel of museum curators. It was clear that art museums, like the rest of us, are scrambling to make use of the Internet and new technologies. While everyone else in the room took notes on their iPads, I did it the old-school way, with pen and paper.
Here are a few things we learned from curators from San Francisco's Museum of Modern Art, the J. Paul Getty Museum and Linda Rooney, administrator of Rocklin Unified School District:
Classic Art is Going Viral
Art museums are beginning to share their content online by posting images of artwork on their websites. It's become so advanced that users can even zoom in and out and even rotate images in order to see greater detail. Museums are developing apps, but many are of low quality and have shown little activity by users. Last July, the Getty museum implemented an app called "Google Goggles."
They also have "print on demand" so you can choose the artwork you want to print instead of just the best sellers in the gift shop. We also got a glimpse of how the Internet can dramatically help museums and other organizations in this brutal economy. Having an  online presence can:
1.Help raise much needed funds
2.Help fulfill the museum's mission
3.Increase general awareness and public interest
4. Help a company ditch the "ivory tower" image
On the down side, it is expensive to put together apps. Not to mention, the resolution of beautiful classic art online just can't compare to seeing these works in person.
Be sure to also take a look at the University of Virginia Art Museum online. The site features good quality photography and rotating animation of sculptures. It's very kinesthetic and uses large font instead of small like most sites!
Check in next week for more from our visit to MacWorld!