The key to successfully engaging students in art by way of the Art Docent Program starts off with the proper training. To make sure that the kids are getting the best instruction possible, we have to make sure that our parents and Docents, too, get the best training they can before initiating the program. Over the years, the program has transitioned along with the times. Amy Scherschligt, Director of the Art Docent Program, explains how trainings have changed over time–and gives us an update on the most recent Art Docent Program training at a school in the Elk Grove Unified School District in northern California.
_______________________________________________________________________________________________________
Our trainings have changed over the years. Where our mom used to use large posters of the artwork the program features, we now  project digital images–providing the school uses a digital program and does not still prefer to use the posters. She used to dedicate one full day of training per grade level. So if you were a first grade Docent, you got to hear Barbara Herberholz talk about each theme and all the artwork and artists included in that grade level. By the day's end you were likely feeling very full and inspired. She loves art history and had spent a lifetime studying and would also teach "hands-on" training days for the Studio Lesson portion of the program. Sometimes Dad, an art education professor at Sac State and coauthor of their art education textbooks, would come along to support her–and help carry all the art supplies!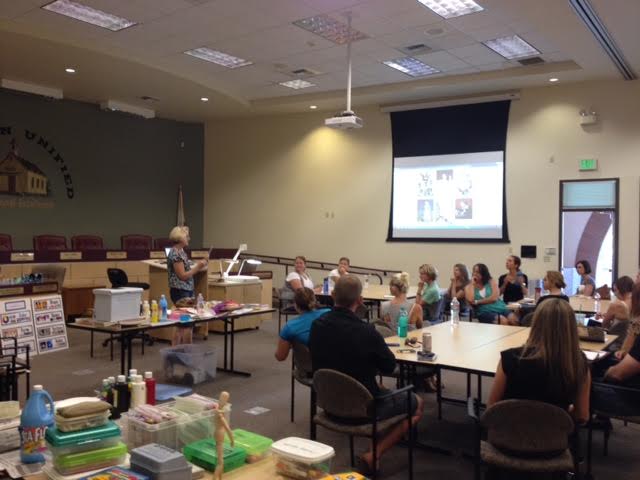 Mom trained us (Heidi and Amy) by bringing us along to the trainings to observe and then share in the teaching before she finally retired out of it.  We like to joke that it takes TWO of us to do what Mom used to do on her own!
Now our trainings have changed quite a bit. They are shorter because we recognized that parents/docents are very busy. Sadly, requests for hands-on trainings–using all the art supplies to make art from the lessons–have dwindled.  Happily, though, we have added many short training videos to the digital program that show how to use the art supplies.  We recommend that Head Docents dedicate a time when they invite their docents to come and try out/ use the art supplies BEFORE they have to demo them in the classrooms.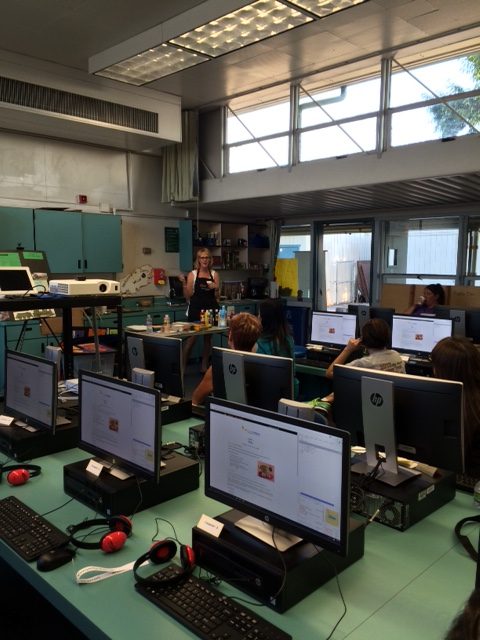 The trainings have also changed in that we no longer need posters at the trainings. We project the images, as mentioned above, given that the school is capable of supporting digital projection. At the most recent training on September 7, at Franklin Elementary School in the Elk Grove Unified School District, we used the computer lab. Each Docent was able to sit in front of a computer screen to view the website and lessons while I navigated through them.
It was different and yet so exciting to do a training like this! Though we had not originally planned on it, it worked out great. So very different from the days of propping up posters on a whiteboard.  And at the end of it all, we "graduated" 24 brand-new Docents!
_______________________________________________________________________________________________________
That means 24 more people to help kids learn and get excited about art and art history. Congrats and a big thank-you to our new Docents! Welcome to the Art Docent Program.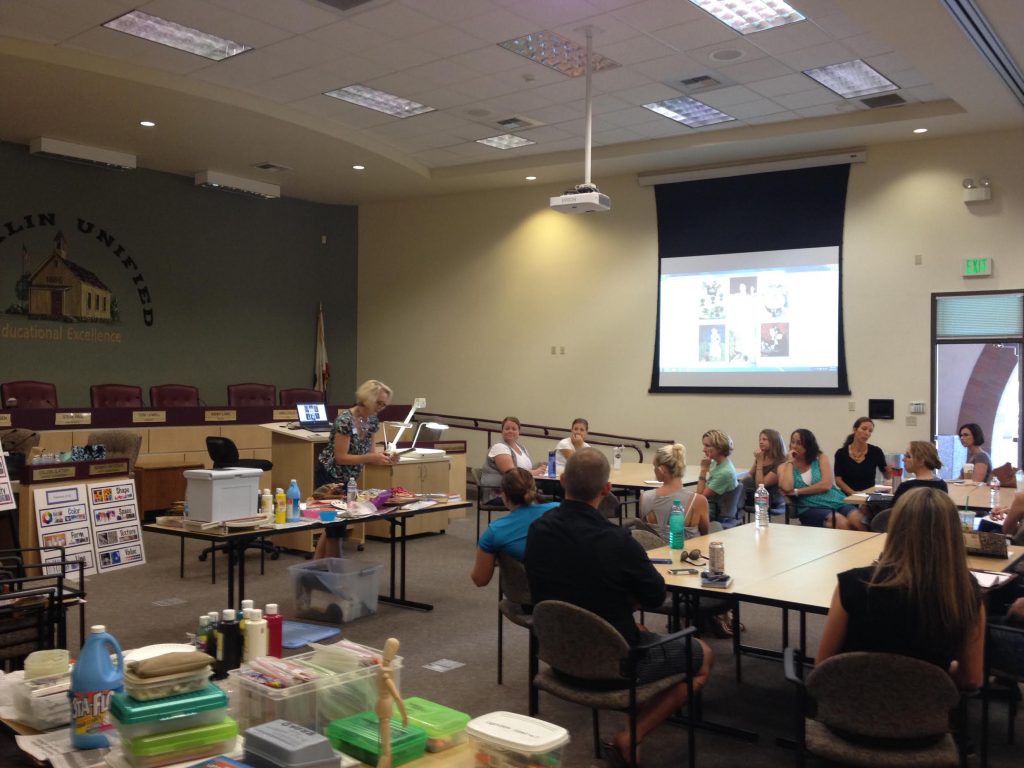 Want more information about our trainings? Check out what a training consists of here.
Still fuzzy on the program details? No worries–find out more information on what we do at the Art Docent Program here.
Want more art and Art Docent Program news? Check out our blog for updates!