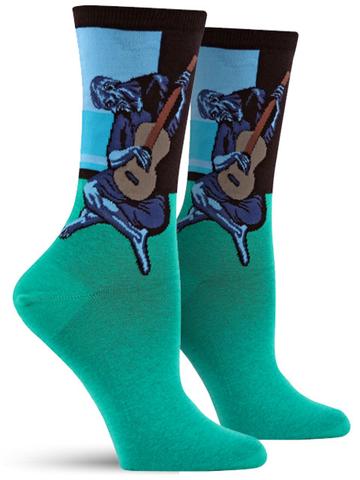 Into wearing your love for art history on your sleeve? Or…on your feet? Look no further than The Sock Drawer's collection of art-  and art history-themed socks.
The Sock Drawer, aside from offering a variety of fun sock options, features famous works of arts on some of its socks. Everything from Degas to da Vinci is accounted for, and offered in a variety of colors, sizes, etc. The Sock Drawer features over100 different kinds of art socks. From Franz Marc's Blue Horses to Michelangelo's Creation of Adam, there's something for every art lover. Frida Kahlo? Check. Van Gogh? Check. The Great Wave? Also check.
Art isn't new to the clothing world, as we've explored in some of our previous posts. Some of Jackson Pollock's works were used as a background for an Irene & Henri Bedel photoshoot for Vogue in 1951, and it feels like Piet Mondrian's works are constantly being reinterpreted onto designer handbags and clothes. On a more contemporary note, sites like Fly Art (for Rad) match classical and art-historically important pieces with contemporary song or popular culture quotes, with hilarious results. Redbubble prints art from a number of contemporary artists onto T-shirts, as well as things like mugs and phone cases, making seeing some of your favorite art as simple as picking up your phone or coffee.
With the consumption of art and art history ramping up, we have to consider–is all this printing, reinterpreting, and turning art into dank memes ruining our understanding of these pieces as art-historically important? It might be too soon to say. But whatever your opinion, art history's definitely becoming more accessible. And, given The Sock Drawer's funny and still historically accurate description, I'm not sure that there's adequate reason to fret (yet).
Just read The Sock Drawer's description for their socks featuring Edvard Munch's The Scream:
"I scream, you scream, we all scream for Edvard Munch's modern interpretation of agony! While this world renowned piece has been the target of many high profile art thefts, you don't have to commit grand larceny to acquire this look. Show everyone you are an art connoisseur by wearing these unique socks inspired by Macaulay Culkin in Home Alone, wait, don't quote us on that one."
Funny and informative. It's clear The Sock Drawer knows what they're talking about, right down to the theft. And enough to joke about Macaulay Culkin. 
So if you're into wearing your art but want to be able to go to work without revealing your love for Georges Seurat to all, check out The Sock Drawer.
Into more funny art history? Check out Fly Art (for Rad)–they've got tees that mash up Botticelli and Beyonce, among others.
Curious as to what we do here at the Art Docent Program? Check out more information here.
Dying for our past blog issues? Look no further than here.