A few weeks ago, we posted about Beyond the Visible: Hilma af Klint, a new documentary originally slated to run in theaters that's now available to stream, on our Facebook page. Well, we finally got around to watching it, and we definitely recommend adding it to your quarantine (or even post-quarantine) watchlist!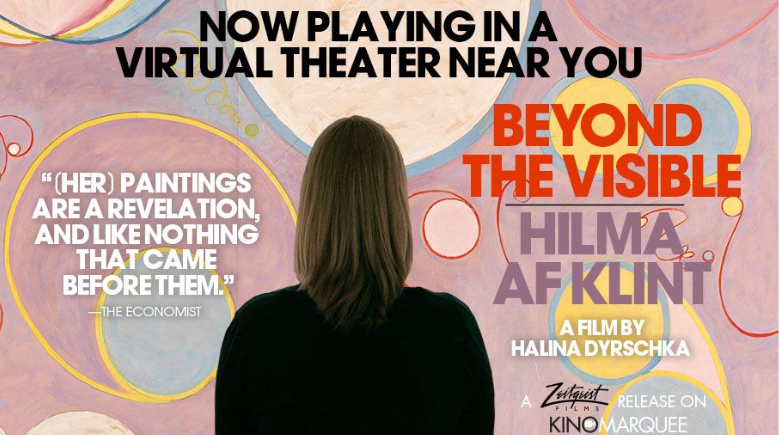 But, Art Docent Program, who is Hilma af Klint? I've never heard of this woman, you say. Great question! We hadn't either until a little over a year ago when we listened to the Art History Babes' podcast episode about her (which we also recommend, though please note it is rated PG-13 for language, if you're listening with kids). Briefly–since, if you watch the documentary or listen to the podcast, they will definitely outline af Klint's life in much more detail–Hilma af Klint was a Swedish artist born in 1862. Her abstract works are some of the earliest examples of fully abstract art in western art history (as far as we know), appearing years before artists like Kandinsky's. Af Klint's work, though, since not widely exhibited outside of Sweden during her lifetime (and because she was a woman who credited spiritual experiences for much of her artworks' creation), remained largely unknown for years after her death in 1944.
Beyond the Visible gives a comprehensive outline of af Klint's life, making a strong case that her work is the first fully abstract artwork in western art. Curators, art historians, artists, af Klint family members, and art critics all give their take on af Klint's work and its implications, making for an engaging collection of thoughts on the artist. Though there are of course ideas implied that can be contentious (i.e., the idea of artists as solitary geniuses without outside influences), the documentary opens up conversations about these ideas rather than asserts them as truth. The ideas that af Klint's art was ignored because it opened questions about the "progressive" nature of the western art canon, the nature of the art market, and women's roles are all reasons why her work should be widely displayed and discussed now, the film argues.
Af Klint is a hot topic in the art world, as her artwork has recently traveled to a number of countries. A recent exhibition at the Guggenheim in New York was af Klint's first major retrospective in the U.S.. These shows welcomed record numbers of visitors, suggesting that many of the topics the film brings up about af Klint's artwork resonates with the general public. Beyond the Visible is a well-executed documentary about an artist finally getting the recognition she deserves…and the implications this has on the art market, the western art history canon, and more. It'll definitely give you lots to think about!
---
Read more about Beyond the Visible at Zeitgeist Films.
Want to watch Beyond the Visible? It's streaming on Kino Now, a streaming platform for smaller films. To watch, visit Kino Now's website. Click "Screen for $12.00", select the movie theater you'd like to view the film through (we chose The Onyx Theater in Nevada City, CA, that happened to be the closest to us in location at the time we watched), create and account, pay, and you'll be offered access! (The film cost us $12 for 5 days of access, less than a typical movie ticket would in our area. Whether you'd like to watch it now or wait to see if more affordable streaming options become available in the future is totally up to you!)
What do we do here at the Art Docent Program? Discover more about us here!
Want to learn more about cool art movies? Check out our blog archives!