Confused by just how exactly today's art world works? Hung up on what this "art world" actually is? Fear not! Sarah Thornton's engaging and enlightening Seven Days in the Art World acts as your guide to the institutions that make up this tiny, odd, extremely exclusive society that ultimately determines the next big thing in contemporary art.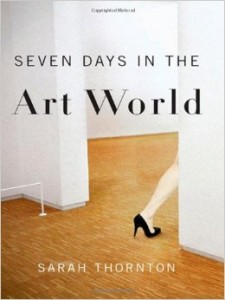 First published in 2008, Seven Days in the Art World chronicles seven days in which author Sarah Thornton enters into the world of contemporary artists, collectors, and critics. A revised edition updates some of her earlier observations to note how the recession affected (or did not affect) certain aspects of the art world. Written in an easy-to-read, journalistic tone, Thornton navigates her way through some of the most exclusive art events on the planet– an auction at Christie's in New York City, where the rich toss around millions at Warhol pieces without a second though; the bestowing of the Turner Prize, Britain's most prestigious art award; a visit to popular contemporary artist Takashi Murakami's studio, which unveils the truth behind the isolated-genius trope; and the Venice Biennale, the art world's biggest international showcase.
Lauded by both The New York Times and London's Sunday Times as well as Vogue magazine, Thornton's exploration of this "peculiar society" serves to unmask its mystery by inviting readers to understand how the contemporary art world operates. Everyone knows everyone else and that's absolutely vital to art world's functioning. It's nepotistic and elitist, but does it need to be that way? Thornton's gentle journalistic proddings allow readers to enter into this world in the hopes of both removing the elitist stigma associated with contemporary art and probing deeper into the art world's inherent problems of elitism and reliance on the wealthy.
And it's such a fun read too! Thornton's journalistic track record, which includes articles for The Economist, ArtForum, and The New Yorker, contributes to her insider status in the contemporary art world. Yet her writing is clear, concise, and easy-to-read.She acts as a go-between for the average reader and the art world giants, and the ensuing
results are both sometimes hilarious and sometimes problematic. The art world can be ridiculous and Sarah Thornton isn't afraid to gently poke fun at some of the seriousness of it all while leading readers to clarity and questioning.
Overall, Seven Days in the Art World is wonderfully engaging, thoughtful, and most importantly, non-elitist. So do yourself a favor and pick up a copy–you won't regret it!
Want more information on "the Jane Goodall of the art world"? Check out Sarah Thornton's website here.