We wanted to spotlight several of the new artists we've added to our curriculum (see more on how we've updated and diversified here). And, after linking to an article about her on our Facebook page earlier this year, we wanted to start with Edmonia Lewis, one of the first commercially-successful African-American sculptors. Though parts of her story have long been overlooked, we now know more about Lewis than ever before, and can't wait to tell her story.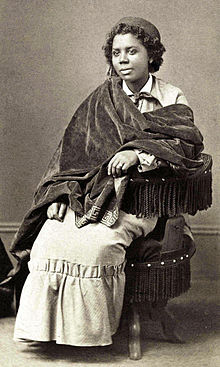 Details of Lewis' early life are murky, in part because she would often create different narratives about her early life based on her audience and to retain a sort of mystery as an artist, as The New York Times points out. What we do know is that she was born Mary Edmonia Lewis in Greenbush, New York, around 1844. According to Artsy and the Smithsonian Museum of American Art, her father was a free African-American, her mother was a Chippewa Native American, she was orphaned at a young age, and was raised by her mother's sisters. She studied at Oberlin College and left after not only being accused of poisoning two white students, but enduring what the Smithsonian American Art Museum calls "a severe beating [at the hands of] white vigilantes" and a highly publicized trial. After her acquittal, she was then accused of stealing art supplies and was not allowed to complete her education at Oberlin.
Lewis then moved to Boston to study under sculptor Edward Brackett, and went on to Rome two years later in order to pursue a career as an artist, as Americans seemed to be far too focused on her race to pay any real attention to her art. She told The New York Times in 1878 that she "was practically driven to Rome, in order to obtain the opportunities for art culture, and to find a social atmosphere where I was not constantly reminded of my color. The land of liberty had no room for a colored sculptor."
In Rome, Lewis didn't let peoples' perception of her race or gender stop her. She joined a small community of American women and got herself a studio. From there, she sculpted all her own pieces with little to no outside help, focusing in on depicting Native Americans and freed African-Americans in a classicized style. Demand for her work translated into commercial success. She sculpted several works based on Henry Wadsworth Longfellow's The Song of Hiawatha, and the author himself even sat for a portrait when he visited her studio, according to the Smithsonian American Art Museum. He wasn't alone: leaders and dignitaries from Frederick Douglass to Ulysses S. Grant stopped in to visit or sit for Lewis when in Rome, and she had many patrons on both sides of the Atlantic.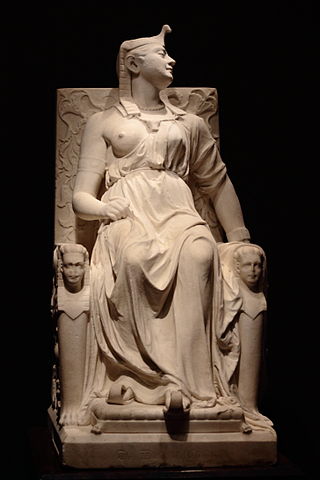 According to The New York Times, in 1876, Lewis was invited to submit artwork to the United States' centennial celebration in Philadelphia. The result was (arguably) her most famous piece, The Death of Cleopatra. The sculpture is highly classicized, and yet incredibly realist: though stoic, Cleopatra looks infinitely more naturally dead than other similar neoclassical works.
Though Lewis was commercially successful in her own time, many of her works haven't lasted. Even The Death of Cleopatra was thought to be lost until the 1980s, according to Moore Women Artists. (It's now safely housed in the Smithsonian American Art Museum, but the story of how it got there is wild: read the details at Moore Women Artists!) The details surrounding Lewis' death are also murky, but after independent researchers looked into it, it's confirmed that she died in 1907 in London of Bright's disease, according to The New York Times.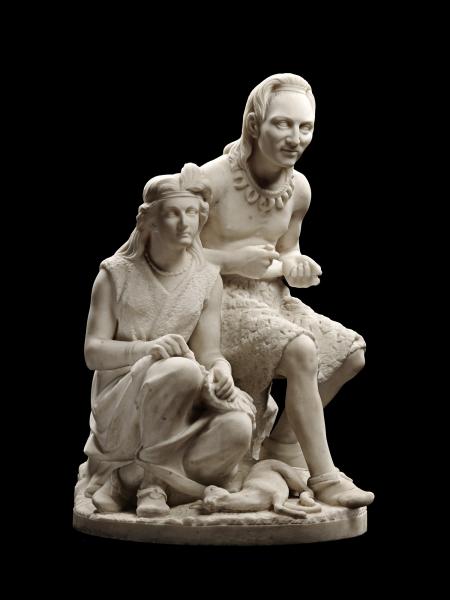 Despite the adversity Lewis faced as both a woman and an artist of color, she was able to make a name for herself, defy categorization, and achieve commercial success. We're proud to feature Lewis' The Old Arrow Maker in our new African-American Storytelling unit, and we can't wait to share her story and artwork with students.
---
Want to read even more about Edmonia Lewis? Check out these in-depth articles and bios from The New York Times, Artsy, The Smithsonian American Art Museum, and Moore Women Artists!
Read more about our new curriculum here!
Find out what we do at the Art Docent Program here, and like and follow us on Facebook for updates!