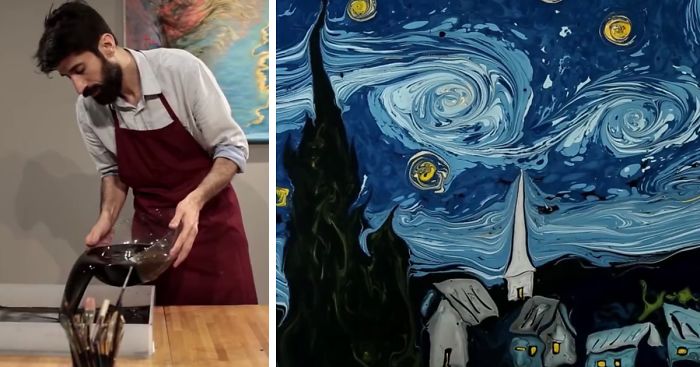 First of all, watch this video of artist Garip Ay recreating Vincent van Gogh's Starry Night on dark water. Just watch it.
If that's not talent, I don't know what is. What's even cooler than this video is the story behind ebru, the specialized sort of "water painting" seen in the video, and how Garip Ay came to encounter (and work in) the medium.
Ebru is a traditional Turkish art form in which one creates an image by scattering various paints on a water surface and transfers the image onto a piece of paper–sort of a type of paper marbling. Ay demonstrates the technique in the video when he paints van Gogh's face and transfers onto paper. According to a video on Ay's website, ebru was traditionally used in lettering and in binding. Ay himself, however, fuses a modern sense of painting into his ebru works.
According to his website, Ay first encountered ebru while studying traditional Turkish art forms during his time at Mimar Sinan University in Istanbul. After people responded positively to some of his ebru works, it wasn't long before Ay committed to working in ebru and keeping the art form alive.  Ay describes ebru as "unique and [still] relatively untouched" as an art form in today's art world. Ay integrates the more traditional parts of ebru with painting, creating a fresh and unique style. Using fabric, glass, and acrylic paints (in addition to traditional paints), Ay is able to create stunning "water paintings" that he can then transfer to paper.
Each paint, Ay says, interacts differently with the water. For example, glass paint will have a vastly different look than acrylic, and so on. Ay states in a video on his website that he's had to conduct extensive experimentation to be able to understand how each paint interacts with the water and how to blend them to create a desired effect.  Combining this traditional art with modern paint and his own creative imagination, Ay has been able to make a name for himself through both his work–but there was something missing.
Ay wanted viewers of his art to be able to understand the process behind ebru–the amazing fusion of paint and water. So he started filming his process and sharing it with viewers. His videos–including the above ebru take on Starry Night, which was featured by entertainment/creative site Bored Panda–have helped introduce Ay and ebru itself to the rest of the world. By sharing his process, Ay was able to communicate the adaptable, fluid (pun absolutely intended) nature of his chosen medium as well as showcase his own creativity. The popularity of his videos has allowed Ay the opportunity to travel and give ebru demonstrations to people around the world, as well as the opportunity to work on various film projects as well.
Check out Garip Ay's website here for more!
Want to know a bit more about the Art Docent Program? Check out more information here and past blog posts here.