Today's Artist Spotlight focuses on an artist we've wanted to talk about for awhile now: Yayoi Kusama! We were originally planning to review Sarah Suzuki's children's book Yayoi Kusama: From Here to Infinity, but since we were unable to check out the book from our local library, we figured a full-blown Artist Spotlight would be a great way to introduce readers to this amazing artist. However, you may be more familiar with Kusama than you realize, considering that she's been active in the art world for over 50 years at 91 years young!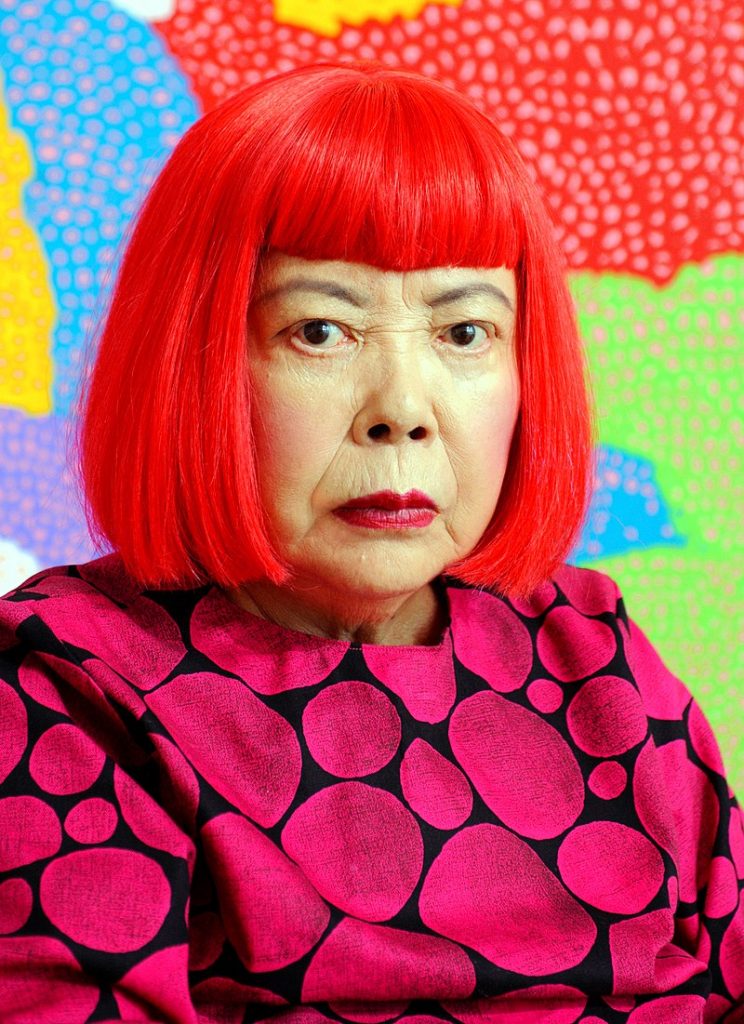 Yayoi Kusama was born in Japan in 1929. From a young age she was drawn to creating art, though this was routinely discouraged by her mother (and resulted in Yayoi's art being taken away on multiple occasions). As a child, Kusama experienced visual hallucinations where her vision obscured by what she described as dots and flowers, which would inform her future art.
Kusama moved to New York City, the epicenter of the art world, in the late 1950s. She developed a variety of performance artworks, making her name alongside other juggernauts of the male-dominated scene. Kusama's first installation rooms and participatory artworks were created during this time. She also took part in many protests against the Vietnam War, using her artwork to do so.
As the pace of her artmaking in New York took a toll on her mental health, Kusama moved back to Japan in the 1970s. She has voluntarily lived in a mental institution ever since, though works during the day at her studio a short distance away. Curator Mika Yoshitake, who curated Kusama's Hirshhorn show in 2017, told PBS that"art" functions as a form of "therapy" for Kusama.
Though Kusama has been active in the art world for decades, it seems that her work has become more of global sensation recently, almost "globally branded" in the way Jeff Koons or Damien Hirst might be, despite minimal engagement with the media. Her immediately-recognizable iconic dots, which Kusama sees as a form of obliteration, find their way into massive installations like her Obliteration Room and Infinity Rooms. You've likely seen a Kusama installation on social media, as these artworks lend themselves particularly well to our socially-networked society. The participatory nature of Kusama's recent works–along with the accessible idea of the humble dot as a powerful tool for obliteration and creation–have made her works popular the world over. And it's about time, we t.
---
What do we do at the Art Docent Program? Find out more about us here!
Want more artist spotlights? Check out our blog archives!
For more information, visit Sartle, the Tate (whose page is written for kids!), and these videos from PBS, CBS News, NPR, and the Tate.
Find more information on Sarah Suzuki's children's book, Yayoi Kusama: From Here to Infinity, here.
Give in to Kusama-mania: There's also a documentary we've yet to watch titled Kusama: Infinity if you're as hooked on Kusama as we are. You can also get inspired to whip up some Kusama-inspired cake pops courtesy of Sarah Anne Ward to munch while you watch (and then read this Sartle article for even more Kusama-mania).