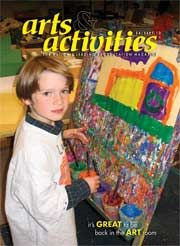 One of our most treasured resources as art education enthusiasts is the Arts & Activities Magazine. This monthly magazine features great tools for those teaching kindergarten through high school and parents who simply love art. It provides step-by-step directions for art projects you can teach in your classroom or at home.It also includes the history and discussion of artists along with tips to help improve your classroom art experience.
Not only does the magazine have insightful lessons, but it also allows collaborations from the readers. At the website, parents and teachers may submit lessons and ideas to share with fellow readers. Subscriptions for a free digital version or a low-priced print version are available online.
Arts and Activities Magazine's website increases interactivity by allowing submissions, but they also have a Facebook page where art teachers and others with a passion for art can come together to share their knowledge. On their Pinterest profile, viewers will find more ideas for art lessons along with some entertaining art parodies.
The Art Docent Program has had several lessons featured in this magazine. In the December issue, an excerpt was written by Barbara Herberholz on a painting called "Vertumnus" by Giuseppe Arcimboldo.
This painting is one of the many paintings included in the lessons for the Art Docent Program. Herberholz gives a short description adapted from the Art Docent Program lesson plan that accompanies the painting.
In this lesson, the teacher asks the students which fruits and vegetables they can identify in the painting. There are grapes, cabbage, pears and more all blended into the portrait demonstrating that Vertumnus is the Roman god of vegetation and seasons. This Art Docent Program lesson is on page 23 of the December 2012 issue.
If you would like to know more information about Arts & Activities Magazine go to: http://www.artsandactivities.com.