We're retiring Artist Spotlight for a little while, and instead focusing on another important yet often overlooked aspect of the art world: museums and curation. Today, let's look at the debate over taking photos in art museums.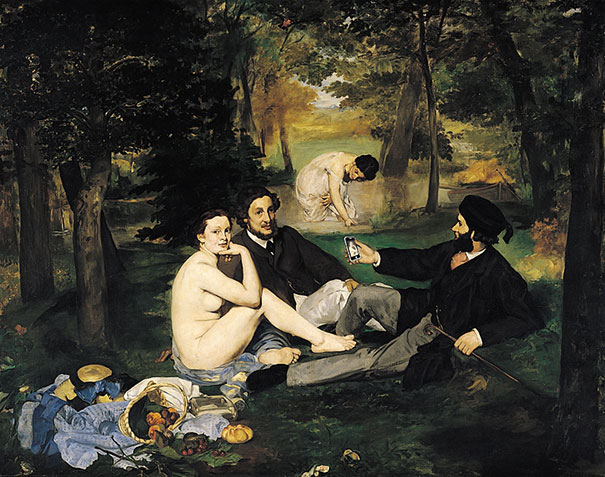 It's tempting to do it. You're in front of a classic artwork — one known throughout the world — and you want to preserve the moment to reflect on later. Chances are, you also want to share the moment with friends. And your phone, with its nifty camera, is sitting there in your pocket. It would be so easy to just take it out and snap a quick pic, and it's not like the guards are really looking anyway, right? So you take it out, and just before you get to click that photo, a security guard has swooped down upon you and warned you there's no photography in the museum.
As someone who has personally experienced this, I've often wondered: What's the big deal with taking photos in museums?
This long-standing debate in museums, especially art museums, reignited this week when Britain's National Gallery lifted their longtime ban on photography in exhibits by visitors. Their statement on the policy change reads:
"As the use of Wi-Fi will significantly increase the use of tablets and mobile devices within the Gallery, it will become increasingly difficult for our Gallery Assistants to be able to distinguish between devices being used for engagement with the Collection, or those being used for photography. It is for that reason we have decided to change our policy on photography within the main collection galleries and allow it by members of the public for personal, non-commercial purposes – provided that they respect the wishes of visitors and do not hinder the pleasure of others by obstructing their views of the paintings. This is very much in line with policies in other UK museums and galleries. The use of flash and tripods will be prohibited, as will photography and filming in temporary exhibitions."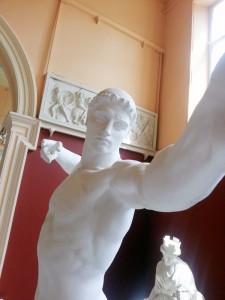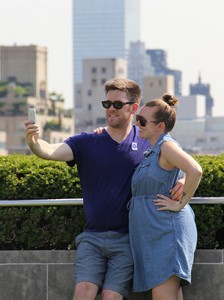 The Telegraph notes that this change in policy is occurring in the struggling world of art museums at the same time that more popular art forms, including theatre, film, and even many music acts, are banning (or at least discouraging) photography, often due to copyright issues and the idea that taking photos takes away from the experience of art. Vice Magazine mocks people taking selfies at art museums in a post, asking "if the documentation of their experience meant more than the experience itself." A new humorous art trend is posing statues as if they were taking selfies, as shown here on ArtNet. Heck, there's a whole Tumblr page dedicated to #museumselfies.
So what's the debate for? Well, here's a quick list of pros and cons of taking photos in museums that often are weighed against each other in this debate. Since it's traditionally the stronger point of view, let's start with the Cons.
The Cons:
Taking photos distracts others in the gallery. You know the clicking noise of a DSLR shutter, or the fake electronic copy of that on iPhone cameras? Now imagine a quiet art gallery, filled only with the low murmurs of captivated patrons, and then imagine that clicking noise. Not just once, but multiple times. Over and over. Clickclickclickclickclick. Now, imagine that, plus bright flashes in a low-lit room. Annoying? I think, yes.
Flash photography may damage the artwork. No joke. Paper is a fragile thing that isn't meant to last forever. Museums fight an uphill battle trying to protect paintings that are centuries old. And your camera flash? That can cause the cellulose in paper to break down and contribute to the degradation of the pigments (think of how the sun fades photos and images when they're left out). No, your one flash photo won't instantly ruin an artwork, but hundreds of photos taken each year for decades? That adds up. For more detailed info, click here.
Taking photos ruins the introspective nature of art. Travel blog Everywhereist writes: "Instead of reflecting and appreciating brush strokes, technique, perspective, lighting, and all that other stuff that gets art majors laid when they talk about it, you're staring at a 2″ x 2″ display screen on the back of a camera. You might end up with a picture of the Mona Lisa, but you won't remember having seen it for yourself."
It may be illegal. This is mostly an issue with temporary exhibits that rotate through many museums, as well as newer art that isn't yet in the public domain. By taking a picture, you may be violating the intellectual property of an artist, especially if you share that image or try to sell it. This can leave you open to lawsuits and fines, or at the very least, getting kicked out of the museum with no refund. The NY Times wrote about this issue here.
The Pros:
Flash photography may not really damage artwork, and photos without flash definitely don't. ArtNews writes: "Mervin Richard, chief of conservation at the National Gallery of Art in Washington, which has long permitted flash photography, said he had personally examined studies of the effects of light exposure on art and concluded there was little risk.  Fears that flashes damage art, he said, are left over 'from the days when people used flashbulbs, which could actually explode.'"
Sharing photos from galleries can increase the popularity of an exhibit. Let's be honest: art museums do struggle to stay in business. Your photos can change that! Along with the National Gallery in the UK and here in Washington, DC, several museums have realized that visitors sharing photos from their exhibits can help spread excitement for an exhibit by word-of-mouth.
Stopping photography in exhibits is an uphill battle. With the rise of Instagram and Snapchat, the current Golden Age of television, and the continuing popularity of screen-based entertainment in smartphones and tablets, our culture is communicating through images more than ever before. Photography at art exhibits, thus, is a natural extension of this. Alisa Martin from the Brooklyn Museum says, "

Guards are spending so much time focusing on someone holding a device that they might not see the person next to them touching the art. As the devices get smaller, it gets harder to manage. We have to ask ourselves, are we using our guards appropriately?"

Art should be conversational. When you see good art, it evokes a response. The increase of social media usage has allowed museums and artists to communicate with their audiences more than ever before. Whether by texting the photo to friends or uploading it to Facebook, when one takes a photo at an art museum, it allows them to continue that conversation with those outside of the exhibit.
Needless to say, there's certainly a lot of division about photography in art museums, and each museum can have very different policies. Thus, I've compiled a quick, definitely non-exhaustive, list of famous art museums that do and don't allow non-commercial, non-flash photography of permanent exhibits. You might be surprised at how many allow photography; I know I was!
Museums that allow photography
Museum of Modern Art, NYC
The National Gallery of Art, Washington, DC
The National Gallery, London, UK
Metropolitan Museum of Art, NYC
The Getty Museum, LA
Crocker Art Museum, Sacramento
DeYoung Museum, San Francisco
Tate Modern, London, UK
Rijksmuseum, Amsterdam, Netherlands
The Louvre, Paris, France
Museums that do not allow photography
The Isabella Stewart Gardner Museum, Boston
The Musee D'Orsay, Paris, France
The Guggenheim Museum, NYC (photos only allowed on the ground floor)
Museum of Egyptian Antiquities, Cairo, Egypt
So what do you think? Should museums allow photography? Have you ever taken a photo in an exhibit?