Our favorite street artist is at it again. Banksy has struck again. But this time, his latest mural has debuted at a primary school.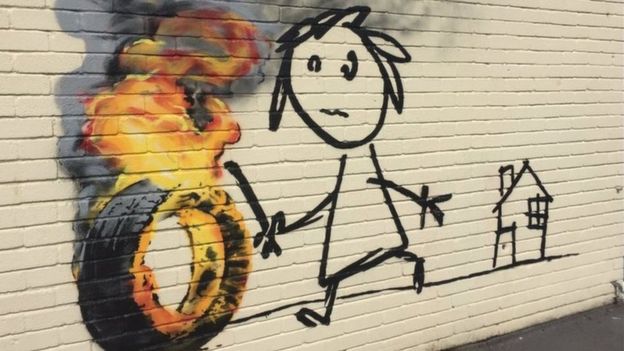 Bridge Farm Primary School in Bristol, UK, had recently named a building after the elusive street artist. According to the BBC, over the half term holiday, the artist "snuck in" and left a little something to show his thanks.
The "present" is a 14-foot mural on one of the school's playground walls. It features a child rolling a blazing tire with a stick. (This writer wonders if the cover for the Pink Floyd album Wish You Were Here played any part in the artist's inspiration. At any rate, it has this writer thinking of the gloomy stubbornness of the line from the aforementioned band's song " Another Brick in the Wall, Pt. II" in which a group of schoolchildren chant "We don't need no education…" Just a thought).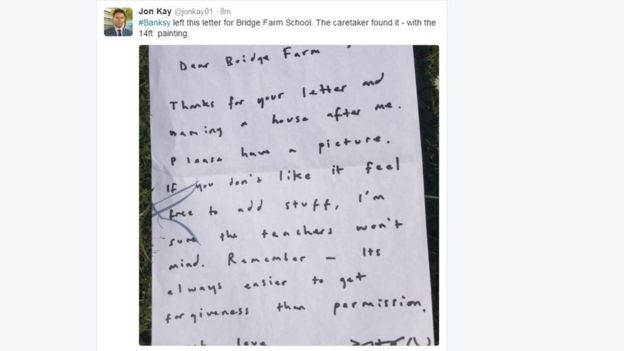 According to school officials and a spokesperson for Banksy, the mural is confirmed to be by Banksy himself by a handwritten note the artist left taped to a gutter pipe. The note thanks the students at the school for sending him a letter and "naming a house after" him and states "Please have a picture" in return. The artist also left a missive for the students to "please add stuff" if they didn't like it, as Banksy is "sure the teachers won't mind." In true Banksy fashion, he ended the note with a "Remember–it's always easier to get forgiveness than permission."
Students and teachers alike were "amazed" and excited about the mural. The school does not intend to sell the painting, as the artwork is "inspirational" for their students. Banksy is originally from Bristol, and the community there has not forgotten that–as evidenced by the letter students sent to the artist and the naming of one of their houses after him. After discovering the mural, the school's head says that the painting's symbolism ought to be worked out and interpreted by each individual and not necessarily be interpreted as any larger message–and that he "likes the fact" that the school now has an original Banksy. Regardless of its message, the painting is to be covered with protective plastic so that other graffiti artists do not vandalize it–somewhat ironic, as Banksy specifically told the students to do what they liked with the mural.
Dark sarcasm in the classroom, indeed.
Check out the full coverage of Banksy's picture from the BBC here.
What do you think of Banksy's present? Let us know in the comments!
Need more art? Check out the Art Docent Program on Facebook or check out more throughout our website.