Look out–the Harvard Art Museums have just opened up their massive collection of Bauhaus art to the world wide web. In a move that seems only fitting with the 25th anniversary of the Internet itself (feel old yet?), over 32,000 (!) Bauhaus works are now searchable through the Bauhaus Special Collection, according to Hyperallergic. You can now browse the museums' collections of works by big Bauhaus (and beyond) names Paul Klee, Jean (Hans) Arp, Marcel Breuer, Marianne Brandt, Lyonel Feninger, and many more from the comfort of your home.
But what's the Bauhaus exactly? The Bauhaus was a school for art and design established in Germany in 1919 by Walter Gropius. Its aim was a hands-on art education that focused on students perfecting a variety of crafts on a foundational level before moving on. According to H. H. Arnason's History of Modern Art,* courses sought to free the student from any preconceived prejudices to craft or medium through elementary, fundamental techniques. This back-to-basics approach focusing on issues of craft and form also included a reconciliation with the industrial that was often at odds with high art. In addition to producing some of the most advanced work of the period in interior and graphic design and architecture and boasting some of the best artists-on-faculty of all time (Kandinsky, Klee, and László Moholy-Nagy were all on staff at one point, among others), the Bauhaus's curriculum structure still has a heavy influence on the art departments of many colleges and universities today.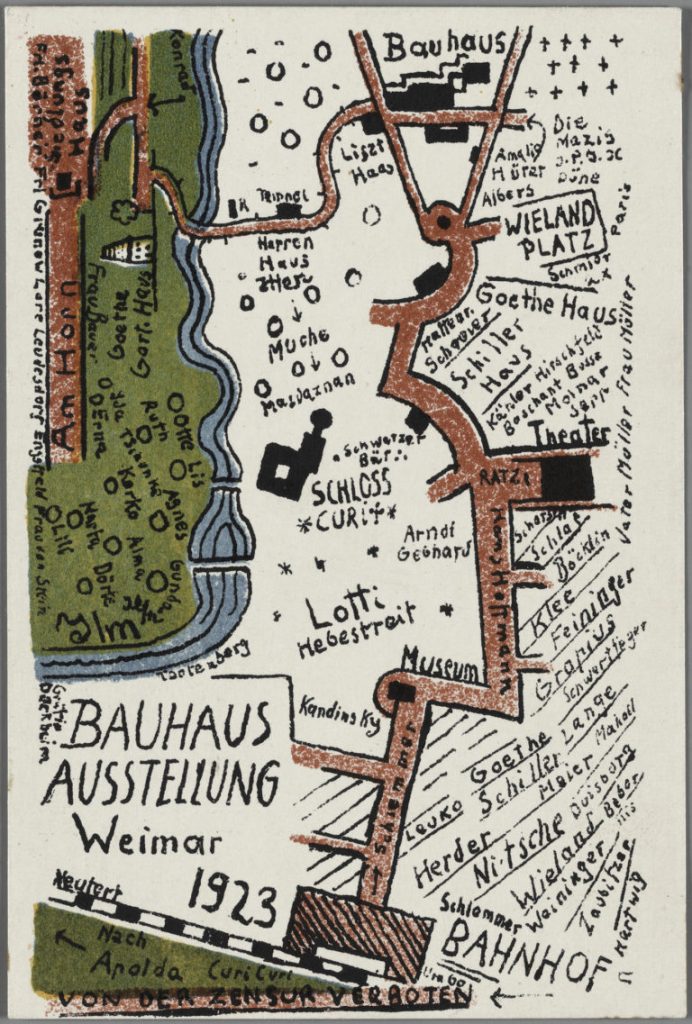 The website also provides a timeline for those of us less familiar with Bauhaus, illustrating its scope and tracking its influence beyond its dissolution in 1933. Only fittingly, the timeline includes the only major exhibition of Bauhaus work outside of Germany–staged by three Harvard undergraduates in America in 1930. And there's plenty of work to search–Harvard's Busch-Reisinger Museum's Bauhaus and Bauhaus-related work make up three-fourths of its collection, according to a statement by museum curator Lynette Roth.
So there's more than plenty to look at. According to Hyperallergic, the collection is searchable by title, keyword, title, artist, medium, date, and theme. And the Bauhaus Special Collection is just a small part part of the effort to "stir greater public engagement" with Harvard's Bauhaus collections. According to Hyperallergic, the museum is planning a major exhibition of its Bauhaus and Bauhaus-related holdings across Harvard's campus in 2019.
Looks like we might need to take a trip to Massachusetts. But for now, we'll just spend all the time in between perusing the collections online. It'll take us that long to get a glimpse of everything.
Learn more about the Harvard Art Museums' Bauhaus and Bauhaus-related collections from this Hyperallergic article by Claire Voon.
Here's the website for the Harvard Art Museums, too–in case you need to go "tour colleges"/go on an art-vacation.
Wondering what we do here at the Art Docent Program? Look no further than right here for your answers!
Dying for more fun art blogs? Check out our past posts here.
*External resources: Arnason, H H, and Peter Kalb. History of Modern Art: Painting, Sculpture, Architecture, Photography. Upper Saddle River, N.J: Prentice Hall, 2004. Print. 329-331.