In recent years, the Mexican holiday Día de los Muertos, or the Day of the Dead, has become increasingly popular. Simply look to the sheer amount of decor at Target or Pier 1 Imports: you'll find sugar skulls and smiling skeletons in among the Halloween ghouls. Even Disneyland has an entire area of Frontierland decorated to celebrate this two-day holiday.
It's easy enough to see why some of America's biggest stores are capitalizing on the imagery of Día de los Muertos: the holiday's iconic imagery is appealing and fascinating. But how can we justify buying decor for and celebrating a holiday most Americans might not fully understand? Here, we're going to briefly explore an overview of some of the most iconic and beautiful imagery associated with Day of the Dead, as well as what major art museums and institutions are doing to celebrate.
As you probably know, Día de los Muertos began in Mexico as a sort of fusion between indigenous customs and the All Saints' and All Souls' Days, the Catholic Church's back-to-back feast days, which fall on November 1st and 2nd. (All Hallows' Eve, aka Halloween, comes out of celebrating the eve before All Saints' Day). Día de los Muertos spans several days (typically from midnight on October 31st through November 2nd) where families and communities can celebrate and remember their loved ones and their traditions. Families will typically build altars (ofrendas) remembering loved ones, and over the years, the iconography associated with the traditional aspects of the holiday has grown.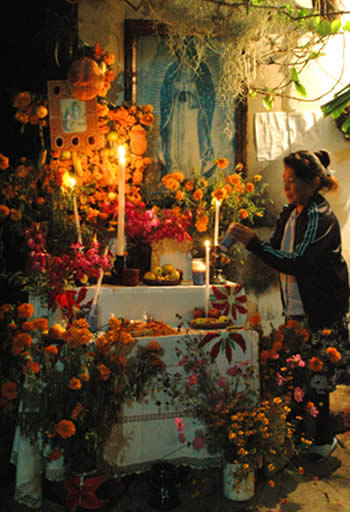 So what are some of the most common aspects of Día de los Muertos businesses are capitalizing on? Here are just a few:
Marigolds (cempasúchil): According to Teleflora and La Jolla Mom, these cheerful flowers scent and color are said to remind the living of the fragility of life, to help guide the dead to their respective altars, and to celebrate the dead. A common craft for children is creating these brilliant paper blooms out of tissue paper.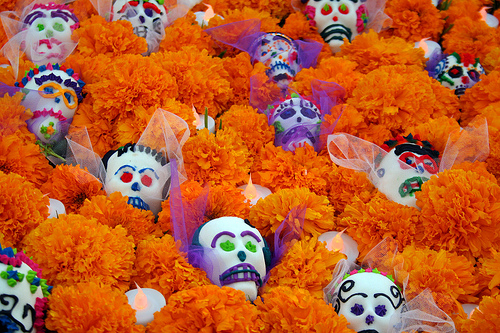 Paper art (papel picado): These paper pieces are common on religious and secular occasions, and Día de los Muertos is no exception. Pieces are commonly used in decorating altars (according to Wikipedia).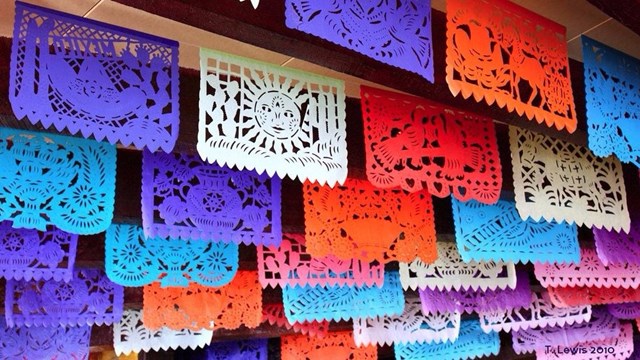 Sugar skulls (calaveras or calaveras de azúcar): Made of sugar (or sometimes clay), calaveras were originally made to represent one departed soul and were placed on their altar. Read more on the entire holiday, and the history of sugar skulls, at mexicansugarskull.com!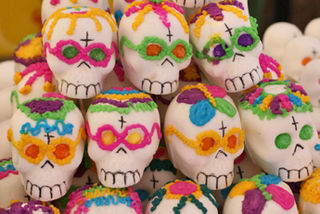 Smiling skeletons (Las Catrinas [or Las Calaveras Catrinas, when in sugar skull form]): Whether they're a calavera or not, some of Día de los Muertos' most recognizable images are of smiling skeletons. Hailing from a print by José  Guadalupe Posada, the image(s) have now come to represent the holiday (according to Wikipedia).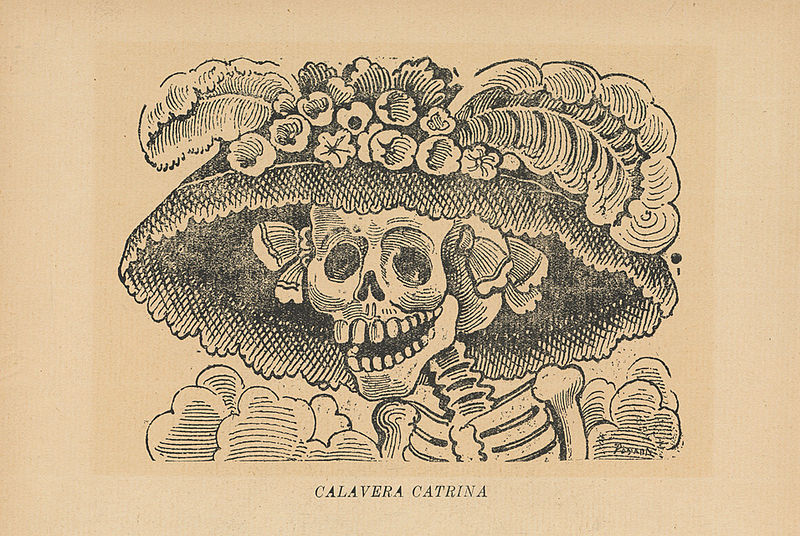 While the holiday's images are beautiful, it's important to remember that they're quite meaningful. So if you choose to celebrate, remember to be mindful of what the holiday stands for, and not just the pretty decorations.
Museums have also been picking up on the holiday's innate potential for creating art. This year, Long Beach's Museum of Latin American Art continues its Día de los Muertos juried exhibition, where participants from around Southern California have submitted art and altars to be featured in the museum from October 4th through Novemeber 19th. The museum will also hold an event, Storytellers: A Día de los Muertos Celebration, on Saturday, October 21, 2017. The event is billed as a "night of storytelling through music, art and altars" that will include food, live art by SAND ONE, a female artist "from East LA creating larger than life dolls," and of course, the exhibitions.
With the success of the MOLAA's exhibit, other museums will likely choose to celebrate the history and art of Día de los Muertos as well.
---
What other places do you know that celebrate the fullness of Día de los Muertos? Share in the comments, and find out more on MOLAA's exhibition here!
Check out this article from The Press-Enterprise about the decor boom surrounding Día de los Muertos!
Want more on the history of the holiday and its customs? Check out this article from mexicansugarskull.com!
Discover more about us at The Art Docent Program here, and don't forget to like us on Facebook!
Want more fun art news? Check out the rest of our blog posts!