Summer is just around the bend! With lazy days filled with sun and sea ahead, it's only fitting to celebrate the fact that warmer days are coming in beautiful California. Bulgarian-born artist Christo Vladimirov Javacheff and his wife Jeanne-Claude Danet,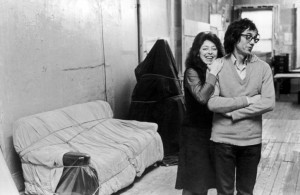 better known as Christo and Jeanne-Claude, were clearly fans of California summers as well. Their 1976 project Running Fence, a simple site-specific piece winding through 24.5 miles of Sonoma and Marin county countryside, aimed to highlight the area's
beauty. However, their public works were not without commentary.
Both Christo and Jeanne-Claude were born in 1935, Christo in Bulgaria and Jeanne-Claude in France. The two met in Paris in 1958 and quickly realized that they were just as strong collaboratively as they were in their separate careers. They moved to New York City in 1964 to establish themselves more firmly in the art world.
Jeanne-Claude and Christo's major early projects in the 1960s consisted of experimental, rectified readymade-type objects that were wrapped in sheer polythene coverings, such as the 1962 Wrapped Motorcycle. This eventually progressed to short-term installations of wrapped buildings—site-specific pieces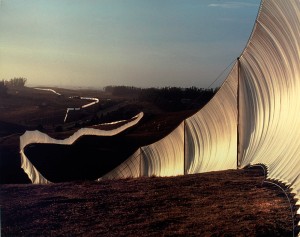 such as The Wall, a wrapped Roman wall on the Via Veneto and the Villa Borghese in Rome. Large-scale, site-specific pieces became characteristic of the pair's work throughout the late 60's and 70's, and their saga to realize and complete Running Fence in 1976 was immortalized in film, highlighting the fact that their ephemeral public works were often met with disapproval and controversy. The pair was continually steadfast, though, often planning works that were never realized for one reason or another. That only makes the works that were completed all the more intriguing. But Christo and Jeanne-Claude treat the works not realized as just as important as those that were—their website has separate categories for works "realized," "not realized," or "in progress."
Christo and Jeanne-Claude actively claimed throughout their collective career that their pieces were meant to be taken as only expressions of joy and beauty (according to Wikipedia). This may have been the reason that so many people in the 1970's and 1980's found the pair's work irritating—their pieces are large-scale but claim no reason for their scale. However, Christo and Jeanne-Claude's work is hardly without some deeper meaning, as evidenced by their choice in sites. Their 1995 Wrapped Reichstag in Berlin, a wrapping of the prominent governmental building, was in its very nature a commentary of sorts.
The pair was fairly active throughout the early 2000s, including 2005's The Gates, an ephemeral work in New York's Central Park. However, their projects took a halt around 2009, when Jeanne-Claude passed away. According to their website, Christo is continuing to produce art in her absence, with several projects currently under way.
Christo and Jeanne-Claude's works, in addition to being some of the best-known large-scale and site-specific pieces in the last half-century, have inspired generations of artists to think outside the box. Their pieces also question the idea that art has to be created to last forever. The pair's relationship and recruitment of others to help install their projects also demythologizes the "artist-as-an-isolated-genius" concept and emphasizes collaborative genius. As a whole, the work of Christo and Jeanne-Claude hopes to not only point out what is beautiful, but ask viewers what they think about it. And as the future marches on, we can't wait to see what's next.