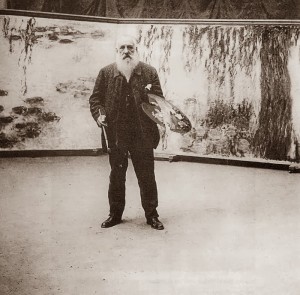 Eminent for his impressionist pieces featuring brilliant water lilies, colorful gardens and epic landscapes, Claude Monet was an artist whose name is recognized around the world.
On the 12th of this month, Monet would have celebrated his 172nd birthday. So, in honor of the founder of French impressionist painting, we would like to take the time to discuss some interesting facts that you may not know about Claude Monet.
Biography.com states that:
If you lived in Paris, France in 1840, you were living in the birthplace of Monet. Monet preferred his middle name — not his first name and thus was born Oscar Claude Monet on November 14, 1840.
If you loved to draw as a child, you and Monet would have had something in common. He filled his schoolbooks with sketches of people, including caricatures of his teachers.
If you were a student attending Academie Suisse in Paris, France in 1859, you would have most likely seen Monet walking through the halls. Monet was enrolled in Academie Suisse during the time he met fellow artist Camille Pissarro, who would be a close friend to Monet for many years.
If you had attended the Salon in 1866, an annual juried art show in Paris, you would have seen Monet's paintings on display. The show officials chose a landscape and a portrait Camille (or also called Woman in Green), which featured his lover and future wife, Camille Doncieux.
If you were around in 1874, you would have heard the term "impressionism" when it was first created. After an art exhibition in 1874, a critic insultingly dubbed Monet's painting style "an impression," since it was more concerned with form and light than realism, and a new term was coined: impressionist.
Wikianswers states that over the course of his life, Monet had painted more than 2,000 paintings, but it's hard to determine the exact number because there are still works that haven't been discovered.
From "Luncheon on the Grass," to "Garden Pathway to Giverny," to "Water Lilies" (1916), there is no argument that Monet was a creative painter and furthermore artist. Even 86 years after his death, Monet's works are still displayed in distinguished art galleries all over the world, such as The Museum of Modern Art in New York City.
The Art Docent Program incorporates lessons for students that feature introductions to Monet and his work in Grade 3: Landscapes and Grade 6: Impressionism.