If you didn't know, Wales is basically the castle capital of the world, or at least the UK. I learned this last weekend during a stay in Conwy, which has a stunning crumbling castle overlooking the sea, which visitors can climb all over. Even on our journeys to and from Conwy, we saw several castles out in the countryside. It's easy to find inspiration from them, I thought, and apparently I wasn't the only one.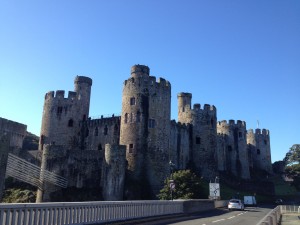 JMW Turner, whom you may remember from our post about his painting, The Slave Ship, painted several Welsh castles in his lifetime, but he painted Conwy the most! His three watercolors of this seaside citadel all based on sketches from notebooks, which he made during stays in Conwy, beautifully render the majestic ruin of this castle.
The paintings have been split up over the years. His first one, dating to 1798, can be seen in the Getty, but his second one is currently in a private collection, having sold in auction in 2010 for £325,250! His final painting, from 1803, can be seen in the Tate Modern in London.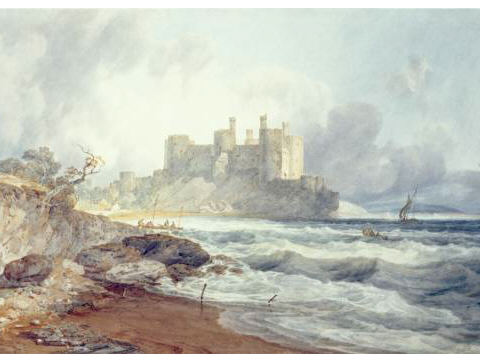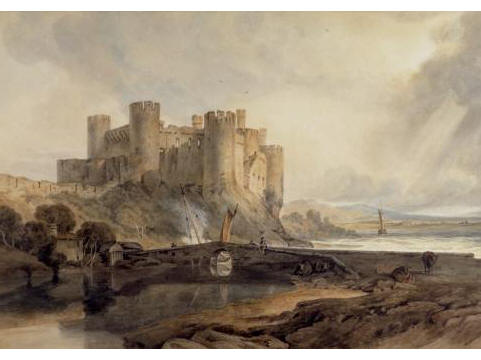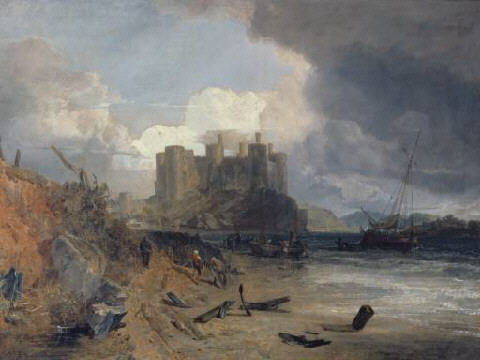 Turner, though not Welsh, clearly loved its rugged countryside and craggy fortresses that seemed to rise suddenly and naturally out of the hillside: he painted at least 19 other paintings of Welsh castles in his lifetime. His paintings feature dramatic sea or landscapes with bursts of light shining through clouds or wild waves shimmering from the sunlight above, all of which would become a standard marker of the English Romantic painter.
Looking to visit the castle? Seriously, this place is the coolest. Only costing 8 pounds sterling to get in, one can spend hours there just exploring all the secret rooms and climbing the tower stairwells. Be careful not to get lost!