Vast, empty spaces are often fuel for an artist's creative fire. A break from the typical hustle of any sort can often create new breakthroughs for many creatives (just ask any LA artist if a trip to the desert did them good). But it takes a special sort of person to settle in a type of environment–much less thrive in it.
Yet that's exactly what Marta Becket did. For nearly 50 years, Becket lived and created–both dance and visual art–at her own opera house situated in Death Valley, California. Primarily known as the dancer who performed one-woman shows to often-empty audiences in the middle of the desert, Becket's creative expression flourished in the desert. Her death last week at 92 marks the end of a truly unique creative mind. But her life is the story of a truly unique person that we can all learn from.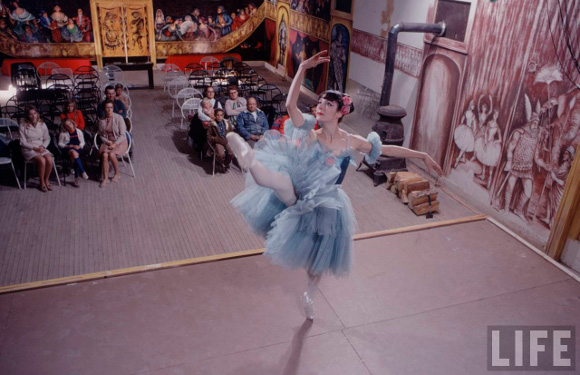 Born in 1925 in New York, Becket was fascinated by the arts at an early age. According to the Calabi Gallery, who house some of her paintings, throughout her childhood and adolescence, Becket was trained in both dance and in the visual arts as well. As an adult, she danced in a variety of shows in New York, from appearing at Radio City Music hall to roles in Showboat, A Tree Grows in Brooklyn (starring Shirley Booth), and Wonderful Town to shows of her own creation–the most notable being The Mirror, The Carpet, and The Lemon.
In 1962 Becket married Tom Williams (who she'd known since 1959, and who had become her manager) and also began to sell some of her paintings in Greenwich Village. Becket's focus on dance led to a countrywide tour where she performed her repertoire–and to her discovery of the Amargosa Hotel in Death Valley.
According to the LA Times, Becket and Williams got a flat tire near Death Valley. As Williams went to find a replacement, Becket stumbled across the Amargosa Hotel, what was in 1967 an abandoned and run-down building. But where others saw disrepair, Becket saw opportunity. She and Williams fell in love with the building, and immediately rented and began renovations on the theater behind the hotel, which they ended up buying outright.
The newly-christened Amargosa Opera House opened its doors on February 10th, 1968, featuring one-woman shows that were sparsely-attended, if not completely empty. Following a damaging flash flood in the summer of 1968, Becket repainted the opera house's interior with Renaissance-style murals that took her four years to complete–effectively filling the audience with art, if not people. In a 2008 interview, Becket stated of the murals: "People asked why I did it, and I said 'Well, I have to be ready when they do show up.'"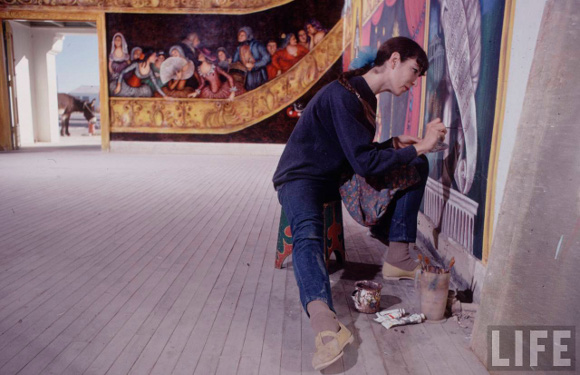 People didn't–at first. In fact, even Williams left her in 1983–but Thomas Willett, a former chemical plant worker, joined her in continuing the renovation of the hotel (and helping with shows). After Willett became involved, the Amargosa began to become a destination. People slowly started filling the seats, thanks largely to a National Geographic article on Becket's venture. A 2000 documentary on Becket won an Emmy, and her performances started to fill, even after Willett's death in 2005. Becket's autobiography, To Dance on Sands, was published the following year.
Becket adapted her performances as her knees and hips began to give out. She quit performing altogether in 2012, but remained a presence in the opera house as other dancers came in to continue her legacy. But none were ever truly the same.
Becket's art–both visual and in performance–was truly one-of-a-kind. What she created was something entirely her own. And even if we're not dancers, there's something any creative person can take away from Becket's story–that dedication and courage can make almost anything possible.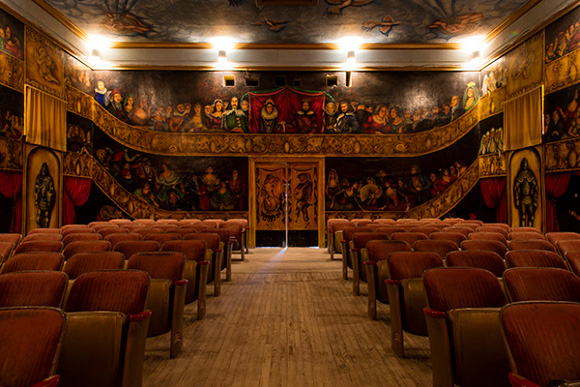 Find out more about Becket and the Amargosa Opera House at their website, and in these articles from KCET and the LA Times.
Find out more about the Art Docent Program here. And don't forget to like and follow us on Facebook for more!
Check out past issues of our blog here.