On April 25, London's Victoria and Albert museum is debuting something you never knew you needed to see—vases made out of radioactive sludge.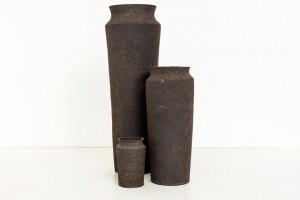 Featured in the V&A's exhibition What is Luxury, the ceramic vases were envisioned and created by The Unknown Fields Division, a collective whose website describes them as a sort of "nomadic design research studio." Partly investigative journalism and partly environmental activism, the collective, headed by Liam Young and Kate Davies, generally focuses on informing the world of the ways our everyday lives are connected to the seeming "alternative worlds" and "alien landscapes" of places of environmental import like Chernobyl, Alaska's Arctic Circle, and the Galapagos Islands. According to the Unknown Fields website, the studio generally "uses film and animation to chronicle this network of hidden stories" and "re-imagines the complex and contradictory realities of the present as a site of strange and extraordinary futures." More than anything, Unknown Fields hopes to bring to the world's attention the consequences of "emerging environmental and technological scenarios."
Their latest project focuses on rare earth mining in Bayan Obo, Inner Mongolia and its effects. The radioactive sludge from which the studio created their vases was taken from a toxic lake in the region, where the refuse from local refineries are dumped. According to fastcocreate.com, the region is one of the biggest suppliers of "rare earth" materials generally used to make the insides of electric cars, smartphones, wind turbines, and flat screen TVs.
Young and Davies traveled to the region to explore, collected the sludge, and formed the vases back at their home base in London. While forming the vases, they were required to wear goggles, dust masks, and other gear in order to protect themselves from radiation and other nastiness emitted by the toxic sludge.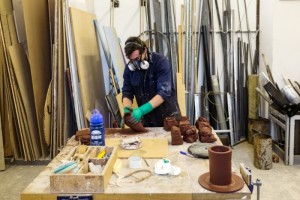 By forming ceramic vases out of the amount of sludge byproduct it would take to form, respectively, a smartphone, a flat screen TV, and an electric car, Davies and Young hope to highlight the interconnectedness between the earth and our luxury products. What cost does all our technology really come at? Young states that, in addition to our "need" for technology being socially constructed, "our technologies should really be thought of as geological artefacts that are carved out of the earth and produced by a planetary-scaled factory," not as singular items made by a faceless worker somewhere. Every luxury, it seems, really does have a consequence.
The untouchable vases go on display at the V&A's exhibition What is Luxury, which runs from April 25 to September 27. In addition, a trailer has been released online and a short film documenting the vases' genesis will be part of the exhibition.
Want more information about the vases themselves? Check out Meg Carter's article here!
Pretty much in love with Unknown Fields after reading this post? Check out their ballin' website here.
I don't know about you, but I'm halfway to booking my own ticket to London to see these oddly powerful vases! What do you think about creating art out of a wasteful byproduct—is it visionary or dangerous? Let us know what you think in the comments!