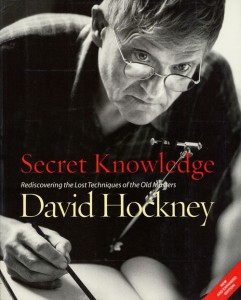 Ever found yourself wondering how the great masters were able to paint their subjects so realistically? How did they manage to portray three dimensional images on the flat surface of their canvas?
David Hockney, often described as the "world's most popular painter" wondered the same thing and his research into 700 years of painting yielded what he calls "secret knowledge." He authored a book in 2001 called Secret Knowledge and there is a video on the web that I found most intriguing.
I became acquainted with Hockney's paintings and his Secret Knowledge theory on a recent visit to the DeYoung Museum in San Francisco. The exhibit included a display of his 100s of photo copies of paintings representing 700 years of art, from 1200-1900. He noticed a "sudden change" in 1420; paintings started to look drastically more realistic. He formulated an explanation that is considered sensational and controversial. Hockney believes that artists began using concave mirrors in 1420 to reflect their subjects on a flat surface. After about a hundred or so years of using this method, he believes artists began using the more versatile lens which could be of any size, unlike the mirror. Using a lens, the picture is reversed. He noticed a lot more left-handed people in paintings than you would find by chance! Eventually,k artists found a solution–bounce the image from the lens to a mirror! The proportions were not always right, however. or instance, a face would be in focus but the body would be lengthened. Optical distortions and problems with scale varied enormously.
Hockney always wondered how painters such as Hals and Velasquez laid their brushwork so accurately without doing preliminary drawings. His concept of the use of lenses and mirrors solves this mystery. Not all artists would have used it, he says but once they saw the result, they would be influenced by the look.