I recently visited the Santa Barbara Museum of Art, and I saw a blind person making their way to the exhibit with a friend. It confused me. I mean, I'd never really thought about it before, but I started wondering, how do people who have visual impairments experience the visual arts?
Which leads to this blog post, of course. After doing a lot of fascinating research, I thought I'd share some highlights with you. In recent history, several artists, curators, and patrons have stepped up to the task of conveying visual art to visually impaired people. Here's a few examples:
1. Charities like UK-based Living Paintings and artists like Scratch Adelia create tactile versions of famous paintings.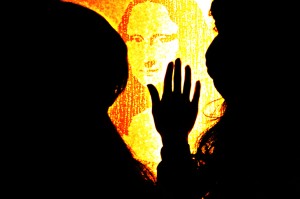 The image to the left is a tactile version of Mona Lisa, created by Scratch Adelia, which visitors are encouraged to touch. Living Paintings produces and loans free touch books and paintings for those with visual impairments. Here's a testimony:
"Helen was 19 when the Second World War broke out. During the war Helen's eyes were badly scarred leaving her partially sighted… Having left school at 14 Helen returned to the classroom at 64, to study art. She was given a thermoform and an audio description by Living Paintings at an art event and did not look back from that point. As well as being a demonstrator for Living Paintings which involved her travelling all over the country, she also worked with galleries and has advised Tate Modern on its Touch Tour facility. An artist herself, she created amazing images and at the age of 80 dedicated more time to her writing."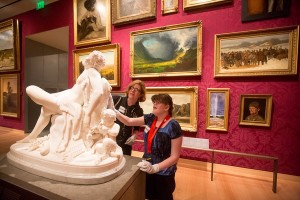 2. Museums are stepping up their game in providing exhibits for the blind as well.
Last fall, the Met in NYC held an exhibition of original art created in its classes, "Seeing Through Drawing," which helps blind or partially-blind artists to create artwork. In fact, as early as 1913, the Met was providing art lessons for blind children. The Chicago Art Institute is utilizing 3D printers to replicate famous artworks. The Meadows Museum at Southern Methodist University held an art show for blind and non-blind participants, providing not just tactile art, but physical objects similar to those used in paintings (like a wooden pipe featured in Diego Rivera's Portrait of Ilya Ehrenberg) and even cooking foods and playing music of the culture of the artworks. The UK held its first art exhibit specifically designed for the visually impaired last year, the Touch Art Fair.
For a great read on how museums are providing inclusive activities for people with disabilities, check out this article from the New York Times.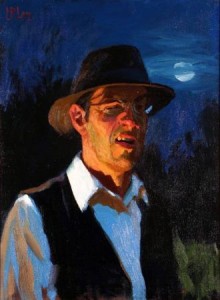 3. Art organizations don't shy away from showcasing art made by those with visual impairments.
Check out the gallery for BlindArt, another UK-based charity. The art, made by both sighted and blind individuals, is stunning. Not only that, but this art is the first permanent exhibition in the world that is completely accessible to people with visual disabilities. Furthermore, color-blind people have made incredible art despite their different color sight; in fact, it's possible that even artists like Picasso or Constable suffered from color blindness.