In honor of spring, we've decided to give this week's #fancyfriday title to Peter Carl Fabergé!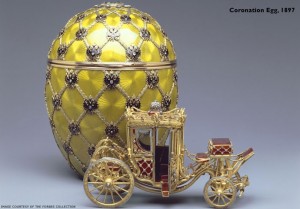 Generally, the #fancyfriday champion of any given week is recognized for their achievements in portraiture. But due to the fact that it's now spring and the Easter holidays are in full swing, this Friday's winner is a bit different. Fabergé's specialty lay not in portraiture, but in jewelry-making.
Peter Carl Fabergé was the jeweler and goldsmith to the imperial court of Russia, pre-1916. He and his company specialized in making all sorts of opulent jewelry and watches. But what Fabergé is most famous for is his series of jeweled Easter eggs made for the royal family–out of precious metals, not real eggs.
According to the Fabergé company's website, the tradition began in 1885, when Tsar Alexander III commissioned one for his wife Marie. Apparently the idea of creating a jeweled Easter egg out of precious metals evolved out of Marie's childhood imagination and the tradition of giving fabulously decorated Easter eggs among St. Petersburg society. Tsar Alexander presented the idea and let Fabergé do the rest. The result was a beautiful, white-enamelled egg that opened to reveal a gold-plated interior and hen.
Impressed with Fabergé's work, Tsar Alexander continued to commission the lavish eggs and passed the tradition down to his son, Tsar Nicolas II. The eggs only grew more and more elaborate as time progressed, with total of about 50 having been made between 1885 and 1916. Each egg is unique, and each is suited to the personality of the royal recipient. The Fabergé company estimates that about 42 of the original 50 survive today.
It's clear why Fabergé and his company deserve the #fancyfriday title–just look at those eggs! Each is elaborately hand-crafted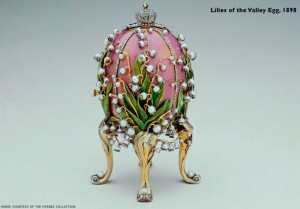 with only the finest materials. They make the Easter eggs I dyed as a child look pretty sad. Fabergé's overall skill, attention to detail, and knowledge of his patrons' personalities led to his initial success. The display of these values in his beautiful Easter eggs is probably why they stand out and continue to wow us contemporary viewers today.
Would you want a Fabergé egg as a gift? Or are they a bit too much? Let us know what you think in the comments below!
Want a look at what the Fabergé company is up to today? Take a look at their website here.
All images courtesy of faberge.com and the Forbes Collection.