As we all know, due to the current global health crisis, most of us are either unable to (or don't want to) go out to our favorite places–even though a lot of us now have some free time to do so. Which is why the Art Docent Program blog is taking you on an art-historical journey to some of your favorite places this summer! Join us as we look at art focused on places like the beach, the theater, and other places we can't all make it to at this time.
Our non-bummer artistic summer is in full swing here on the blog, and you're invited to join us for the (virtual) ride! Grab a basket full of goodies and a big hat–we're going on a picnic (and scouting some landscapes that would be ideal to host one in)!
Fête Champêtre (Pastoral Gathering), Jean-Antoine Watteau, 1718-21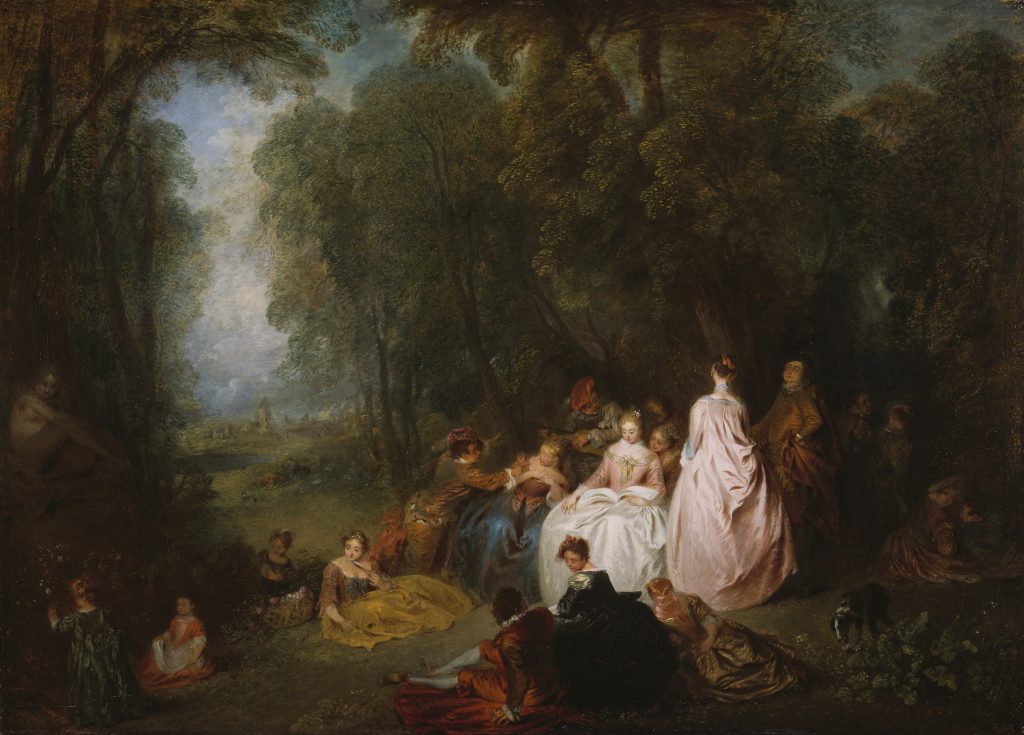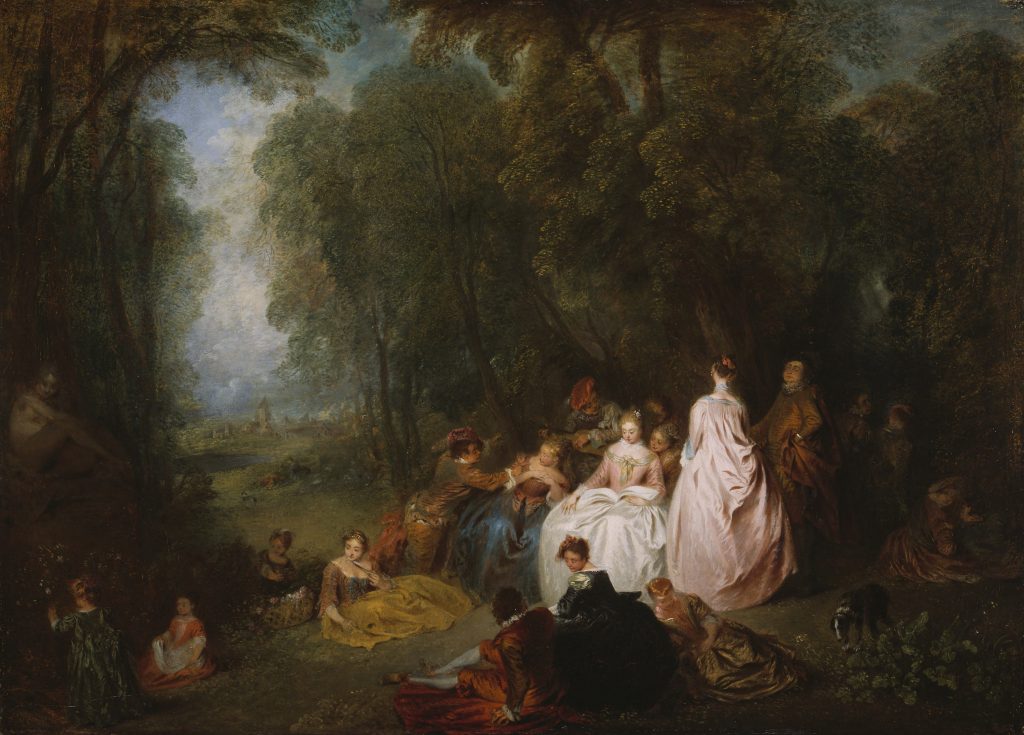 A group of friends gather in a shaded wood to show off their fancy dresses, chat, and picnic together in Watteau's painting. Interestingly, the woods' darkness conceals a mysterious figure…bonus points if you spot her.
Ladies at a Picnic, Chōbunsai Eishi, c. 1790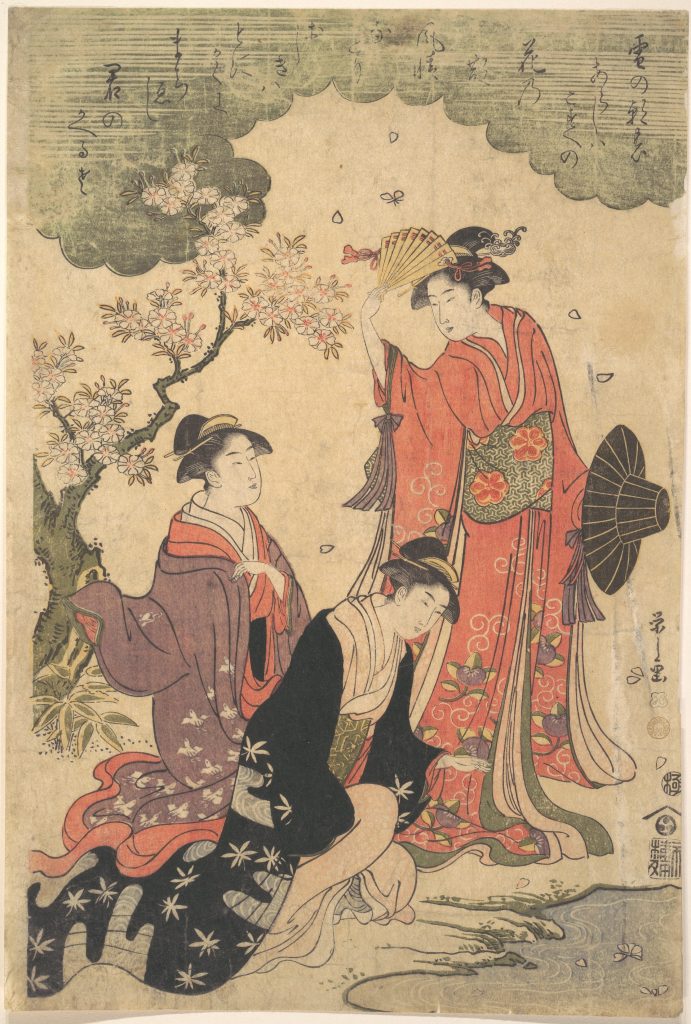 The cherry blossoms are in full bloom, and these three women are sporting some serious finery as they stop at a pond to picnic. Eishi's woodblock print captures the beauty of a spring day in Japan, which is just one reason why we love it.
The Afternoon Meal (La Merienda), Luis Meléndez, c. 1772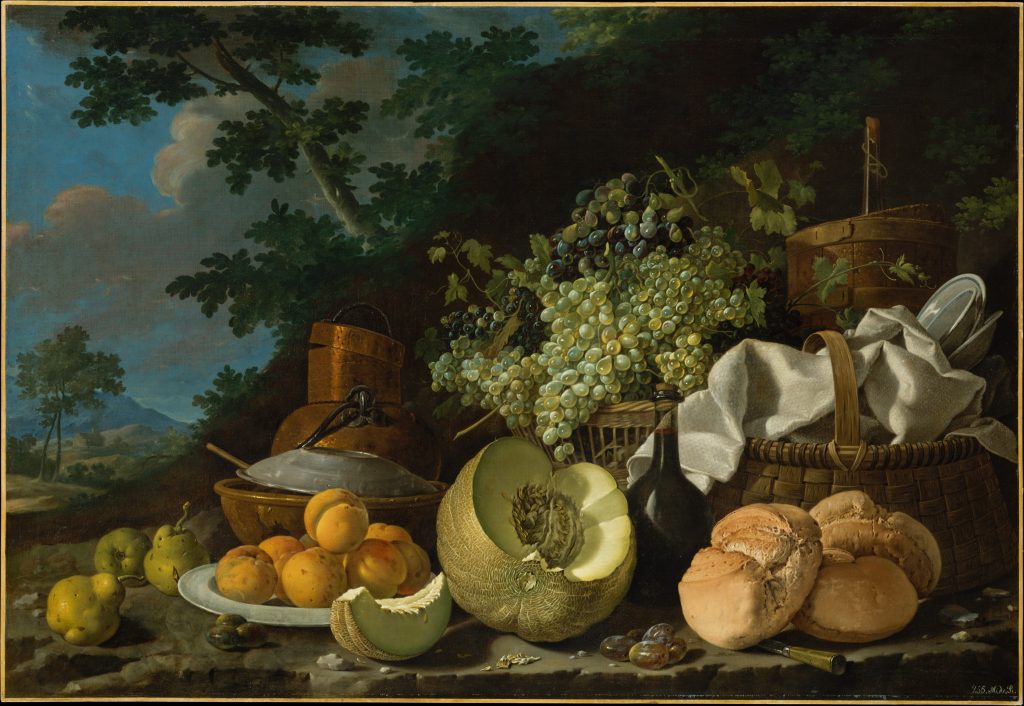 What a spread! Meléndez' stunning still life captures peaches, melons, pears, grapes, and bread in naturalistic beauty against a tranquil landscape. That is, you can tell the fruits are organic by their slight natural deformities. This is one picnic we wouldn't mind being invited to.
The Harvesters, Pieter Bruegel the Elder, 1565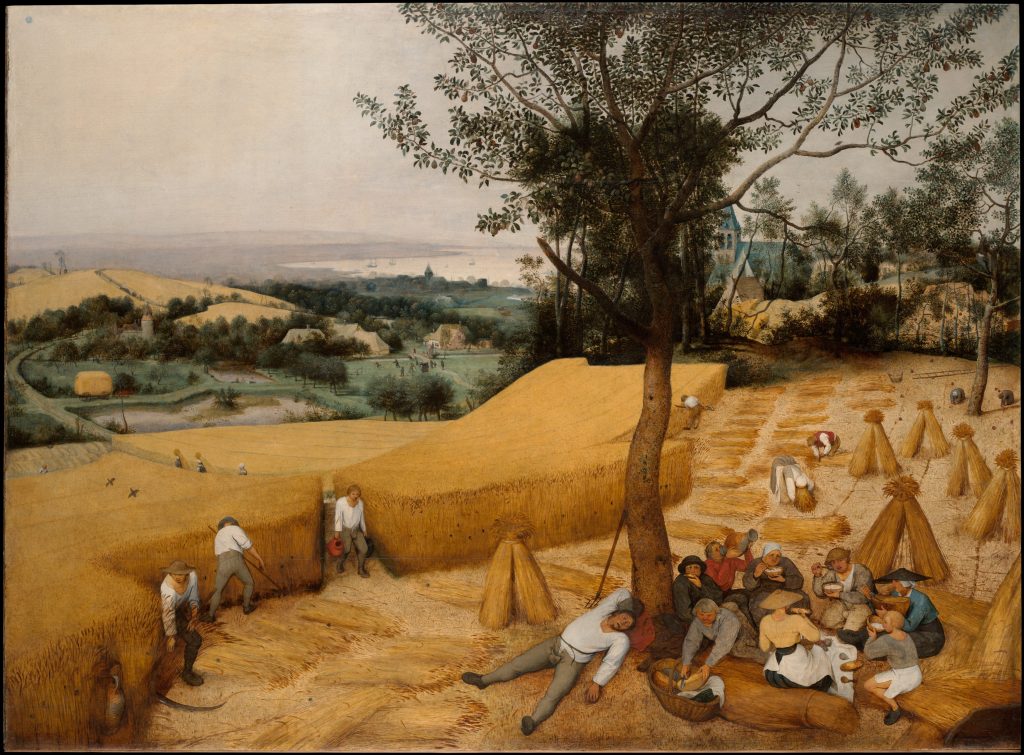 A moment of repose on a hot summer's day is the main subject in Bruegel the Elder's Harvesters, featured in our kindergarten curriculum. Originally part of a series of paintings depicting scenes from the entire year, here we see a group of peasants pausing to catch their breath and grab a bit to eat in detailed fashion. Bruegel the Elder's artwork is also featured in our second, fourth, and sixth-grade curriculum.
Calhoun, Grandma Moses, 1955
Happy 159th birthday to #GrandmaMoses! 🎈 Born #AnnaMaryRobertsonMoses, Grandma Moses was a self-taught painter who began painting at age 78. Her nostalgic paintings of daily, rural life received immense popularity. https://t.co/kk9oLrOYCe 🖼️: #GrandmaMoses, "Calhoun," 1955 pic.twitter.com/WXYAilHWkd

— Women in the Arts (NMWA) (@WomenInTheArts) September 7, 2019
While Calhoun doesn't necessarily depict a picnic, we think it'd be a great place to have one. The lush farmland and general sense of Americana are classic Grandma Moses, which would make picnicking there extra-special. Grandma Moses' artwork is featured in our fourth-grade curriculum.
The Triumph of Bacchus (Los Borrachos), Diego Velázquez, c. 1628-29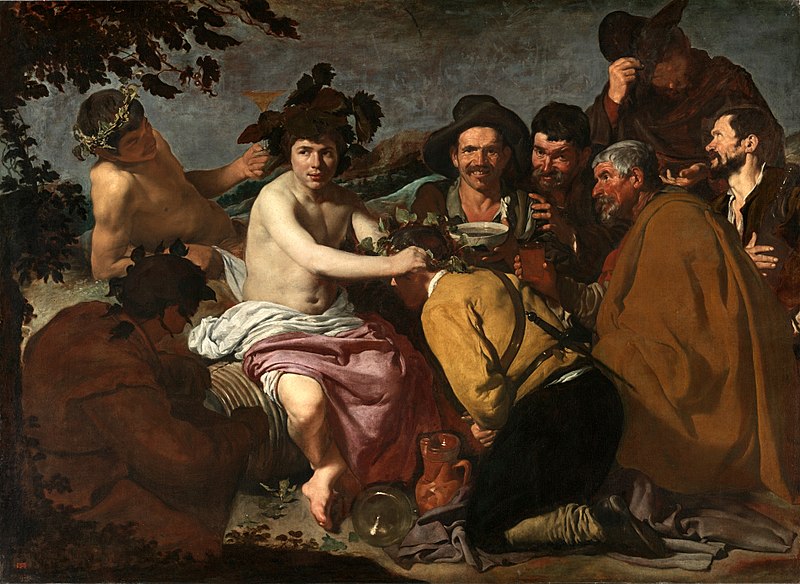 In western art history, a lot of picnics and pastoral scenes will include or reference Bacchus, a Roman god of agriculture and wine. Velázquez' Triumph of Bacchus is just the tip of the iceberg, and one of the more interesting examples, as Bacchus materializes alongside workers in the countryside. His presence also lends its name to the painting's more colloquial name, Los Borrachos, or The Drinkers/The Drunks in English. Which makes for one rockin' picnic, indeed. Velázquez' artwork–though not this painting!–is featured in our first and third-grade curriculum.
On the Bank of the Seine, Bennecourt, Claude Monet, c. 1868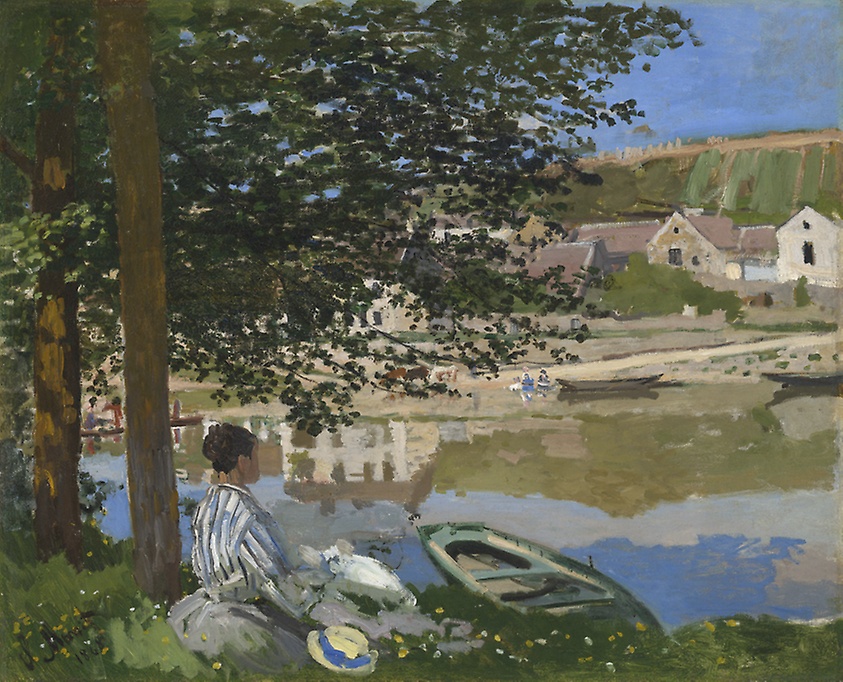 Again, Monet's On the Bank of the Seine, Bennecourt is not actually of a picnic. Even though Monet does have paintings of picnics proper, we'd personally like to have our own picnic in this painting's setting. Just imagine how relaxing it would be…watching the slow river amble by with not many people around while an Impressionist friend does some painting behind you. Super tranquil! Monet's artwork is featured in our TK, second, third, fourth, and sixth-grade curriculum.
Déjeuner Sur L'Herbe, Edouard Manet, 1863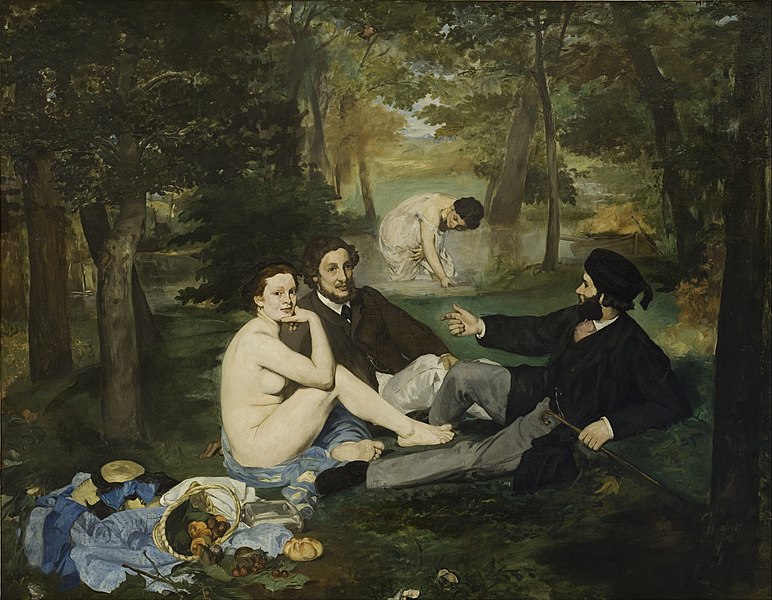 More than any other work, Déjeuner Sur L'Herbe, or Luncheon on the Grass, is the picnic painting. Drawing on centuries of pastoral artwork, Manet forces viewers to confront many preconceived ideas about this genre, and about art in general–especially how weird it is that "allegorical" naked women have been thrown into paintings for centuries, especially in pastoral artwork. Manet is featured in our fifth-grade curriculum.
Picnic, Sarasota, Florida, Marion Post Wolcott 1941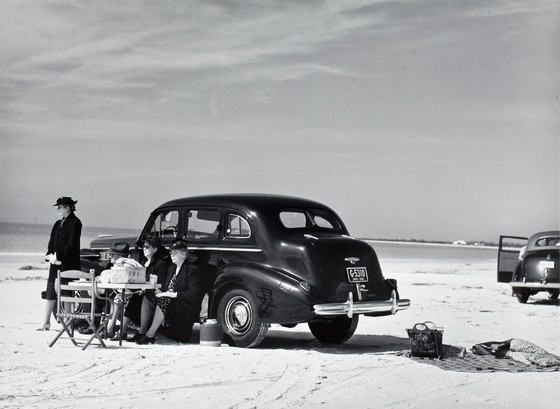 Taking things back to the last 100 years, Wolcott's photograph shows us a beachfront picnic in Sarasota, Florida. The guests have pulled up right onto the sand, making a contrasting composition between their dark cars and the shining sand. How many picnic baskets do you count in this picture? We've got two ourselves…which only makes us want to jump into this photograph more.
---
Thanks for joining us for our journey through art-historical picnics! You can find more art-historical picnic scenes at The Guardian. 
What do we do here at the Art Docent Program? Discover more about us and our curriculum here!
Want more fun art field trips? Check out our blog archives and follow us on Facebook!