Ever wanted to express your feelings in text messages through images–only to have the only outlet to properly do such be an emoji? Your finger hovers over the heart-eyed one–then the grimacing one–then the nerdy one. You sigh, reluctant to use an image that you saw on an accent pillow marketed for a teenager's bedroom in Kohl's as an adequate descriptor of your feelings, and end up sending the message alone. Isn't there something better out there, you think to yourself, to show people how I really feel that won't let me look like I'm fourteen?
Now you can. The days of cartoon emojis are over, thanks to artist Molly Young and designer Teddy Blanks. The two have created a digital sticker pack available for purchase that makes use of Old Master paintings for twenty-first-century communication. That's right–there is now an art history emoji pack.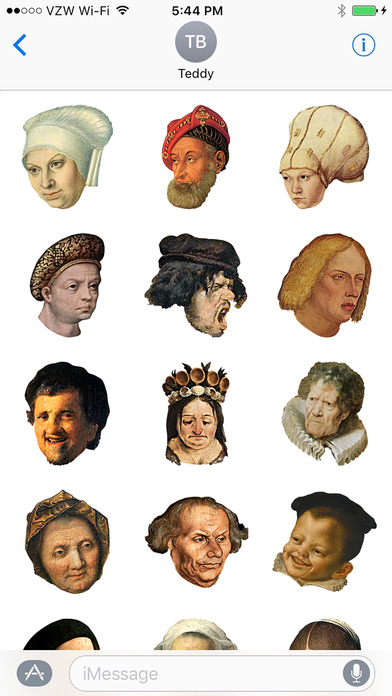 Called Rejoinders, the art history emoji sticker pack is available for purchase in Apple's App Store (only for iOs at the current moment) for just 99 cents. According to Hyperallergic, the sticker pack includes famous faces recognizable from the canvases of Rembrandt and countless Dutch Renaissance painters such as Jan Cornelisz Vermeyen and Jan Mandijn, as well as Hans Baldung-Grien, who studied under Albrecht Dürer. Many more artists' work are included to make the sticker pack one with facial expressions that include those of multiple genders and races for a truly universal package of sass.
The wide array of facial expressions go beyond the often one-sided emoji expressions. According to Hyperallergic, in the words of Young and Banks, the expressions in the featured sticker pack include an "impish grin," a "pasty leer," a "vexed glare," a "pensive grimace," and a "gaping maw." An impish grin? Take a seat, Kimojis. You've been bested. Art history emojis have won. "We think of these as emojis for adults," Young said.
Young also noted that oftentimes, typical emojis just won't cut it. Communicating via text cuts out face-to-face interactions, which deprives us of seeing each others' instant reactions. While there are plenty of traditional emojis, are there enough that truly capture our reactions?  Young told Hyperallergic that "Even for a relatively nonexpressive person, emojis can feel like an impoverished form of communication. So bland! So one-note. Rejoinders are punishingly specific, which in turn makes them surprisingly universal."
The facial expressions featured in the art history emoji sticker pack certainly span a wide range of emotions. And since they're straight from Old Master paintings, they tend to be much more expressive than a typical heart-eyed or crying emoji might be. As the Rejoinders description on the App Store reads, "A picture is worth a thousand words. A thousand words is hard to type with your thumbs. Use these nuanced historical emojis instead."
If a picture is worth a thousand words, Rejoinders is definitely worth a lot more. So if you're tired of those cartoonish little faces making you feel like a middle-schooler, consider Rejoinders' art history emojis to really make your point stick. And to show off your art historical knowledge.
Check out Rejoinders on the App Store.
Read the original article on Hyperallergic for more art historical fun.
Interested in what we do at the Art Docent Program? Find out more about our program here.
Want more fun art news? Check out past issues of our blog.