Last week, I had the opportunity to visit the Los Angeles County Museum of Art (LACMA). And as with any art museum, there was way too much to see and too few hours in the day. So in order that you might conserve your time, I decided to make a short list of what's on now at LACMA that was of special interest to me, and might be of special interest to you–aside from the big-name items like Levitated Mass, Urban Light, Magritte's The Treachery of Images, and all those Picassos, that is. So here is a list of five low-key–but still stunning–pieces at LACMA that not everyone will be crowding around.
Agnes Martin's retrospective.
So this retrospective isn't technically one piece of art–it's an entire floor. But if you've ever seen a Mark Rothko painting hum, you might get a sense of how an Agnes Martin painting flows. The majority of Martin's work at the LACMA retrospective, the first in the United States, is her work in grids and linear-style patterns. The colors are so muted and the lines so precise it's almost hard to believe a human being could have painted them. Her work gives any viewer an appreciation for the painstaking detail modern art actually requires, as well as rewards them with a sense of movement–not to mention awe–when looked at long enough. (Until September 11, 2016.)
Melodious, Wassily Kandinsky, 1924.
LACMA actually has a lot of works by pioneering Russian abstractionist Kandinsky. Over his career, Kandinsky's work evolved, especially exploring the indescribable feelings created by both music and art. Several of his best-known pieces seek to give a visual coda for what the experience of listening to music is like. Melodious does so while still engaging with specific forms in space. Take a look while most tourists head straight for the Picassos–and peek into the work of the German Expressionists on the way, and think about how art and music relate.
Irregular Forms: Creation. František Kupka, 1911.
Kupka's bright, non-formative paintings fall under the label of Orphic cubism (which may come from the name of Orpheus in mythology and relate to some modern artists' obsession with the connections between art and music). Wherever the term originated, do yourself a favor and stop by Kupka's Irregular Forms: Creation. It's stunning in its abstraction and use of color. 
Shiva as Lord of the Dance, c. 950-1000 AD.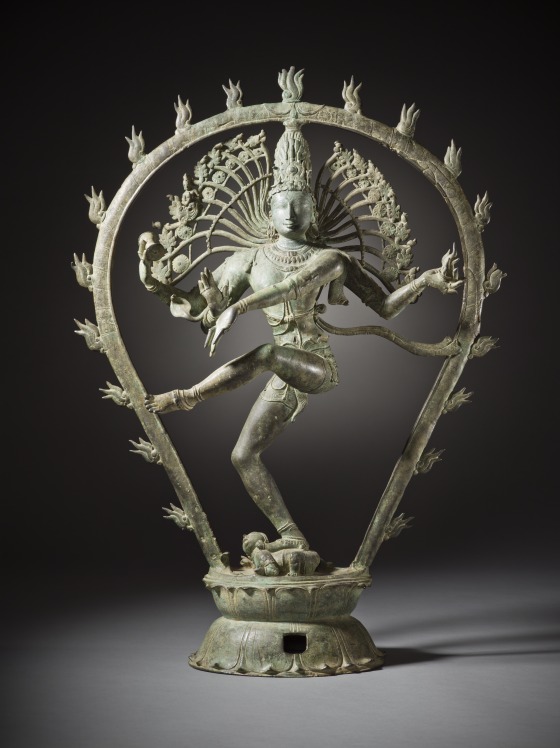 The Indian/Southeast Asian Art section was nearly empty when I stopped by, which is a shame. The collection of sculpture, drawings, and artifacts is amazing. Especially this sculpture, which I recognized from one of my art classes. It features the Hindu god Shiva dancing towards enlightenment and trampling ignorance. According to LACMA's website, Shiva is "the  source of the cosmic dance" that "created the universe in endless rhythmic cycles." The lotus on the pedestal symbolizes creation, and the creature he's trampling symbolizes ignorance. Encircled in flame meant to represent the cylce of creation, destruction, and rebirth, Shiva's dance reflects the "divine unity with compelling grace and majesty." 
Untitled, Newsha Tavakolian, from the series Listen, 2011.
If this exhibition doesn't wow you, I'm not sure what will. Entitled Islamic Art Now, Part 2: Contemporary Art of the Middle East, it showcases some of the top work from the best contemporary artists of the Islamic world. Tavakolian's photograph of a young Iranian girl in boxing gloves speaks directly and unflinchingly to current changes taking part throughout the Islamic world, and serves as a perfect entry point to the rest of the show. http://collections.lacma.org/node/773255
Find out more about current exhibitions, permanent collections, and all things LACMA at their website.
Find out more about what we do at the Art Docent Program here.
Find past fun blog posts here!