It's no secret that illustrators often help turn books into more memorable treasures–there's a reason why we know names like Dr. Seuss. Books and pictures have gone hand-in-hand for centuries. Which makes it no surprise that books with secret pictures have always been popular.
Books with secret illustrations known as fore-edge paintings have a history that goes back relatively far as well. Fore-edge paintings, illustrations that appear on the edges of a book's pages when it is held a certain way, have added an extra dash of ornamentation to beloved books for centuries.
What exactly does this look like? Here's a video from Insider that can help give you a visual:
How did this type of ornamentation start start? Sources differ, but artists have been adding ornamentation to book's edges since the Middle Ages. What started off as a simple way to identify a book facing outward by adding an insignia or coat of arms grew into full-fledged ornamentation in the Renaissance. According to Abe Books, by the 17th century, one of the "Queen's Binders," a group of "highly-skilled bookbinders during the Restoration" in England, had perfected the process so that illustrations were only visible when held a certain way and were otherwise hidden.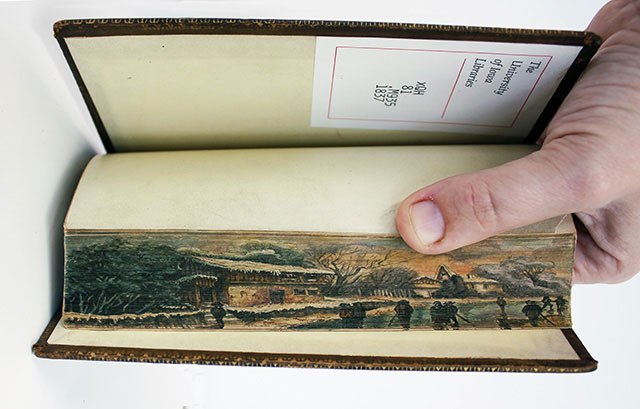 Most often hidden by gilded edges, some artists and bookbinders went even further, adding double fore-edging to a book and creating two unique images. According to Abe Books, some even added more than that, giving their fore-edging a panoramic quality!
Fore-edge paintings are rarely signed or dated, which makes them hard to date, according to Anne C. Bromer of the Boston Public Library (which houses one of the largest collections of fore-edged books). However, they spiked in popularity between the 17th and 19th centuries.
Today, many antiquarian fore-edged volumes have had their illustrations added afterwards. But the art is far from lost. There are still many new volumes created with these fascinating hidden paintings–United Kingdom-based artist Martin Frost being one of today's best-known fore-edge painters.
So, before you go tossing out all those gilded books passed down from your great-grandparents, give their pages a glance–who know what you might find?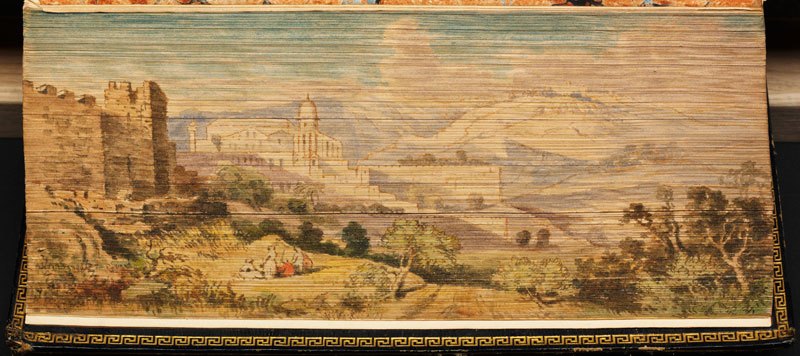 Want more fore-edged books? Check out Insider, Abe Books, Twisted Sifter, and the amazing collection at The Boston Public Library for more! The University of Iowa: Special Collections and Archives also has a great look at these treasures, as well.
What exactly do we do here at the Art Docent Program? Find out more about us here! And don't forget to follow us on Facebook.
Want more fun art news? Check out our blog for more fun art history stories!