It's graduation season, which means celebrations are in order. However, any well-picked graduation balloons pale in comparison to the gigantic pieces created by street artist Huge.
At first blush, Huge's spray paintings don't even look like paint. They're so lifelike that they seem to be large balloons floating at odd angles on the wall. It's only once we look closer and longer at the works that we can see behind the trompe l'oeil effect and past the illusion.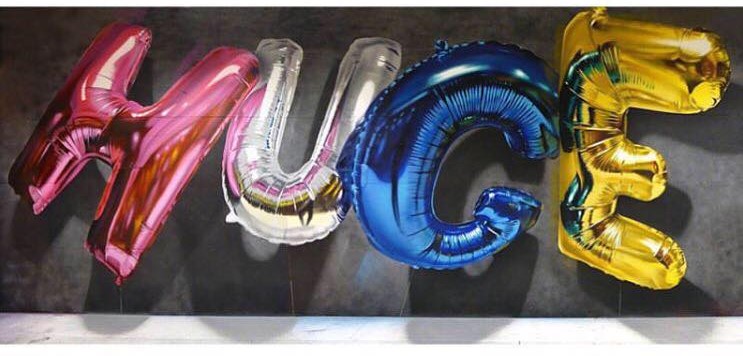 Huge, Daniel Fahlström's alias, was created in the mid-80's, when he started out as a graffiti artist. Since then, he's gone to paint primarily in airbrush and identifies as an "aerosol paint artist" more so than a graffiti artist or street painter. He currently creates pieces in his studio in Älta (near Stockholm, Sweden). . .except "when painting walls and facades around the country, according to his website.
One look at Huge's website or Instagram account proves that he's out of the studio quite a bit, splashing his signature larger-than-life works all around Sweden. His mesmerizing murals seem to be taking over walls everywhere, bringing a little bits of joy and optical trickery to all who see them. Huge's pieces have gotten so popular that they were featured on social media's version of an art highlight reel My Modern Met, which has reached over 20 million views at press time.
Just how does Huge create these ridiculously awesome pieces? The My Modern Met video takes us behind the scenes and shows us his process. Take a look at the video, which we've linked below, and get ready to be mesmerized. And if you want more, Huge now has his own YouTube channel, where he's uploaded several mini-videos of several of his pieces so far.
None of these balloons 🎈 are real. Believe it or not, they're all graffiti! (🎨 Huge art)

Posted by My Modern Met on Tuesday, May 1, 2018
We can only imagine how awesome more of Huge's pieces would be around the world. Luckily for us, it looks like Huge may be setting up a shop where we can purchase prints of some of his work. Because if you can't get your grad (or anyone you want to give a gift to, really) a balloon-letter mural instead of the typical overdone mylar balloon, a print of one of Huge's originals would be an amazing substitute.
---
Discover more on Huge's amazing larger-than-life pieces on his website, Facebook, YouTube, and Instagram accounts.
See more cool art videos at My Modern Met.
What do we do here at the Art Docent Program? Check out more about what we do here, and don't forget to follow us on Facebook!
Want more fun art stories? Read up on our blog archives!