After much deliberation, the results are in: today's #fancyfriday piece is Judith Leyster's Self-Portrait!
Judith Leyster was an artist working in the Low Countries in the mid-1600s. She specialized in scenes of everyday life, also known as genre scenes. Painted around 1635, Leyster's self-portrait gives us a lot of information about women in the arts and serves as a commentary about painting itself.
Let's take a look at what's goi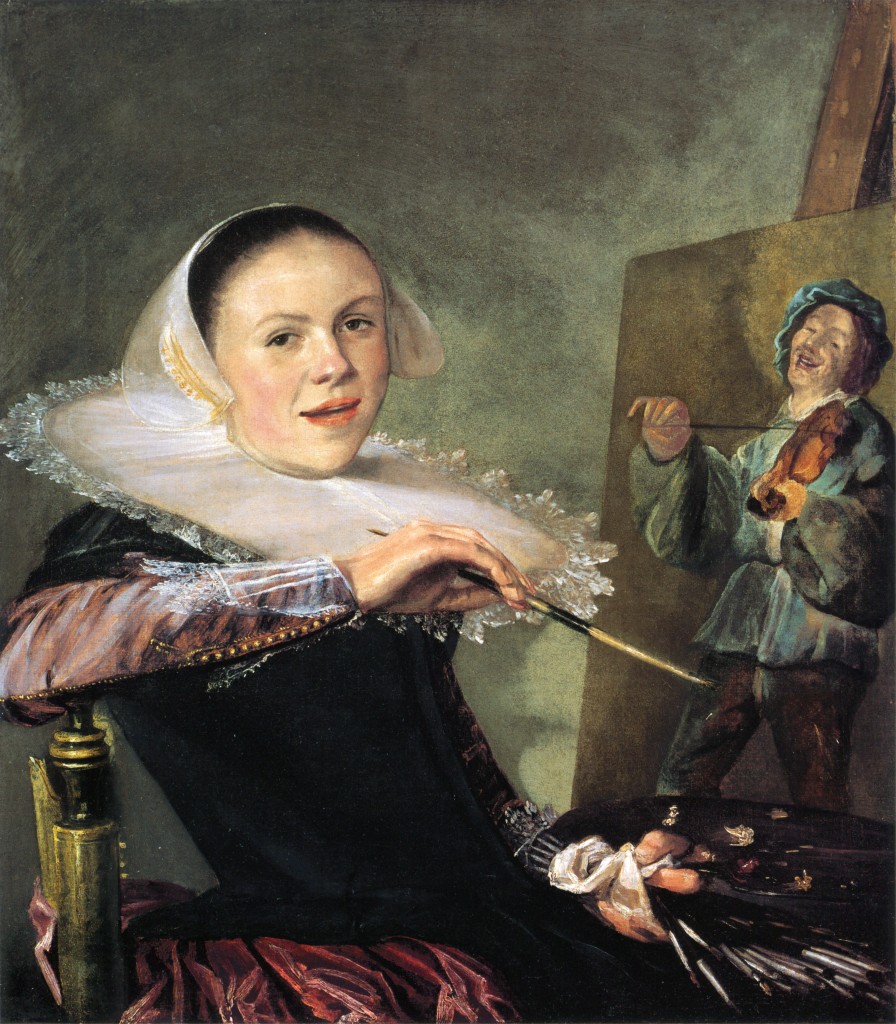 ng on in the painting. We see Judith—I'm going to call her Judith—casually leaning back from her painting as if to say, Hey guys, what's up? Welcome to my studio. Her arm is draped on the back of the chair, a typical Baroque posture formula suggesting confidence and an easygoing nature. She's also mirroring the expression of the laughing musician, which gives us the impression that Judith is a pretty cheery person. I don't know about you, but I would want Judith as part of my entourage—she seems energetic, creative, and fun. If Tinder existed in the 1630s, Judith would have probably gotten a lot of swipes to the right.
Judith's disposition isn't the only thing cool about her—take a look at her clothes. She's elected, like most artists, to paint herself in her fanciest outfit—and, like some other artists, she's decided to show herself at work. Normally, Judith probably wouldn't have painted in her best dress and doublet. But she's doing something interesting by showing us her Sunday best—she's showing viewers that her craft, painting, brings in enough money for her to have these fancy clothes. She's basically saying, I'm a woman and I paint just as well as a man—better, even, because my paintings earn enough to afford these clothes. Judith's outfit, aside from being fabulous, sticks it to the man.
In the painting of the musician, Judith gives us an Inception-worthy dose of plot layering. The painting of the musician is a painting within a painting, and the musician consciously mirrors Judith's ease. The effect is that of increased enjoyment—as viewers, we see double the art and feel double the emotion. In painting a musician, Judith also aligns herself with the tradition that associates art with music, which continues and really takes off in 20th-century abstractionism.
All in all, Judith Leyster's Self-Portrait communicates her ease, grace, and validity as a painter and as a woman. She's confident in her art and in herself. And the general result is pretty much flawless. You go, Judith Leyster. You go.