Today marks the start of Art Basel 2016, the world's biggest art fair. Hundreds of thousands of artists, collectors, and art enthusiasts will descend upon Basel, Switzerland today through June 19 in order to catch a glimpse of some of the world's biggest names in contemporary art.
Founded in 1970, Art Basel hosts several different fairs around the world each year–the biggest being in its original location in Basel. Satellite events take place in Miami (this year's runs December 1-4) and Hong Kong (which runs March 23-25 2017).
As the premier art fair in the world, Art Basel hosts thousands of artists and features numerous art galleries as well. So how can one possibly hope to keep up with events there if they're not attending? Luckily for all of us, Art Basel has an active social media presence–and so do the outlets that report on it. Here are several ways you can (virtually) keep up with all the news on what's hot at Art Basel this year.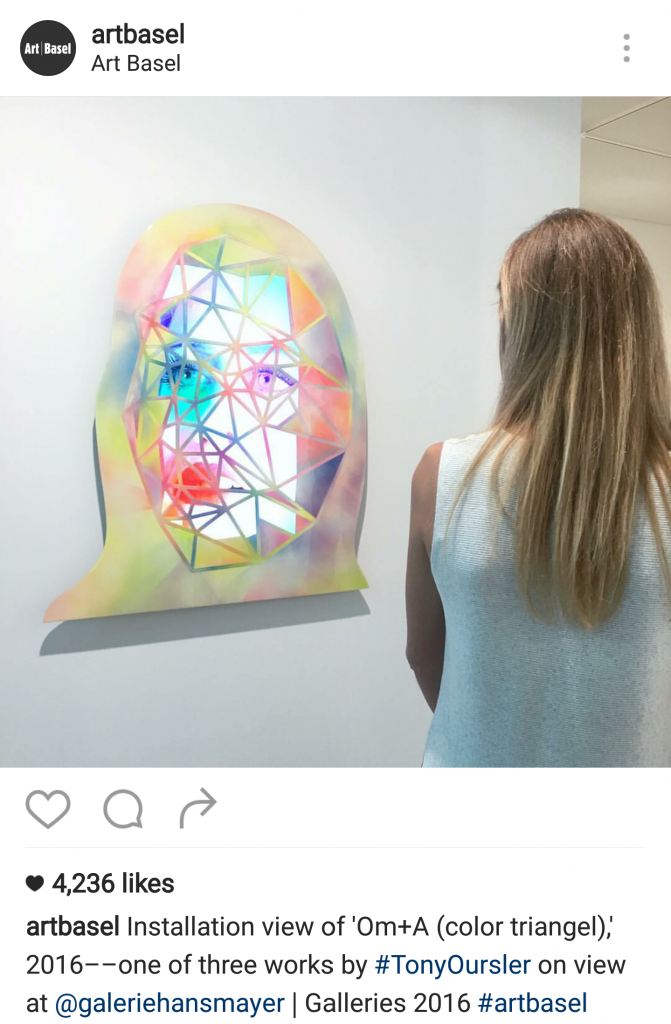 Art Basel's Official Accounts:
Art Basel's accounts have been heating up in the weeks preceding the festival. Catch a 360-degree view of the Sebastian Errazuriz-designed lounge for Swiss watchmaker Audemars Piguet on Art Basel's Facebook, stunning glimpses of various featured works on their Instagram, and get to-the-minute updates on Twitter. Check out their other accounts and website for a full catalog of works as well as other official news. Also consider looking at the app they've developed for iPhone and Android.
The Art Newspaper:
One of this writer's personal favorites, The Art Newspaper is a monthly periodical that also has an active online presence as well. Which is good for anyone hoping to follow any sort of art event. Expect well-researched journalistic articles reporting on whose work is featured, whose work is selling the highest, and any surprises. One of their most recent Basel pieces reflects on how artists are holding up a mirror of sorts to their surroundings at this year's fair and is available to read on their website. Check out their Facebook and Twitter for updates as well.
Artnet News:
The world's biggest news outlet focusing exclusively on the art market, Artnet News is where to go if you want information directly related to sales. Though they do report other art news, their main focus is the market. They've already published an article on this year's "impressive sales" at Art Basel, despite the art market's current wobbliness, giving a glimpse into who First Choice and VIP collectors (those who paid extra for early entry) are looking at. Check out their Facebook, Instagram, and Twitter, too–as well as the new news app they've developed to send art news straight to your iPhone.
ARTnews:
ARTnews is, predictably, news on art. They pride themselves on being the "leading source of art coverage since 1902" as well as the oldest and widely-circulated art magazine. Keep up with them for updates on all things art, as well as news specific to Art Basel. Like Artnet, they've already looked into how the "cooling" art marker is affecting sales at this year's fair. Their online presence is huge as well, so check out their Twitter, Instagram, and Facebook for updates in addition to their website.
Check out more on Art Basel at their website.
Interested in what we do at the Art Docent Program? Check out more about us here!
Love our blog? Check out the posts you missed here!