Friday marked the opening of a massive Roy Lichtenstein exhibition at the Skirball Cultural in Los Angeles. Titled Pop for the People: Roy Lichtenstein in L.A. (October 7, 2016-March 12, 2017) the exhibition focuses on how Lichtenstein brought the Pop Art movement into the average American's consciousness and how Lichtenstein's work became especially formative in the LA art scene.
Though you may not know Lichtenstein's name by heart, chances are you've seen his work. Largely influenced by the play of line, dot, and color in comics and comic books, Lichtenstein's works are almost immediately recognizable. Many, such as Whaam!, have achieved something akin to cult status in contemporary art.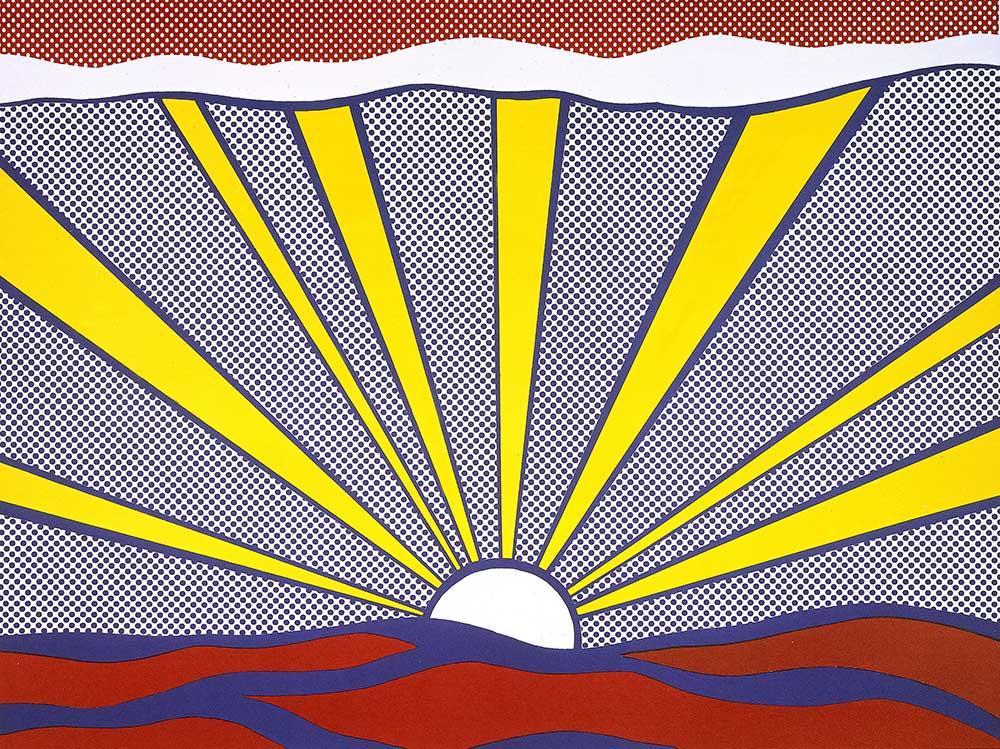 The exhibition at the Skirball focuses on how Lichtenstein in particular made the world of fine art accessible for the average American. Among other Pop artists such as Andy Warhol, James Rosenquist, and Jasper Johns, Lichtenstein's work relied on imagery most people were familiar with–advertisements, children's books, and comics–making it more palatable to the general public (largely thanks to a revolution in printmaking, notes the Skirball's website).. Unlike groups like the Minimalists, whose work (more geared at toned-down work that tended to remove the artist's hand) was often perceived as elitist, art from the Pop movement was something more people could comprehend and identify with.
Featured in the Skirball's exhibition are several prints from Lichtenstein's Bull Profile and Surrealist series, as well as the iconic Sunrise and Shipboard Girl, among numerous other works. According to the Skirball's website, the exhibition also focuses on Lichtenstein's running collaboration with Stanley Grinstein and Sidney Felsen, who were "cofounders of the prominent Los Angeles artists' workshop Gemini G.E.L." The website notes that their "groundbreaking printing house" played a major role in "shaping the Los Angeles art scene and helped transform the city into a global center for printmaking and Pop Art."
And if that's not enough Lichtenstein for you, the Skirball has even created a space where visitors can interact with Lichtenstein's work. According to their website, the Skirball has transformed one of their gallery spaces into an interactive room where visitors can enter Lichtenstein's well-known work (his own take on Bedroom at Arles), which is a "reimagination of Vincent van Gogh's Bedroom at Arles, brought to life in three-dimensional form." That's basically the closest you can get to immersing yourself in an artist's world. 
The Skirball's exhibition runs through March 12, 2017. So if you're going to be in or around Los Angeles between now and then, pop into Pop for the People. 
Find more information on the exhibition and about the Skirball Cultural Center on their website.
Interested in what we do here at the Art Docent Program? Find out more about our program here.
Want more fun art news? Check out our past blog posts for more!