I don't know about you, but where I'm writing from (Santa Barbara), it is hot. If I'm not at the beach, I'm sitting inside by the fan and AC, trying to keep cool. I'm sure you're feeling the same way at this point of the summer. Of course, these aren't the only ways to beat the heat this summer… check out these cool (literally!) art projects for you, your friends, and your kids!
1. Painting with frozen paint cubes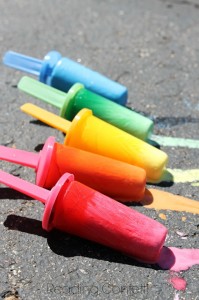 Though messy, this is sure to keep you cool. Just don't accidentally put them in your drinks! Blogger Jamie Reimer writes:
"I've seen a lot of ice cube paintings out there, where you color some ice cubes with some food coloring. It often gives a watercolor effect, often very pastel. For this art project, I was looking for a something a little more… vibrant! So we got artsy with some frozen paint!"
Check out the full instructions here, or head over to ReadingConfetti for seven different ways to make frozen paint.
2. Exploding paint
Not as dangerous as it sounds, I promise. Blogger Crystal Underwood shows how to mix together tempera paint or crushed chalk with vinegar to create a fizzy mixture. Be sure to wear clothes that are OK for messes! Take pictures, too! After all, who knows? This could turn you into the next Pollock or Rothko.
Read Underwood's instructions here
.
3. Squirt gun painting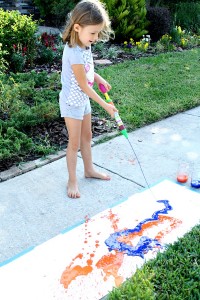 Using water in your water guns is so old-school. Repurpose those shooters into something way more high class to create some awesome abstract art. Shaunna Evans writes:
"We started by painting a large strip of paper that I had taped to the sidewalk. The kids experimented to see what happened when the sprayed the paint very fast and then again when they sprayed very slowly. Even our toddler buddy had no trouble participating. He liked to see how the colors mixed on the paper."
Get the full instructions here.
How are you keeping cool this summer? Any good art tips?Let us know in the comments!