Love is, to quote the Beatles, all you need. And art history is full of scenes depicting love in its many forms. However, since Valentine's Day is coming up, we've put together a list of iconic lovey-dovey paintings. There were quite a few to choose from, but we figured you'd get bored of the infinite depictions of Greek myths and fluffy Rococo scenes, so we've narrowed it down to a few paintings we're sure you'll love.
1. Birth of Venus, Sandro Botticelli, 1485-1486
There were about a billion works of art based on Greek and Roman mythology that we could've included in this post, but we're limiting ourselves to just the one. As the goddess of love, Venus definitely deserves a place on our list. Botticelli's painting is as dreamy as it is impossible: her pose isn't naturalistic, but neither is anything else about this painting. It's an idealistic vision of the Roman goddess of love–which makes it iconic, and inherently lovey-dovey.
2. The Kiss, Gustav Klimt, 1907-1908
Arguably one of the most lovey-dovey paintings of all time, Klimt goes over the top in The Kiss. Real gold leaf, silver, and platinum make up a great deal of the painting, and combined with the swirling patterns of the lovers' clothes, make the pair shine with an ethereal light. No wonder it's Klimt's most famous work.
3. The Embarkation for Cythera, Jean-Antoine Watteau, 1717
Again, this entire post could have consisted of frothy Rococo paintings, as trifling love scenes make up a good deal of the period' works, in this author's humble opinion. Watteau's Embarkation to Cythera is one of the best examples of these Rococo scenes, as it's imbued with references to Greek mythology. Cythera was Aphrodite's birthplace: hence the reason why these fashionable couples are traveling there. It's a sort of love pilgrimage, and typifies this sort of Rococo painting.
4. Self-Portrait as Tehuana (Diego on my Mind), Frida Kahlo, 1943
You know that feeling when you like someone so much, you can't stop thinking about them? Yeah, so does Frida Kahlo, so much so that she literally painted her husband Diego Rivera on her forehead in her Self-Portrait as Tehuana. However, that's not all Kahlo does in this painting: she also aligns herself firmly with Mexico and Mexican art and cultural styles as she paints herself in traditional Tehuana-style dress.
5. "Honeysuckle Bower" / Self-Portrait with Isabella Brandt, Peter Paul Rubens, c. 1609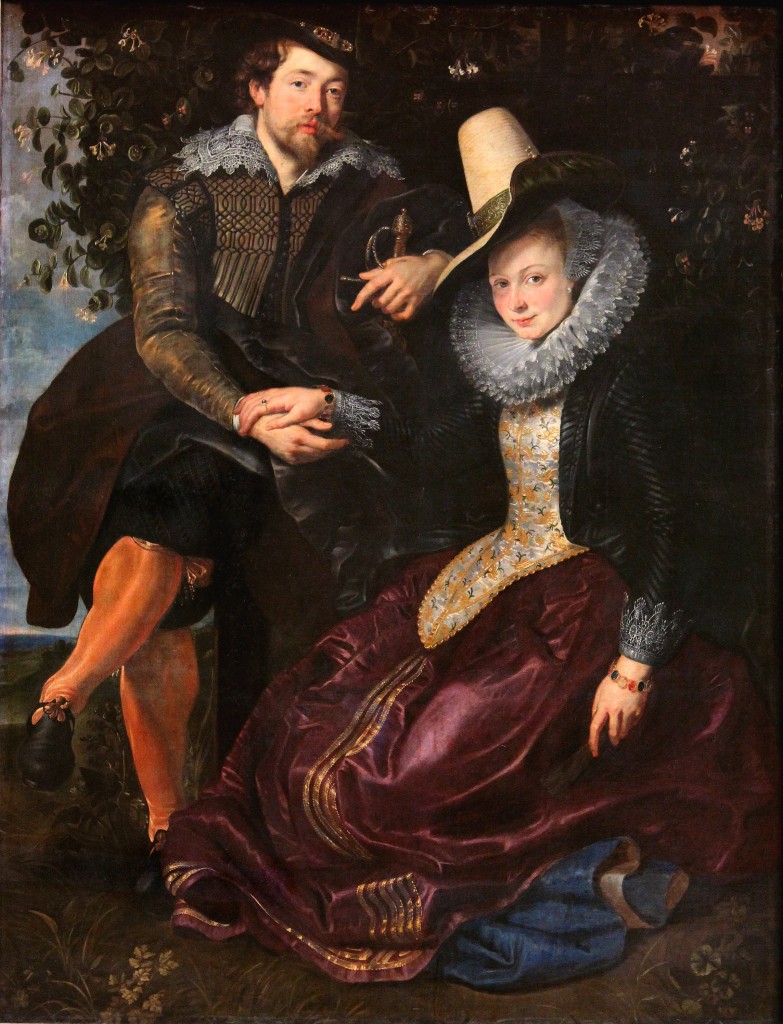 Rubens and his first wife, Isabella Brandt, are so cute here. They could be the 17th-century equivalent of a blogger couple, this portrait is so perfect. From the extravagant yet natural-looking outfits down to the subtle hand-holding, their love is depicted as understated, yet strong. Oh, and the honeysuckle that gives the painting its nickname? It's traditionally representative of love in art history, another subtle hint that this couple is the real deal.
6. The Suitor's Visit, Gerard ter Borch, 1658
It is so obvious that these two like each other. The blushing trepidation ter Borch captures in both parties really gives it away in the most innocent, adorable way. Ter Borch is so good at capturing this blush of first love that one of the paintings featured during the montage in "The First Time in Forever" in Frozen where Anna wishes to find love resembles both The Suitor's Visit and another similar painting of his, The Dancing Couple. If Disney thinks your painting deserves a cameo in a song, then it definitely captures that lovin' feeling pretty well.
7. Birthday, Marc Chagall, 1915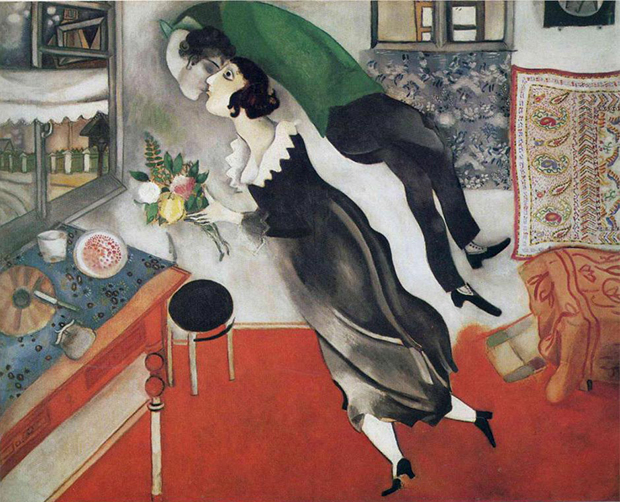 Ending on another portrait of a couple, we have Marc Chagall's Birthday. A painting of the artist and his wife Bella, it's intimately sweet. Chagall hovers above Bella, kissing her lightly as she carries flowers toward a table–and somehow, in this simple scene, captures the feeling of what it's like to be in love. Cue the awwws.
---
Botticelli is featured in our sixth-grade curriculum; Kahlo is featured in our first-grade curriculum (and in a bonus unit for first-to-second-graders); Chagall is featured in our TK, kindergarten, first-, and fourth-grade curriculum.
---
Find out more about many of these paintings at Sartle.com.
What do we do here at the Art Docent Program? Discover more about us and our curriculum here.
Want more on fun paintings? Check out the rest of our blog.