As you've probably heard, last week, the Smithsonian's
National Portrait Gallery
unveiled its commissioned portraits of former President Barack Obama and former First Lady Michelle Obama. What might have been an uneventful affair for any other former presidential portraits quickly made headlines for the simple fact that the Obamas' portraits are strikingly different than any other presidential portraits ever unveiled. Bright in color and decidedly un-stuffy in tone, both paintings make a statement in more ways than one.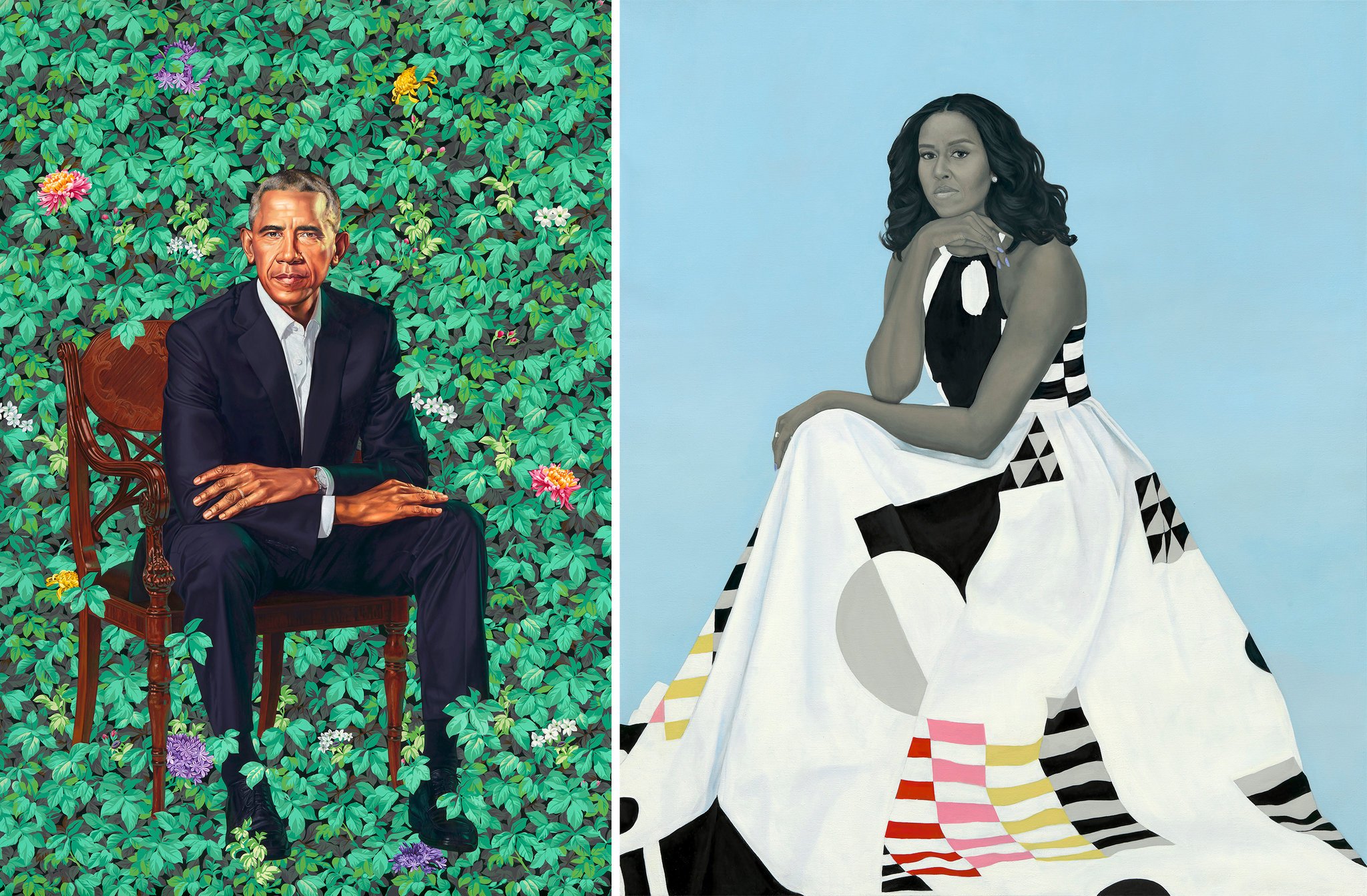 The Obamas specifically chose two prominent African-American contemporary artists to paint their portraits: Barack Obama's portrait was painted by New-York-based artist
Kehinde Wiley
and Michelle Obama's portrait by Baltimore-based
Amy Sherald
. Selecting Wiley and Sherald is in itself a historic act: in addition to being
the first African-American artists to paint a former President and First Lady,
the Obamas' choice affirms up-and-coming contemporary artists. In addition, Wiley and Sherald's portraits view the Obamas through a distinctly artistic and African-American lens, making them completely unique…and making a statement about the lack of artist diversity in galleries nationwide.
 What we notice first about the Obamas' portraits is that they're actually fun to look at. Rather than placing the former president sitting in a study or standing next to some neoclassical columns (yawn), Kehinde Wiley captures Barack Obama's calm intensity in the typical neo-Baroque style that's come to define Wiley's work. Barack leans forward in his chair, engaged, against stunning greenery. The background is made up of
fauna significant to Obama's background
, fittingly: chrysanthemums, which represent his home city of Chicago; jasmine, representing his birthplace of Hawaii; and blue lilies, which represent Kenya, his father's birthplace.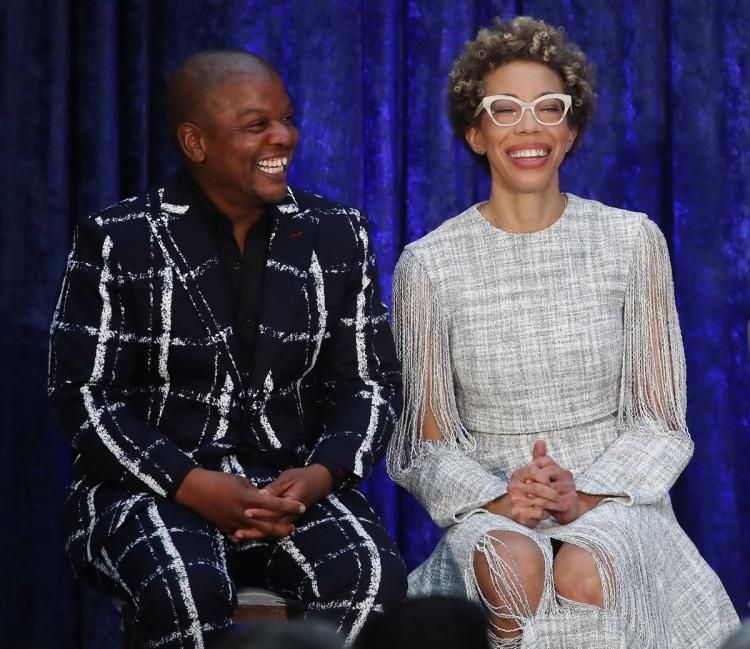 Michelle's portrait captures her approachable elegance. Sherald captures the first lady in a decidedly cool palette, relying on geometric forms to capture her easy grace. Some have deemed the more abstracted painting
more than a bit reserved and ambivalent for so active a First Lady
, which are valid points. On that note, it's important to note that Barack's more active stance in his portrait might be an attempt to counteract critics who saw him as
detached from policies and decisions
while in office. All portraits, in one way or another, attempt to present their subjects in a certain light, and it is up to viewers to determine whether or not the painting reflects reality. And it's not all bad that viewers will disagree: good works of art breed discussion and disagreement, as several centuries' worth of art historical scholarship on various subjects will tell you.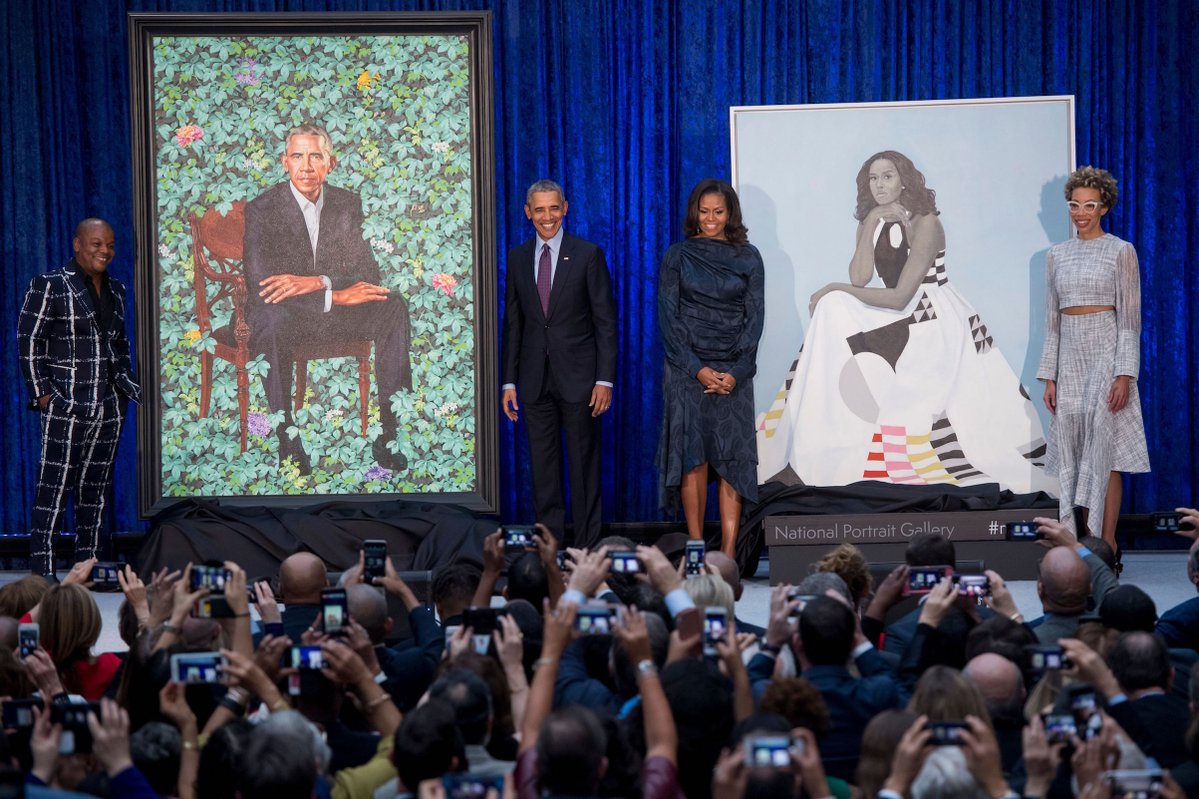 However, both portraits are a welcome departure from the static world of typical presidential portraits. Artistically, they up the ante for future portraits: in terms of their artists, they rightfully claim that artists of color deserve more seats at the table in galleries like the Smithsonian.
And it's only fitting that two such distinct, dynamic portraits should mark the time in office of the first African-American president and first lady of the United States.
---
What's your take on the Obama portraits? Share your thoughts in the comments below!
Read more about the unveiling of the portraits at the Smithsonian, and read more about the portraits themselves at the New York Times.
Hyperallergic
also has a wonderful think piece on Michelle's portrait, which you can read
here
.
Want more art news? Follow us on
Facebook
to keep up with all things art history and art education! And don't forget to
visit our blog.