There's no doubt about it. Whether or not you like art, whether or not you like theater, you HAVE to see Pageant of the Masters at some point in your life. This truly one-of-a-kind event features ridiculously detailed live re-creations of classic artworks, also known as tableaux vivants. Not sure what that looks like? Check out the video below for examples.
So where is this Pageant?
The Pageant of the Masters is held annually in July and August in Laguna Beach, a city on the Orange County coast. The pageant is held every night at 8:30 p.m. It's the biggest attraction in the resort town's Festival of Arts.
And what makes this pageant so special?
Again, I refer you to the above video. The pageant is themed each year (this year's is The Art Detective, telling the stories of how famous paintings were uncovered or re-discovered). Still not convinced? Go check out the photo gallery on the site, which features pictures from past performances. This year's performances include Portrait of Madame X by Sargent, The Concert by Vermeer, and Woman Drinking with Soldiers by de Hooch. If you still are holding out on me, here's a list that should convince you:
The number of volunteers involved is mind-blowing. Several hundred volunteers put in 60,000 total hours of work each year to put on the pageant. The amount of coordination involved in the show is incredible.
The live music is amazing. Not just live music, but choral singers and narration accompany each work, fitting with the theme.
Celebrity sightings abound. Bryan Cranston of Breaking Bad and the cast of Criminal Minds have popped up this year. There's even an episode of Arrested Development about the pageant.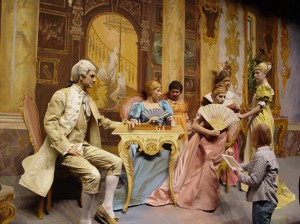 Ok, fine! I'll go! What should I plan on?
Tickets for 2015 go on sale in October, with various seating options as well as special discounted days. Ticket prices range anywhere from $15 to $150. When you attend the pageant, you also get free entrance to the Festival of Arts.
And for those of you who would rather be in the performance instead of just watching it, you can also volunteer for the festival! Click here. No theater experience is necessary.
For more info, you can check out foapom.com.