Road tripping to an awesome art exhibit? Working on your next artistic masterpiece? Need some tunes? Here's our playlist of art-themed music to get you inspired.
1. "Vincent (Starry, Starry Night)," by Don McLean.
We had to start off with this classic. McLean personally connected with his song's subject, describing Van Gogh as someone who "makes you glad to be unhappy… No matter how happy or hopeful I am, I always tend to drift back to that. It's underneath all the music I've ever written… An artist is trying to tell you how he's feeling. And if that accidentally becomes entertaining, it becomes a career."
2. "American Gothic," by David Ackles.
This layered, folksy tune personifies the subjects of Grant Wood and asks why the couple looks so unhappy. A beautiful and haunting song. And the piano probably rivals Billy Joel's or Elton John's, I think.
3. "Venus de Milo," by Miles Davis.
A throwback tune, the gorgeous jazz melody is inspired by the famed sculpture by Alexandros of Antioch.
4. "Mona Lisas and Mad Hatters (Pt. 1 and 2)," by Elton John.
Though technically this is two songs here, and neither of them really refer to da Vinci's Mona Lisa all that much except to characterize the people of New York City, I was raised on Elton John, and this is too good to skip. And here's concert videos, since Sir Elton is such an awesome performer.
5. "Viva La Vida," by Coldplay.
OK, so this is yet another song that doesn't have much to do with art. The lyrics are about the French Revolution. However, there's so much art surrounding the creation of it that I think it's OK to include it. The title comes from Frida Kahlo's last painting, Viva la vida, sandias, or Long live life, watermelons, an allusion to the Mexican holiday, the Day of the Dead, and the fruit associated with it.
Furthermore, the cover art for the album (titled after this song) is Liberty Leading The People by Eugène Delacroix, and the band's accompanying EP took its cover art from Battle of Poitiers.
6. "Three Botticelli Pictures," by Ottorino Respighi.
We can't have a truly complete list without at least one of the many great classical works inspired by paintings. Respighi, the famed Italian composer, found his muse in Botticelli's The Spring, The Adoration of the Magi, and the Birth of Venus, respectively.
7. "Andy Warhol," by David Bowie.
Here's a fitting companion to Elton John's songs on this list. The two artists are often compared to each other, but these two art-inspired songs could not be more different: whereas John subtly alludes to art amidst a huge production of a song, Bowie here directly praises one of his greatest inspirations, Andy Warhol, in an abnormally acoustic tune. (Though, ironically, Warhol was not a huge fan of the song.)
8. "Vincent Van Gogh," by Jonathan Richman.
Our second Van Gogh song on this list does not have quite the lyrical complexity of the first one, I won't lie. But just try to get this optimistic tune out of your head after listening to it once: "And he loved, he loved life so bad / His paintings had twice the color other paintings had."
If you think that one was entertaining, check out the singer's hilarious song "Pablo Picasso" with his band The Modern Lovers here.
9. "Lucy in the Sky with Diamonds," by The Beatles.
Given the band's reported habits, you may think this song is about something very different. However, the song really is about art! Specifically, art done by John Lennon's son Julian in school, a painting that he titled "Lucy – in the Sky with Diamonds." Lennon liked the artwork so much that he took it as inspiration and ran with it, creating this trippy classic.
10. "Blue Period Picasso," by Peter Bjorn and John.
To give this list some hipster cred, we're adding in this beautifully metaphoric song that has some clever Picasso lyrics, which begins with some intriguing a capella before dropping into a foot-tapping melody you will love.
11. "What the Water Gave Me," by Florence + the Machine.
We're ending this list with my favorite song on it. For those who want something a bit more brooding and, to put it in the singer's own words, "overwhelming," check out this killer song by Florence + the Machine. Lead singer Florence Welch can really belt it. With lyrics inspired by writer Virginia Woolf, Florence named the song after a famous painting: "It's a song for the water, because in music and art what I'm really interested in are the things that are overwhelming. The ocean seems to me to be nature's great overwhelmer. Virginia Woolf creeps into it, and of course Frida Kahlo, whose painfully beautiful painting gave me the title." Thus, this is our second Kahlo song on the list. Rock on, Frida!
If you like this version, check out the Demo version, too, which you can find here.
Lastly, if you like this playlist, click on the mixtape image below to find the playlist on Spotify! (Though The Beatles aren't yet on Spotify, so you'll have to live with a tribute band.)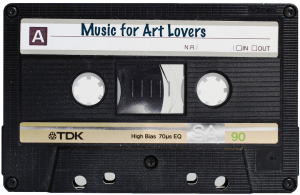 Do you have any art-themed songs you like? Feel free to add them to the list and share them in the comments!