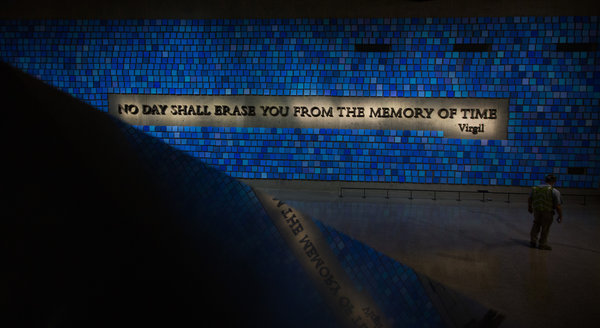 One meteorologist described the color of the sky on the morning of September 11, 2001 as a "severe blue." For years to come, the color of that sky would be imprinted into the memories of thousands, only to be distorted by the passage of time and their individual perception.
This is the thought behind the only work of art commissioned for the National September 11 Memorial Museum, which opened May 21 this year. That work, Trying To Remember the Color of the Sky on That September Morning, was created by Spencer Finch, a 51-year-old Brooklyn-based artist known for light installations that deal with the subjects of memory among multiple points of view.
If you get the chance to go to the museum, you won't miss his work. Forty feet high on one of the main walls, the artwork looks like a mosaic, but is actually a collection of 2,983 unframed blue watercolors, one for each victim of the attacks, each hand-painted in a different shade of blue. In the center of them is the famous quote associated with the attacks, from Virgil's Aeneid: "No day shall erase you from the memory of time." The New York Times reports that Finch could paint up to 150 of these each day, as he worked last winter over several weeks, with the goal of portraying the blue sky recalled by so many on the morning of one of our nation's defining moments.
Finch recalls to the NYT when he displayed a small sample of the work as a sort of testing for the larger installation: "A construction worker came by — a kind of wise guy — and looked at it and said, 'You forgot the red ones.' But then someone explained to him what the work was about, and he said he had been at the Trade Center, and he walked up to one of the colors and said: 'This is the color. This is what the sky looked like that day.'"
You can read the rest of the NYT article here and check out the September 11 Memorial Museum's webpage here.