If you've been paying attention to the U.S. Postal Service lately–and you likely have been–you might have noticed some special-edition forever stamps available for purchase featuring artwork by an artist named Ruth Asawa. And if you're like the majority of people, you likely don't know much about this artist–something we're hoping to change with our short and sweet artist spotlight today!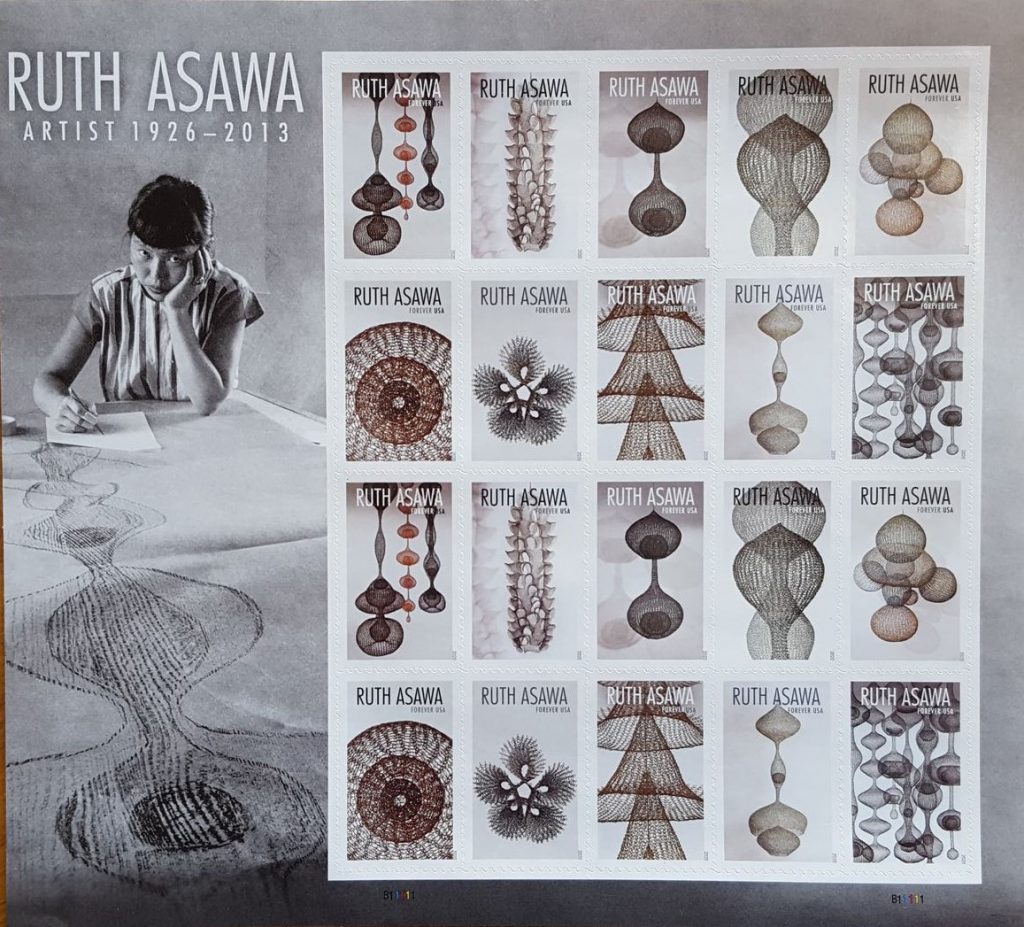 Ruth Asawa was born in Norwalk, California in 1926. Her parents were farmers, and growing up in California in the midst of anti-Japanese racism eventually resulted in her and her family being forcibly moved from their home and interred during World War II at camps in California and Arkansas. After the war ended and her family was freed, Asawa studied at North Carolina's famed Black Mountain College under artists like Josef Alberts. Black Mountain College encouraged its students to experiment and push boundaries, which Asawa took to heart during her time studying there in the later 1940s.
After relocating to San Francisco in the early 1950s, Asawa began creating artwork inspired by nature in the tricky medium of looped wire, which would become a staple of her sculptural works. Her work has been and remains on display at major museums and institutions like the Guggenheim, the Whitney, SFMOMA, and the DeYoung. She also sculpted the mermaid statue in San Francisco's Ghiradelli Square. In addition to gaining renown for her artwork in the 1950s, 1960s, and beyond, Asawa was a lifelong advocate for education. Her efforts were instrumental in founding a public high school for the arts in San Francisco, now renamed the Ruth Asawa San Francisco School of the Arts.
It's no wonder that Asawa's sculptures attracted the attention of the U.S. Postal Service. Her sculptures seem alive, with many using the term "biomorphic" to describe their signature organic shapes. Each sculpture seems to transcend the hard-to-work-with medium from which it was formed, as the video from the Khan Academy below shows as it looks at Untitled, one of Asawa's works from 1958, in its home at the Crystal Bridges Museum of American Art.
Asawa's story is so much deeper than "just" having her artworks on postage stamps (which is a major honor in itself), and we encourage you to read more at the links we've included below. We're thrilled that the U.S.P.S. chose to bring Asawa and her artwork to the forefront by honoring her with a stamp.
---
Discover more about Ruth Asawa's life and art at ruthasawa.com, the Khan Academy, and the New York Times Style Magazine. 
Have young readers? A Life Made by Hand: The Story of Ruth Asawa, a short biography written and illustrated by Andrea D'Aquino, is worth checking out from your local library.