Next up in Sacramento's bid to establish itself firmly on the art map: a mural festival two years in the making. Beginning August 20 and running until August 27, the Sacramento Mural Festival will feature local muralists, as well as artists from around the world.
Presented by Sacramento's Friends of the Arts Commission, a nonprofit supporting the work of the Sacramento Metropolitan Arts Commission, the Sacramento Mural Festival aims to have more than a dozen murals painted in Sacramento's downtown to midtown areas. According to the Sacramento Mural Festival website, proceeds generated will go to benefit arts education in and around the city and neighboring areas.
The Sacramento Bee reports that locations of the murals will be "announced during a news conference Aug. 22 at midtown's LowBrau, [but] most of the work will be centered around Jazz Alley in midtown, running between J and K streets." However, the murals will be in no way restricted to this area.
The festival features local muralists like Jake Castro, who did the murals for Art Hotel, as well as artists from around the world. As of now, there are about ten muralists slated on the SMF website, including international muralists such as Add Fuel, Alicia Palenyy, and Irubiel Moreno, with more likely to come (check their website here for artist updates). Artists will be given blank walls throughout the city on which to work their magic. In addition to being visible to the public, the festival plans to host "tours, lectures, and conversations about public art, design, and murals" throughout the week in order to further engage the public.
The festival will finish up with ArtJam, part fundraising event and part "interactive party" with the purpose of engaging the public even further. Guests can pay to attend the event, which features artisanal food and drinks as well as the opportunity to participate in creating art and unique art experiences.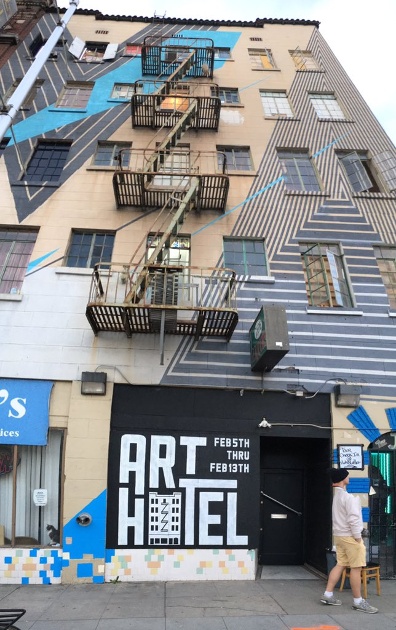 Festival co-organizer David Sobon told The Sacramento Bee that the festival aims to set up Sacramento with the likes of Los Angeles, Philadelphia, and Miami in regards to its public art. Sobon noted that Sacramento has a lot of walls that could become potential "blank canvases" for muralists. And if someone like Jake Castro's work at Art Hotel is any indicator of where the city is headed, the Sacramento Mural Festival is just the beginning.
Check out more information on the Sacramento Mural Festival–artists, events, and more–here!
What exactly do we do here at the Art Docent Program? Find out a bit more about us here!
Want more art news? More art history fun? Check out past blog posts–which are filled with both–here!