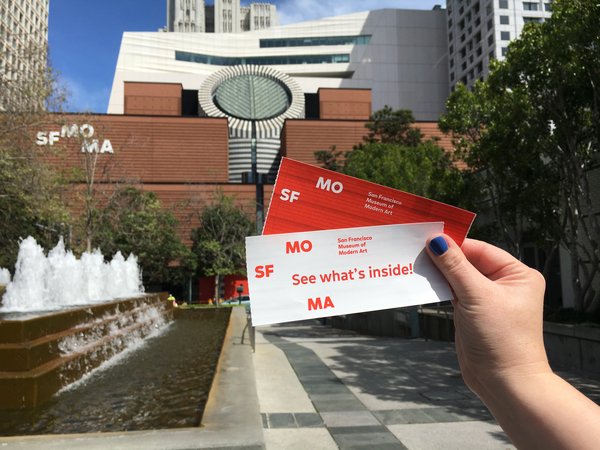 For San Francisco fans of modern art, the wait is finally over. On May 14, the San Francisco Museum of Modern Art reopened its doors to the public after a three-year closing and expansion. With thousands in attendance and over 15 inaugural exhibitions, Saturday's opening was one for the books.
Opening celebrations included the Modern Ball, a snazzy (it made Vogue this week) joint fundraising and opening event on May 12 where guests previewed the museum grounds and bid on contemporary art pieces. Closer to the public, events on May 14 (which sold out) included a "ribbon-cutting" ceremony and the museum's opening to the public. According to SFGate, at the ceremony museum director  Neal Benezra eagerly announced "We don't cut ribbons here…let's open this museum!" to dignitaries and the general public alike. Aside from events at SFMOMA itself, neighboring museums such as the Yerba Buena Center for the Arts, the Museum of the African Diaspora, and the Mexican Museum opened their doors to visitors for free and hosted community events to welcome SFMOMA back to the neighborhood.
SFMOMA's collection is well-worth all the pomp and circumstance. Described as "purposefully wide-ranging in scope," the entire collection features over 8,000 works of painting and sculpture alone. That's enough to take  a day (or two–or three or four!) to navigate. Included in the collections and exhibitions are works by Georges Braque, Arshile Gorky, Frida Kahlo, Constantin Brancusi, Henri Matisse, Paul Klee, René Magritte, Pablo Picasso, Jackson Pollock, Diego Rivera, Judy Chicago, Robert Rauschenberg, Mark Rothko, Andy Warhol, Chuck Close, Wayne Thiebaud, Diane Arbus, and Alexander Calder–just to name a few. The museum also has numerous exhibitions on and planned for the future to showcase the Doris and Donald Fisher Collection, one of the world's greatest private collections of contemporary art. In addition, pieces like the Living Wall designed by Habitat Horticulture, the nation's largest green wall of native plants, are also meant to give viewers something new, intriguing, and unexpected to look at. As the museum touts itself as one of the first to recognize photography, film, and architecture as art forms, their collections in those areas are mind-bogglingly large as well.  
And the museum itself counts as a work of art, with large, light-filled spaces and a vertical garden. The brainchild of design firm Snøhetta, the building boasts more gallery space than even New York City's MOMA, according to Sunset. SFMOMA's website states that, in addition to providing lots of public space, the new museum also has free-of-charge art-filled spaces on the ground floor, ensuring that art is accessible to all who choose to stop in. The aforementioned Living Wall is just one of many of these more-public pieces.
Located in San Francisco's busy SoMa district, the new museum is close to many other downtown museums and attractions as well. With a collection this big, there's something at SFMOMA for everyone. Though tickets for opening day  sold out well in advance, SFMOMA's website assures that tickets are still available for reserve for the rest of the year.