Owning a piece of art is special enough. Owning a piece of art from an artist you know is even better. But owning a piece of art created by your child? That's possibly the best. And now ensuring that your child's art lasts in more forms than one is easier than ever, thanks to SilverGraphics.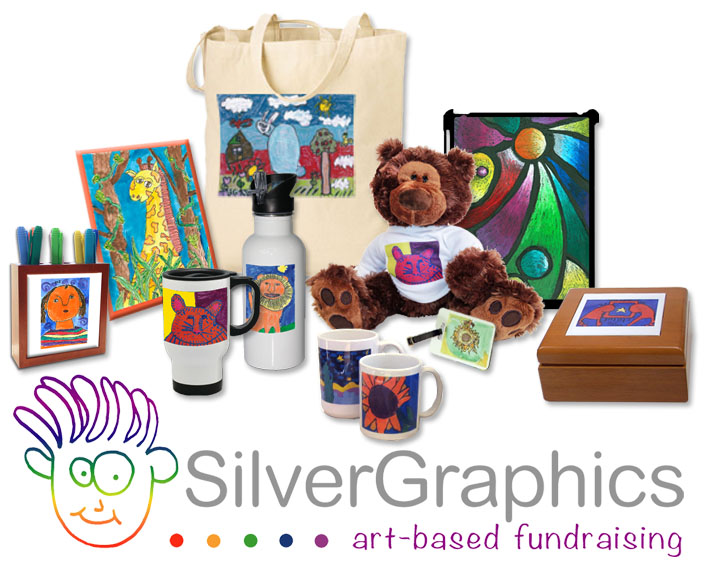 SilverGraphics are art-based fundraisers that work through schools. SilverGraphics takes artwork created by students and transfers that artwork onto keepsakes such as mugs, totes, tiles, and more. Schools then sell these keepsakes to students' families and friends in order to "earn a profit that helps them fulfill their educational mission(s)." Their quality reproductions are available on a variety of keepsakes, and their program ensures that organizations who participate can earn up to a 40% profit.
SilverGraphics' focus is on using art that's already implemented in curriculum. In short–they don't require schools or teachers to make students create new art projects for the sole purpose of turning them into keepsakes. Instead, SilverGraphics encourages teachers to select projects that are already part of the curriculum in order to save teachers both "time and resources." As their website states, SilverGraphics believes that making students (and thereby teachers) operate under a fixed format (like some other companies who offer a similar service) crushes creativity. Letting students and teachers submit artwork that's already implemented or included ensures that the student's actual creativity is preserved in keepsake form, rather than something they just made to have immediately turned into a keepsake.
In addition to being committed to promoting art appreciation, SilverGraphics is also focused on reducing their carbon footprint, taking part in reducing paper waste and creating eco-friendly products. SilverGraphics also donates a portion of their wholesale price to promote greater access to the arts for children and young adults.
If this sounds like something you or your school might be interested in doing, check out our Fundraising section or SilverGraphics' website for more information. In addition, go ahead and check out our Fundraising page for more information on other fundraising options such as PlumFund, a platform for users to create their own crowdfunding site (with some of the lowest fees in their industry).
In addition, if you want more information about what we do at the Art Docent Program, check out more about us here! And if you're dying for past blog posts, look no further than here.