Two van Gogh paintings that were stolen from a museum in Amsterdam in 2002 were recently recovered in Italy. According to The New York Times, the two paintings, stolen from the Van Gogh Museum in a heist, were recovered in Naples during an ongoing investigation into organized crime (i.e., a mafia-related sting).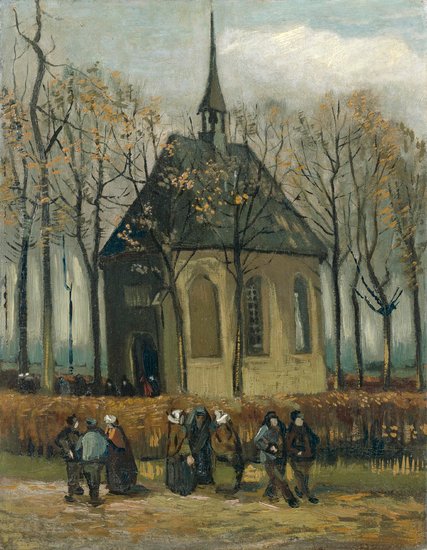 According to The New York Times, the prosecutor of the Naples force on the investigation announced Friday that Seascape at Scheveningen (1882) and Congregation Leaving the Reformed Church in Nuenen (1884-85) were found during an investigation into a specific clan of the Italian mafia that is associated with international drug trafficking with ties in the Netherlands. The two early works by the famed artist were originally stolen in December 2002, by burglar(s) who entered the building through the roof and left by way of a window. Investigators found the stolen paintings in a private residence, wrapped in cloth in a small hallway.
Axel Rüger, director of the Van Gogh Museum, was understandably overjoyed. According to The New York Times, in a statement released Friday, Rüger exclaimed that "[t]he paintings have been found!..That I would be able to ever pronounce these words is something I had no longer dared to hope for." As early works, the two pieces are valued at millions of dollars. The full amount wasn't released by the Van Gogh Museum, because, according to managing director Adriaan Dönszelmann, "they will not be traded." Understandable–as the Van Gogh Museum just got them back, a trade deal is nowhere close to near anywhere on the horizon.
Though van Gogh's early works aren't as well-known, Seascape at Scheveningen and Congregation Leaving the Reformed Church in Nuenen are both important works in the van Gogh canon. According to The New York Times, Seascape at Scheveningen is one of only two seascape paintings from van Gogh's Hague period in the Van Gogh Museum's collections. Congregation Leaving the Reformed Church in Nuenen is personally important, as it "depicts the church in Nuenen where van Gogh's father served as pastor. After his father's death, van Gogh added figures in mourning dress leaving the church, and…gave it as a gift to his mother."
Very few stolen art cases are ever solved, and even fewer are solved in a time frame of less than fifteen years. Which is why the worldwide art community is rejoicing at the paintings' recovery–the case almost literally goes against all odds.
As the paintings are part of an active investigation, it might take awhile for them to return to their home at the Van Gogh Museum. Which is fine with Rüger. A New York Times/Reuters video shows the museum director smiling and standing next to the paintings. "They are in safe hands. Of course, we hope that they will be able to return to [the] museum as soon as possible," Rüger stated with a smile. "But…since this is part of a larger investigation, we may have to be a bit patient."
Read more about the investigation at the original New York Times article.
Go crazy for van Gogh at the Van Gogh Musuem's website (yes, that was a terrible pun and I'm sorry).
Find out more about our curriculum–which features van Gogh!–here.
Want more art news? Check out past blog posts for more!