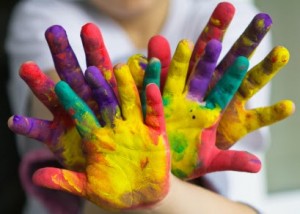 The process of creating, exploring and discovering through art helps children develop many important life skills. Art helps foster positive mental health, while also allowing children to explore their imagination and communicate feelings they might not otherwise express.
The skills that are achieved through art at a young age influence the rest of your life. I'm sure many of you know that art cultivates self-expression and creativity, but did you know it also teaches communication skills, problem-solving skills, and fine motor skills. Involvement with art at a young age has been associated with increased math and reading skills, cognitive ability, and critical thinking.
Here are a few tips you can use to encourage and stimulate creativity in children:
• Always praise the art a child has created.
This may seem expected, but it's important to actually take the time to really look at the child's work. Instead of simply saying "that's pretty," make an observation about what they've created like, "Wow I love how you used so many different shapes and colors." Comments like that make the child feel supported and will help them to continue expressing themselves in the future. For parents, it's important to cherish your child's work. Keeping their artwork and displaying it around your home, or at work, shows your child you care about what they're doing and lets them know that you are responding to their efforts.
• Designate extended, uninterrupted work time.
Some children can create a masterpiece in five minutes, while others need much more time to create a piece of work they're proud of. Give children plenty of time to make decisions, create and reflect on their decisions. This is especially important for preschool and kindergarten age students because they need time to experiment at their own pace.
• Encourage children to pursue their interests and ideas.
Instead of always having children follow the ideas, or projects you suggest, let them come up with their own. Ask what they are interested in, and then provide them with the materials to explore this interest and create a piece of work that they've initiated.
Whether you're a docent or parent, it's important to remember these tips when working with children. Remember that art is a process–not a product, and the final result isn't the most important part. As long as the children had a meaningful experience and was able to fully express themselves, creatively and visually, the project was a success.