Here's a customer testimonial from Cherylee Duncan from Spokane, Washington, who shares with us that art education doesn't only help our children, but can change the lives of docents as well!
When my children were in elementary school years ago in El Cajon, CA, I was a volunteer art docent for the program. I knew very little about art or making art at the time, but studying ahead and then teaching the lessons got me interested in art; I took a few drawing classes, some in watercolor and years later went to Community College for some additional art instruction. I now belong to an artist's co-op and sell my art in a downtown gallery/store. I don't know that this would ever have happened had I not been an art docent.
Teaching your program was a pivotal point in my life. I think it such a wonderful, very needed program and I've thought and talked about it for years. I live in Spokane, WA now and would like to be involved. I've thought many times that I'd like to start an art docent program but didn't know how to about it. Only today in searching the web for something else did I stumble across your site and was thrilled.
Thank you,
Cherylee Duncan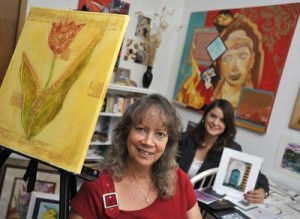 How has the Art Docent Program inspired you or your fellow docents to pursue being an artist? Whether you just make art for fun or you are able to sell artworks, be they paintings, sculptures, mosaics, or more, we want to hear from you!