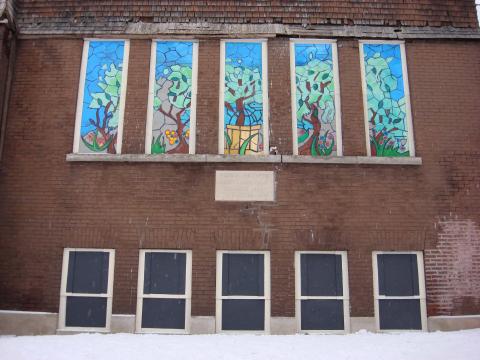 We're used to seeing art in unlikely places. From cave paintings to graffiti and street art, art crops up where we seem to least expect it. Artist Chris Toepfer harnesses that seemingly-unquenchable artistic spirit that thrives in unexpected places and uses it for good. Toepfer and his organization The Neighborhood Foundation aim to bring art into the unlikeliest of places–vacant and dilapidated buildings.
Toepfer's strategy of "artistic board-ups"–creatively boarding up an unused building–helps secure these buildings while ensuring that they blend into and revitalize their surrounding area. Using conventional plywood or strips of wood and paint, those participating in an artistic board-up will paint designs on the wood used to board up a building. Once used, the building takes on an artistic life of its own– as Toepfer and those involved with him paint everything from window facsimiles or flowers or abstractions on the boards.
Toepfer first started doing artistic board-ups about 20 years ago in Chicago. After focusing on nearly 20 different cities and 3000 buildings later, Toepfer and The Neighborhood Foundation are still going strong–most recently helping in an artistic board-up in Sacramento. Toepfer sees the project as an opportunity to "revitalize and rejuvenate" neighborhoods and bring communities together. Inspired by an idea of what a certain neighborhood might have been like in its heyday, Toepfer channels that sense of community and works with neighborhoods for each different artistic build-up. In addition, he teams up with local neighborhood organizations to get community members–kids included–in helping him with the process.
Isissia Drake, who has volunteered with Toepfer, says that she had been waiting for a chance to do "something like this" for awhile. In a video for the Chicago Sun-Times, Drake stated that the neighborhood had gotten to looking "depressing," and the people who lived there were looking for a solution. Livening the dilapidated house up through an artistic board-up with Toepfer was just the recipe for revitalization–lots of bright colors as well as people actively working towards progress are what kids and community members alike need to see happening in their neighborhoods, Drake notes.
Toepfer's integration of  "the decorative element" in revitalizing neighborhoods is just one step of working towards greater community involvement overall. It's not just painting up a forlorn building, but using art for the greater good–using art to foster a sense of community and development where it might not have been otherwise.
Steven Monson, the grandson of Muddy Waters (whose old residence was part of one of Toepfer's artistic board-ups), agrees. After seeing Toepfer's board-up (which drew on how the house used to look), Monson was pleased–stating that though he wasn't around the house much in his youth, the artwork helps him and those in his community to "go back down memory lane" and "feel something [that was truly] magical" about the house. "There's life still here," Monson said in a video for the Chicago Sun-Times. And Toepfer's artistic board-ups merely serve to highlight that fact–that art and the artistic spirit can thrive just about anywhere.
Interested in artistic board-ups? Check out more on The Neighborhood Foundation here!
What do you think about Toepfer's work? Let us know in the comments!
Need more art? Check out our Facebook and more on our website!