Today, we're taking a break from our regular Artist Spotlight series to give you some World Cup art news. Did we just say "World Cup art news"? You bet!
I'll bet you're wondering, why is the Art Docent Program blogging about the World Cup?
If you're reading this and haven't watched the World Cup yet, you're probably un-American. Of course, the game of fútbol has a much larger following around the world than it does in the rest of the world, but still — we're talking about an event as big as the Olympics here. This particular writer has a roommate who has pledged to watch every match in the World Cup. It's a big deal.
So to reply to the initial question, I say, why not?
But for those who are still skeptical, here's some cool ways people have combined the game of soccer with a love for art, tailored for whatever place you're at in your knowledge of the sport.
1. For the person who pretends to understand soccer when they're around friends but doesn't actually know the rules, watch this video.
Brought to you by that source of all knowledge, Khan Academy, this video challenges you to find the soccer player in Dynamism of a Soccer Player, an abstract artwork by influential Italian Futurist painter Umberto Boccioni. Italian Futurists, according to Wikipedia, glorified "speed, technology, youth and violence," all of which can be found in soccer. If you're still confused about Futurism, you're in luck. The Guggenheim has a show of Italian Futurist artwork, "Reconstructing the Universe," running through September 1!
If you're confused by soccer's rules, this painting probably won't help you understand it much better – but on the bright side, you can show off your art knowledge to your soccer-fan friends, who will be utterly confused. Ah, sweet revenge.
 2. For the person who lectures their disbelieving friends on the historical and cultural significance of fútbol.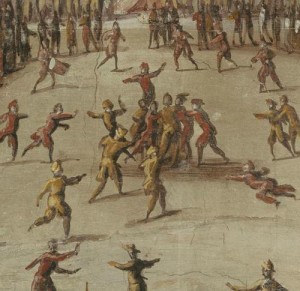 Tired of explaining to your ignorant friends about how soccer is the world's oldest game and must be revered as such? Frustrated with sharing the rich sociopolitical past of the world's game? Annoyed that you have to keep telling them, "No, no, it's called fútbol, not soccer! No, not that football? Fútbol!"? Well, now you can prove to your friends that soccer is at least as old as the Renaissance, as shown by this painting by Giovanni Stradano, Gioco di Calcio (The Game of Soccer). According to WTF Art History, "the wide open area in front of the Franciscan church [Piazza Santa Croce" hosted tournaments of the sport beginning in the 16th century." Your friends will feel so foolish knowing you were right all along. Read more about this painting here.
3. For the person who LOVES soccer, and I mean, LOVES THE HECK OUT OF SOCCER.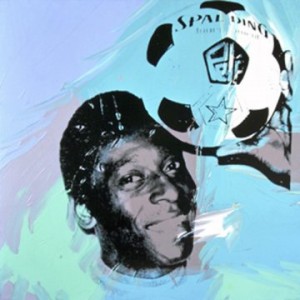 If you're around Los Angeles and you can't get enough soccer in your life, you're in luck! The Los Angeles County Museum of Art has an exhibit you need to see. Featuring video installations by Stephen Dean and others, and artwork by Andy Warhol, Miguel Calderon, and more, "Fútbol: The Beautiful Game" is the show for you. 30 artists from around the world have their art represented, making this truly a multicultural experience that, according to the site, "touches on issues of nationalism and identity, globalism and mass spectacle, as well as the common human experience shared by spectators from many cultures." Better hurry and see it, though! The exhibit ends on July 20, just one week after the World Cup ends.
4. For the person who want to rep their team with more than just another jersey.
I'll bet you had no idea that the Fútbol Artist Network even existed. Well, guess what? They do! And they sell paintings, photos, phone cases, and more from artists around the world. Now, you can finally have that art print of US team captain Clint Dempsey you'd always dreamed about, or a photo of this soccer field next to what looks like a nuclear power plant, or literally any poster advertising the World Cup from the last 80 years.
Have you been watching the World Cup? Who are you cheering for? Do you know any other soccer-related art endeavors that must be shared with the world? Let us know in the comments.