You may not know this, but I (Donald) am studying English in the UK this semester. However, though I'm studying English here, it turns out I'm getting some pretty great art education, too, and I thought I'd share some of my favorite places (expect more to come!).
Our first foray into Donald's UK Art Adventures comes courtesy of the York Minster. Known for being one of the oldest minsters in Britain, in one of the oldest cities on the isle, this building is massive. It can be seen from nearly every place of town. It's Great East Window is one of the most beautiful pieces of stained glass work ever. In fact, it's the largest display of medieval stained glass in the world! The window took three years to build, and one artist oversaw its entire creation: John Thornton,
That said, I didn't get to marvel at it. The window is currently undergoing major work to keep it intact. However, in lieu of this window, the Minster set up The Orb, and trust me, it is just as exciting and marvelous as that mysterious name makes it sound.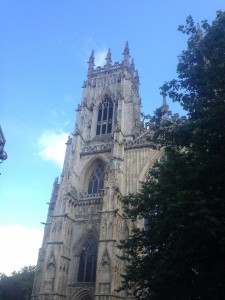 First things first: where IS York?
The city of York is located about halfway between London and Edinburgh, on the eastern side of Britain. Only a two-hour train ride from London, the city began as the town of Eboracum, one of Rome's largest northern outposts. After Rome fell, the city was taken over by Saxons, Vikings, and Normans, but still, York stood over time. The hometown of Richard III and Guy Fawkes, the city is bursting with history around every corner.
So this Orb. What is it?
From the website: "The Orb is an exciting new visitor attraction at York Minster offering a once in a lifetime opportunity to see, at close range, some of the world's most important medieval stained glass. Within this elliptical treasure-house you will discover one of the world's greatest medieval artists for the first time."
And it's true! The window pieces were utterly beautiful, and you can get right next to them — even touch them! — and look at every detail. The artwork gets swapped out monthly, so regular visitors can watch the progress of work on the Great East Window. In addition, there's interactive exhibits next to The Orb that contain information on how stained glass art gets made in the first place, as well as how the restoration process works.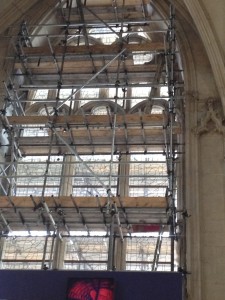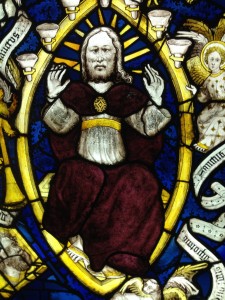 Awesome! What else should I know?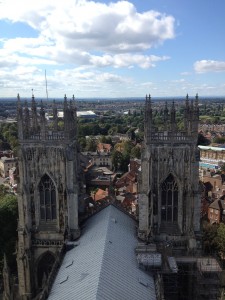 The Minster has several worship services daily, so make sure to plan your visit around those. Opening times for sightseers are 9 a.m. to 5 p.m. Monday through Saturday, and Sundays, it doesn't open until 12:45 p.m. Prepare to spend a lot of time there! In addition to The Orb, there's the Central Tower you can climb up as well as The Undercroft, the enormous underground level of the Minster that has been transformed into a museum revealing its 2000+ year history.  Tickets to the Minster are £10 general admission, £9 for seniors and students, and children are free with general admission. The Orb is included in your admission ticket. Furthermore, your ticket is good for a whole year, so don't lose it! If you climb up to the tower (which I highly recommend, so you can get incredible views like this one below), tack on another five pounds.