There's a crisp breeze in the air, which means that Halloween is just around the corner! Which means, if you're like most of us, you're struggling to come up with a last-minute costume that won't break the bank–which can be surprisingly hard if you're not a makeup or costume whiz.
Luckily for you, there's a cleverer way to dress up as something that's easily recognizable without defecting to the tired old Wicked Witch of the West, Elsa, or This-T-Shirt-is-My-Costume shirts. That's right–why not try an art history Halloween costume? We've compiled some of our favorites from around the Internet (thanks, Buzzfeed and Brit + Co!) that are both fun and easy for you and any kiddos you might be taking out trick-or-treating. 
Vermeer's Girl with a Pearl Earring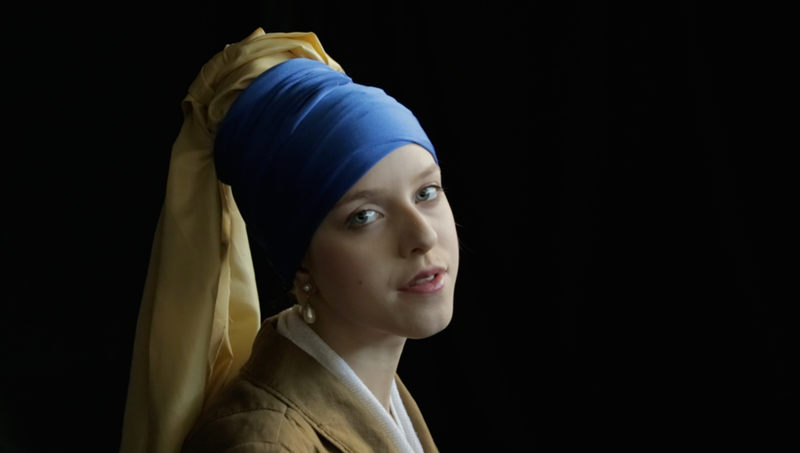 A version of this costume is worn by Petra in Chasing Vermeer Blue Balliett (a great book for you and for kids, by the way), proving that it's a simple classic that doesn't require much–blue and yellow cloth for the head wrap, a lacy shirt, and (of course) an iconic pearl earring. Clip-on or pierced will do.
Various Roy Lichtenstein characters
Signature Lichtenstein means dots, dots, and more dots–this one requires a few makeup skills. Thankfully, there are lots of tutorials on YouTube (like this one by Emma Pickles) which mainly involve outlining your facial features and adding lots of dots.
Banksy's Umbrella Girl
A black dress (preferably with a white Peter Pan collar; if not, computer paper cut and taped in the proper places will do), black tights, and an umbrella are all you need to make one of Banksy's most iconic street art pieces come to life.
Banksy's Flower Thrower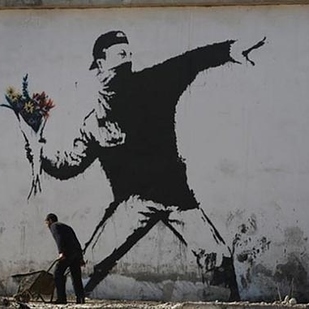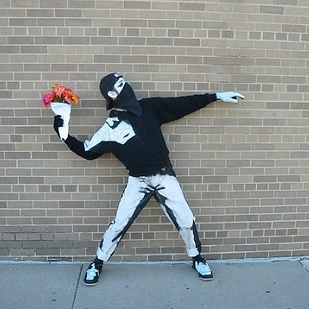 While we're on Banksy, why not dress up as his Flower Thrower? A black zip-up hoodie (shaded with chalk if you're really advanced), light jeans, sneakers, half a black ski mask or scarf (again, shaded, if you're up to it), a black cap, and one lovely bouquet wrapped in white paper will make another piece of street art come to life. **Note: just for good measure, maybe don't choose this one to take kids trick-or-treating or run around the neighborhood in the dark. It's realistic enough that it might make your neighbors think you're actually up to no good (if they don't see the flowers). And the last thing Banksy would want is for one of his creations to get arrested.**
John Singer Sargent's Madame X
If you have an old strapless black formal dress lying around, this costume is perfect for you. Attach several embellished straps from the craft store, tie a black ribbon around the smallest part of your waist, do your hair up, and don a haughty, devil-may-care expression to match. Finding a table to pose near would also serve you well. (Visit Beauty Fashion Girl Stylish for her account of recreating the costume). 
Magritte's Son of Man
While we're on the topic of using old formal wear, here's one for your old black suit. Slap on that suit, a red tie, and a bowler. Affix either a fake green apple or a printout of such to the brim, obscuring your face. An easy enough costume for any fan of surrealism.
Yes, this is as much historical as art historical, but J. Howard Miller's poster for the Westinghouse Company's War Production Coordinating Committee is now known one of the most iconic images (propaganda?) to come out of World War II. Meant to spur women into manufacturing jobs at factories, shipyards, and more, the beloved image is now recognized as an American, feminist icon. So tie on a polka-dotted or paisley head scarf and roll up the sleeves of your denim, chambray, or dark button-up shirt! It's time to get to work–and by work, we mean going to get some candy!
Vincent van Gogh 
This one is perfect for a grown-up or a little one. Just add a straw hat, blue linen or chambray shirt, a cardboard painter's palette, and a red "beard" and boom! There's your famous Post-Impressionist, circa his 1887 Self-Portrait with a Straw Hat. You can add a (fake) sunflower to the ensemble to drive the point home. Bandage around ear: not required. (Shameless plug: check out Kristen @ Art History Mom on Pinterest for more advice on how to recreate a kiddo's Vincent van Gogh costume and how to indoctrinate kids to love art history).
Bob Ross
Okay, this one requires a bit more work–but come on, that's pretty fun. Invest in a wig and some makeup if you can't grow a beard, a canvas (or printout) and paintbrush, and don some blue jeans and a white button-up. And feel free to recruit a friend to be the happy little trees, as seen above!
Banksy
Dressing up as Britain's–if not the world's–most notorious street artist is surprisingly easy. I've done it for a Halloween party, and it worked surprisingly well–mainly due to the aura of mystery surrounding Banksy himself. Dress in all black or inconspiculously–nobody really knows what he wears, since his identity is unknown. Which means the imperatives are: 1) keep your face covered in any way you choose, and 2) grab an empty can of hairspray or dry shampoo (and tape a piece of paper around it to make it look more like a bottle of spray paint). Or an empty spray paint bottle, if you have one–emphasis on empty. Voila! A good costume for even the most artistically-challenged of us. **Note: again, this would work better for Halloween parties with friends. Banksy's managed to evade arrest, but if your nosy neighbors see you even pretend to tag, you might not.**
And, of course, there are as many art-inspired Halloween costumes as there are pieces of art. If you're good with makeup, why not try rearranging your facial features a la Picasso? If you love the Baroque and want to embody the act of painting, you can recreate Artemesia Gentileschi's Self-Portrait as the Allegory of Painting (which I might actually do…)? If you need a couples' costume, Grant Wood's American Gothic might be more your speed.
Whatever you choose, the key to the best Halloween costume is dressing up as what you're most passionate about. Happy haunts from the Art Docent Program!
Need more art historical costume ideas? Buzzfeed and Brit + Co are the best places to start.
Find out more about our programs here!
Want more art fun? Check out our past blog posts for more!