We've already talked about our new favorite art-historical chapter book for middle grade readers this spring, so it only seems right that we talk about picture books, too. It seems like there are so many good picture books out now about artists, from even more authors than our favorites Susan Goldman Rubin and Jeannette Winter. Though it was hard to narrow down which book to talk about for this post (which is good news for you, as it means there'll be more Art Reads coming your way in the future), we chose Out of This World: The Surreal Art of Leonora Carrington by Michelle Markel with illustrations by Amanda Hall.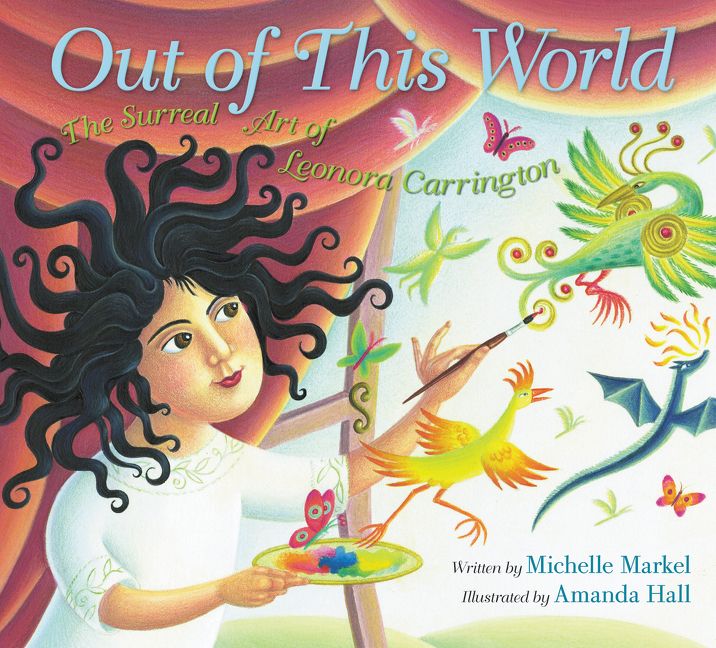 Though she's not widely discussed out of art historical circles, Leonora Carrington was a member of the Surrealist movement. Out of This World does a wonderful job of telling her story in a way that readers of any age will appreciate. The book starts off with Carrington's childhood in England, and touches on what inspired her (her grandmother's tales from Ireland, Italian artwork, etc.) while driving home the point that Carrington never wanted to be the proper lady her parents wanted her to be.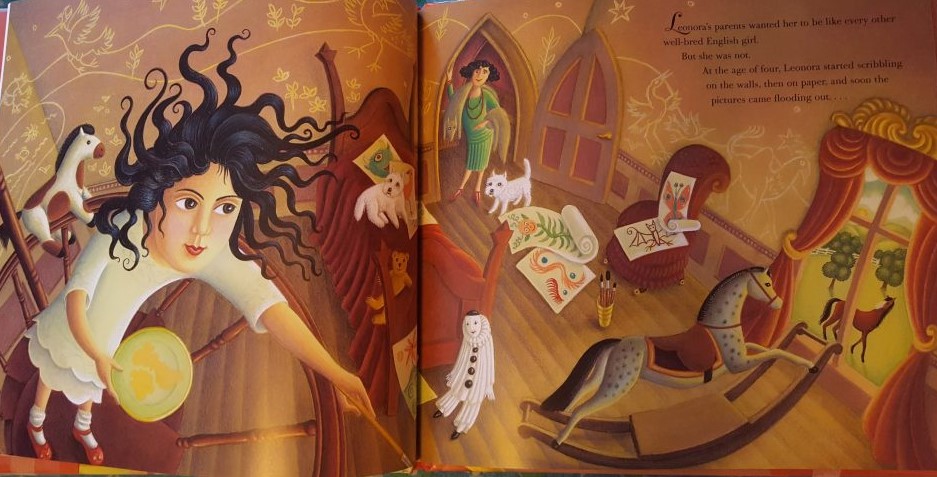 Out of This World then takes us through the rest of Carrington's life, briefly touching on her relationship (though in the book it's presented as a friendship) with surrealist Max Ernst. The book doesn't dwell on him for long, which is good, as this book is about Carrington–many a biography has made the misstep of focusing too much on the men in famous female artists' lives rather than their own work (see for reference: Sonia Delaunay, Lee Krasner, etc). Markel also characterizes some of the male surrealists as "bossy," which is actually pretty funny, as they did have a bossy set of "rules." Out of This World also, perhaps appropriately, glosses over Ernst's imprisonment during World War II–and Carrington's subsequent horrifying stay in a mental asylum (though the book might have been made stronger by touching on her experience just a bit). One of the book's most moving illustrations is that of Carrington and other exiles' flight from Europe as World War II sets in. The characters flying on a winged horse-ship above the burning continent away from warplanes makes for a moving consideration of how many weren't lucky enough to escape as well.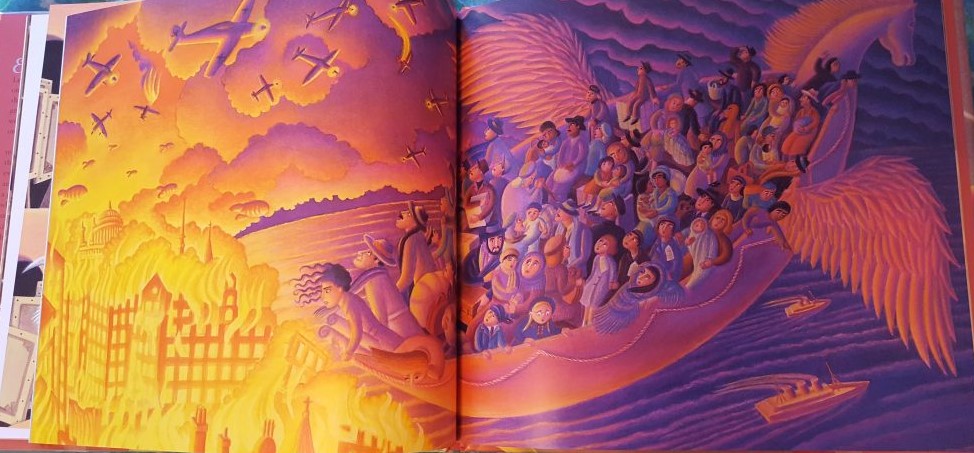 The book then moves on to Carrington's new life in Mexico. There might even be a little a nod to Frida Kahlo and Diego Rivera in an illustration where a couple that looks remarkably like them–a smiling man and a woman in traditional Mexican dress, which Frida loved wearing, buy calla lilies, one of Rivera's best-known subjects. Also touching is the mention of Carrington's lifelong friendship with Spanish artist Remedios Varo.
Readers will see a number of Carrington's works of art recreated in part and in whole throughout the book. Especially common are motifs from her Self-Portrait (The White Horse), especially the fact that throughout the book, Leonora's hair floats above her head. Visual elements present The Giantess, Down Below, Green Tea, and Carrington's other works float throughout Amanda Hall's brilliant illustrations, marinating readers in Carrington's work whether they realize it or not.
Markel's words and Hall's illustrations make for a beautiful tale of Carrington's life. Thus, it seems appropriate to end with some of Markel's words from Out of This World: "In [Carrington's] paintings, women have special gifts; they can do things beyond anybody's wildest dreams–which is marvelous, and it's powerful, and it's true."
---
Discover more about Leonora Carrington via Sartle, and discover more about Michelle Markel and Amanda Hall at their respective websites.
What do we do here at the Art Docent Program? Discover more about us here!
Want more good art reads, for kids and adults? Check out our blog archives for recommendations!