Ever since we put together our new units for the 2019-2020 school year, we've wanted to do a post on Cornelia Konrads. And now that the seasons are changing, it seems an excellent time to focus on this artist, featured in our
new 5th-grade environmental art unit.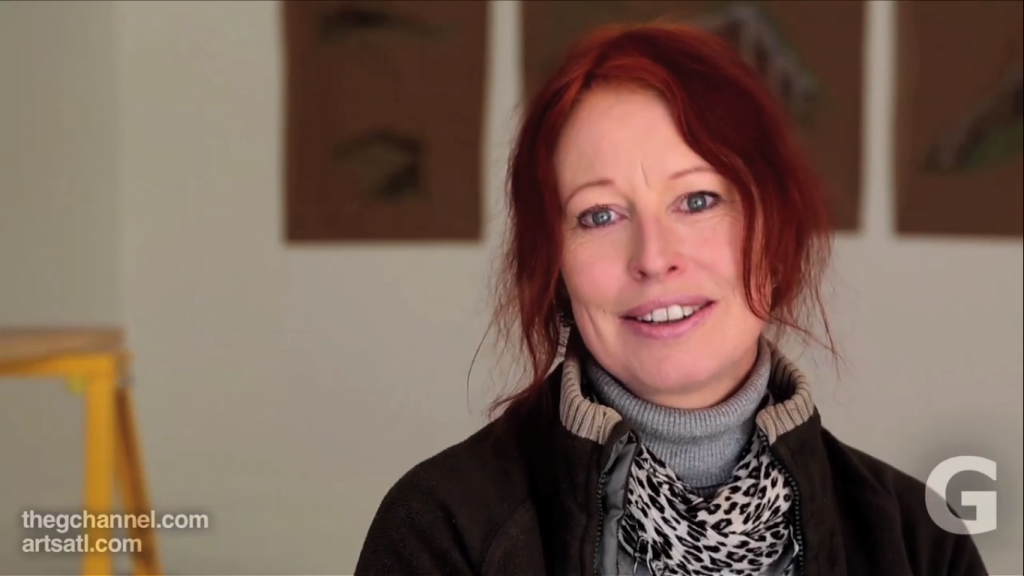 Cornelia Konrads
is a German artist whose work falls into several categories, including Environmental Art and site-specific installations. A contemporary artist, Konrads studied philosophy and has worked as a freelance artist since 1998. Since then, she's created a number of site-specific installations, many of which combine elements associated with Environmental Art.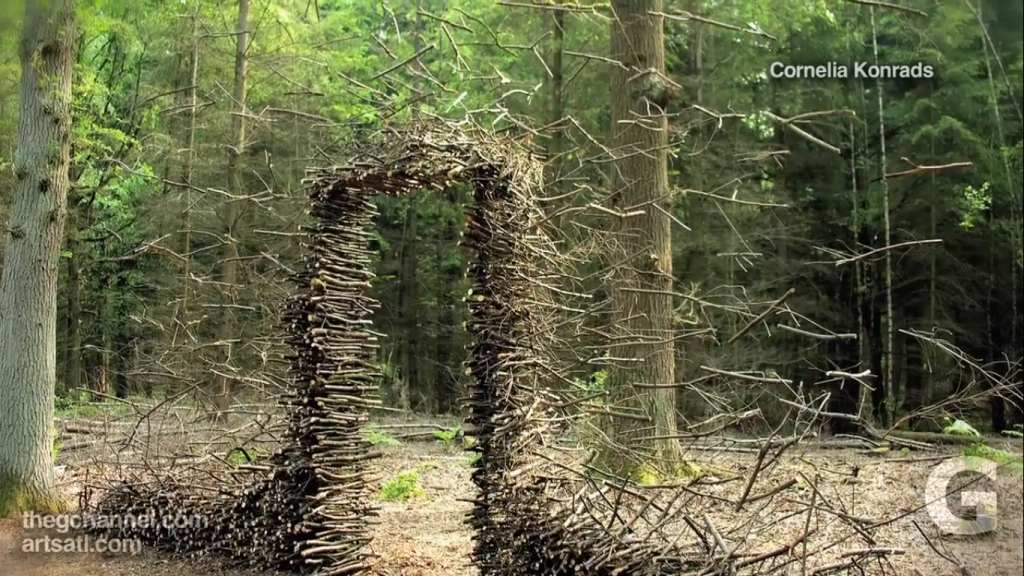 Whether permanent or temporary, Konrads' work tends to provoke thought about the landscape surrounding it. For example, her eerily stunning
Passage
gives the impression that sticks and organic material are floating in the air. A fairy trick (apologies: of
course
your author's first thought would try to bring fairies into this article)? Or is the structure decaying reversely? The same goes for
Tell's Haus
, which begs questions about its surrounding environment: is the earth reclaiming this house, or is it growing of its own accord? One of Konrads' most famous works,
Ejection Seat
, brings less organic materials into the mix for a decidedly whimsical result: a giant slingshot makes sitters on the attach bench feel as if they'll hurtle through the air at any second.
'Ejection Seat' by German installation artist Cornelia Konrads #womensart pic.twitter.com/jjvOZPqScv

— #WOMENSART (@womensart1) March 11, 2018
What would it be like to sit in
Ejection Seat
? Consider…would you feel tense? Giggly with the whimsy of it all at the same time? Much more than just an imaginative installation,
Ejection Seat
asks us questions about our own mortality, which is why we've featured it in our 5th-grade unit on Environmental Art. (And if you're really curious about how sitting in
Ejection Seat
might feel, here's a
l
ink to a 360-degree panorama view that gives you a basic idea
.)
Sculpture Space
, a nonprofit who hosted Konrads as an artist-in-residence in 2012, noted that in Konrads' art,
"something doesn't behave as it should."
Which is a wonderful way to describe
Passage
and
Tell's Haus
, among other works. On the whole, Konrads' art is thought-provoking with a slight dash of the unexpected–and that's just the way we like it.
Want to take a closer look at some of Konrads' artwork? As her work is site-specific, we found that videos are a better way of getting a sense of her work than photos–so get to watching at the videos below!
---
– A general overview of Konrads' work, c/o DW News via Youtube
– Konrads talking about her process and a specific project, c/o Arts ATL via Vimeo
– A close-up look at Passage, c/o Domaine de Chaumont-sur-Loire via YouTube (yes, it's in French, but the view of the artwork is quite wonderful)
---