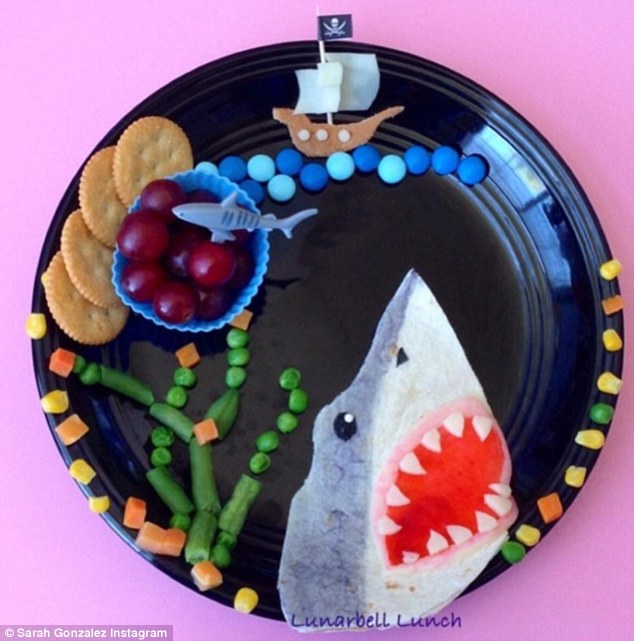 Picky eaters–every family has at least one. Getting that one kid–or that one adult, even–to eat what's been prepared is a task most parents grumble about, at best. How to get everyone excited about what's on the menu?
Lunarbell_lunch, also known as Sarah Gonzalez, has masterminded one brilliant way to get her kids to eat healthy foods. Gonzalez arranges–and then takes pictures of and posts–fruits, vegetables, and more in fun, colorful displays. With over 16,000 followers on Instagram, Gonzalez is clearly onto something about using "edible art" practically.
Gonzalez started making the kid-friendly "fun lunches" for her kids because her children were picky eaters, according to the Daily Mail. According to Gonzalez, the strategy worked in getting her kids to eat a variety of foods–even certain fruits and vegetables they were originally opposed to. Inspired, Gonzalez started the Instagram account lunarbell_lunch to document her creations soon thereafter–and garnered a huge following of fellow parents and food-lovers alike.
The creations vary–everything from recognizable Disney and children's entertainment characters to colorful animals and space scenes have been subjects for Gonzalez's lunches. According to The Daily Mail and Nanny Magazine, she spends a maximum amount of one hour creating each unique meal. While some lunches take as little as five minutes for Gonzalez to assemble, the more-complex ones can take the full hour. And just how does she create these "edible art" pieces? According to Nanny Magazine, Gonzalez uses mainly an Exacto knife or sandwich cutter.
Gonzalez's "edible art" proves that creativity can be used to solve a variety of situations. Who would have thought that creating something with food could solve a picky-eater problem? Gonzalez, who has had no formal artistic training, loves to paint and craft and decided to channel that love of creating into the lunches she makes–and it paid off.
What do you think of Gonzalez's fun lunches? Let us know your opinions on edible art in the comments!
You can follow lunarbell_lunch on Instagram and on Pinterest for more foodspiration.